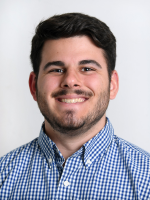 In his second year at A&M Consolidated, senior wide receiver Tyler Wright is finding his voice.
Graham Hogan got a birthday wish earlier this month that every kid who plays baseball would love the chance to have — meet one of their favori…
Texas A&M radio color commentator Dave Elmendorf said during the pregame show that the Aggies' top key to victory against Alabama was winn…
Using fresh ingredients from local sources is the focus of key food items at Kyle Field for Texas A&M football games this season, accordin…
Jeremiah Johnson was selected as a team captain for the Rudder football team before the season, but Rangers coach Eric Ezar said he wouldn't h…
When Chelsea Stanford stepped into the role of chief investigator for the Madison County Sheriff's Office in February, one of the first things…
Caldwell native Phillip Jungman returned to his hometown this weekend to share his experiences competing for the United States at this year's …
Brodie Daniel wasn't supposed to throw the ball.
Terry Price is serious about two things — football and barbecue.
Col. Bryon Stebbins was in Texas A&M's Corps of Cadets back in the 1970s, but he can still remember in detail trying to get back to his ho…
View all