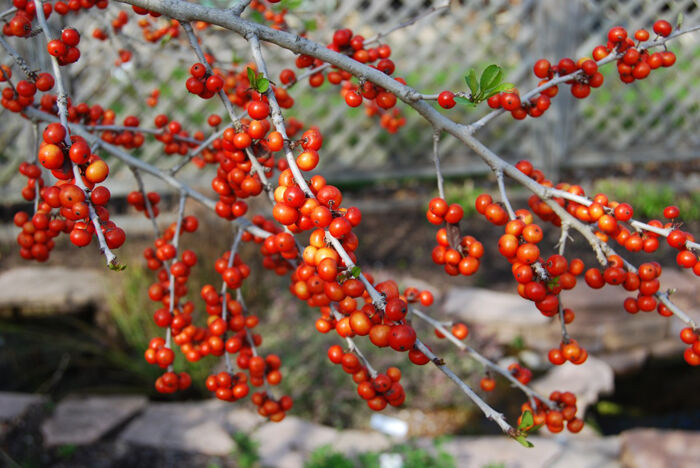 The holiday season means berry-laden branches from our landscape will find their way indoors for use in decorations. In addition to berrying ornamentals, we have many foliage plants that offer beauty for our holiday decorations.
Pyracantha, American beautyberry, yaupon, possumhaw and other hollies make great plants for indoor arrangements. Keep in mind that yaupon berries are attractive but poisonous. Yaupon's scientific name, Ilex vomitoria, should give us a clue as to their danger. Better to leave them outside if very young children are around the house.
The possumhaws, sometimes called deciduous holly, show their orange or red berries as the leaves drop to expose the beautiful fruits. A tall container full of berried branches outside by the front door is a nice addition to the traditional wreath.
American beautyberry drops its foliage to reveal slender arching stems. The clusters of purple berries add beauty to indoor arrangements.
Pyracantha berries also provide great color. Unlike hollies, their berries are not poisonous. Do note, however, that the plants have long, sharp thorns. One stab, and you will fully understand Pyracantha's other name — firethorn.
Use pyracantha stems as a weeping feature in a large vase, or spread them around the base of large candles or down a table runner, where their foliage and red berries will really steal the show.
As you are trimming berrying branches, note where the berries are produced. In most cases this is on last season's growth. This is a lesson in pruning, as heavy trimming of such shrubs results in fewer berries next year.
Around town, some trees are still putting on their fall show. Their colorful leaves make great decorations scattered along the midsection of a tablecloth. While out collecting leaves, I also cut a few of the unusual "winged" branches produced by sweetgums and some of our native elms. They work great as the foundational elements in a decoration for a table centerpiece arrangement.
Evergreens provide plenty of foliage filler for indoor decorating. Needled evergreens — including pines, red cedar, arborvitae and Podocarpus — are great for holiday wreaths, swags and table decorations. Broad-leaved evergreens are also a good choice. Branches from southern wax myrtle, southern magnolia, bay, red tipped photinia, pittosporum, nandina, cherry laurel and loquat do well in a vase or wet floral oasis arrangement.
Experiment with some other plants, such as rosemary, Texas mountain laurel, grape vines, dusty miller, asparagus fern, various ivies and cast iron plant, for your indoor decorations and arrangements.
When planning new additions to the landscape, consider including a few plants for the specific purpose of using their foliage, berries and plumes to decorate inside your home, both during the holidays and all year long.
Weekend gardening activities
• When your Thanksgiving or Christmas cactus is done blooming, break of a section with 3 or 4 joints, and insert the basal end into a pot of moderately moist potting soil. Place a plastic bag over the cutting and secure it around the pot with a rubber band. Set it on a windowsill out of direct sunlight. The cutting should be rooted in 3 to 4 weeks.
• Late fall through late winter is the best time to plant trees and shrubs. Roots will continue to grow in our cool winter soils. Early planting results in a well-established plant that's better prepared for the stresses of next summer. Firm the soil in around the roots, and water the roots well at planting.
• Remove spent annuals and frozen top growth in perennial beds. Mulch these areas to deter weeds.
• Mix compost into the soil to rework annual beds in preparation for spring planting. It is just around the corner. Mulch the surface with shredded leaves after you are done to prevent cool-season weeds from invading. When planting time comes, simply pull back the leaves to plant and then place them back over the soil around the new plants.
• Plant cool-season flowers, including pansy, viola, dianthus, ornamental cabbage and kale. Be ready to cover new transplants with a row cover fabric when temps drop into the mid 20s or lower. Feed them every few weeks with a diluted dose of liquid fertilizer to keep them vigorous and blooming up a storm.
• Extend the color and blooms of poinsettias and holiday cactus by maintaining moderately moist growing media and providing them with bright, indirect sunlight. Remove the plastic or foil pot wrap, water well, allow it to drain thoroughly, and then replace the pot wrapping. Keep them out of warm drafts, and they should provide more than a month or two of beauty.
• Fertilize cool-season vegetables every month with a moderate application of fertilizer to maintain vigor and productivity. Sprinkle it evenly throughout the bed, scratch it into the soil surface inch, and then water the bed well.
---
Robert "Skip" Richter is the Texas A&M AgriLife Extension Horticulture Agent for Brazos County, 2619 Texas 21 W., Bryan, Texas 77803. For local gardening information and events, visit brazosmg.com. Gardening questions? Call Skip at 823-0129 or email rrichter@ag.tamu.edu.