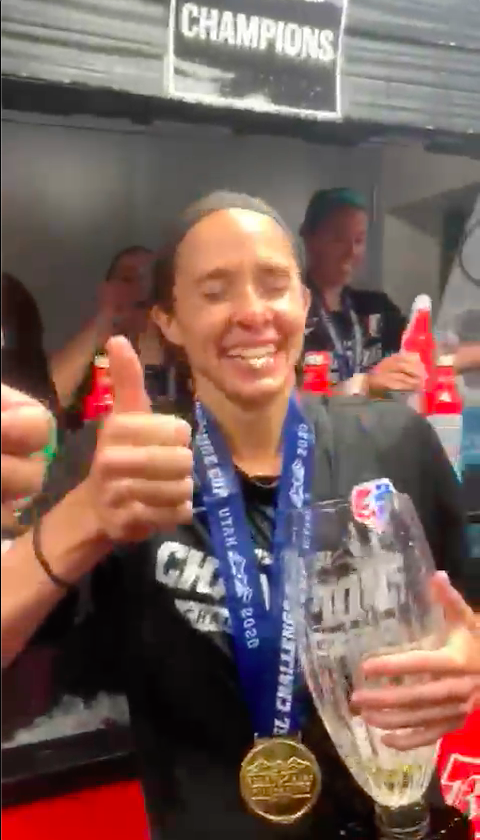 Earlier this year, when a Canadian teammate of Shea Groom's learned about the unofficial Texas A&M tradition of an Aggie ring dunk, she peppered questions at the former A&M soccer standout.
The problem for Groom was, she never participated in the beer-chugging rite of passage.
Sunday, the current Houston Dash standout made up for lost time, pouring gulp after gulp of Budweiser into mouth in what could be dubbed the most impressive ring dunk of all — out of the National Women's Soccer League Challenge Cup trophy.
"I stepped up and did it," Groom said. "Not very well, but I think in the most epic style that you could ever want it to be."
Groom's Houston Dash defeated the Chicago Red Stars in the Challenge Cup final, 2-0, in which Groom nabbed her third goal of the tournament. She was named the player of the match for the title game. The quarantined tournament, which took place completely in Utah, was the first of its kind, offering a chance for soccer to take place during the COVID-19 pandemic.
Groom received her Aggie ring in the middle of her senior season in 2014. That year, she helped lead the Aggies to an SEC title and a berth in the NCAA College Cup, leaving little time for extra-curricular activities, she said.
"I was in the middle of my senior season, the best run we had in A&M history and going to the Final Four," Groom said. "I didn't have much too much time for a ring dunk, because I graduated early and made my way to the NWSL. Just kind of got skipped over and never had time to slow down and do it. [Groom's teammate] was like, 'You have to do it after the tournament. We're going to win and you have to do it.' I was like, 'Alright, if we win, I'm doing my ring dunk. There is no doubt.'"
It seemed like destiny when the new NWSL trophy was revealed, resembling a pitcher one might find at the Dixie Chicken, Groom said with a laugh.
She didn't get a stop watch on her chug, but a video of the dunk made its rounds across the internet and onto ESPN's SportsCenter. Her championship medal, which she still proudly wore days after the championship, will also forever smell like domestic beer, she laughed.
"I didn't get an official time, but I didn't even care," Groom said. "All my teammates were joking. They were like, 'We will stand here for hours, but you're doing it.'"
Be the first to know
Get local news delivered to your inbox!