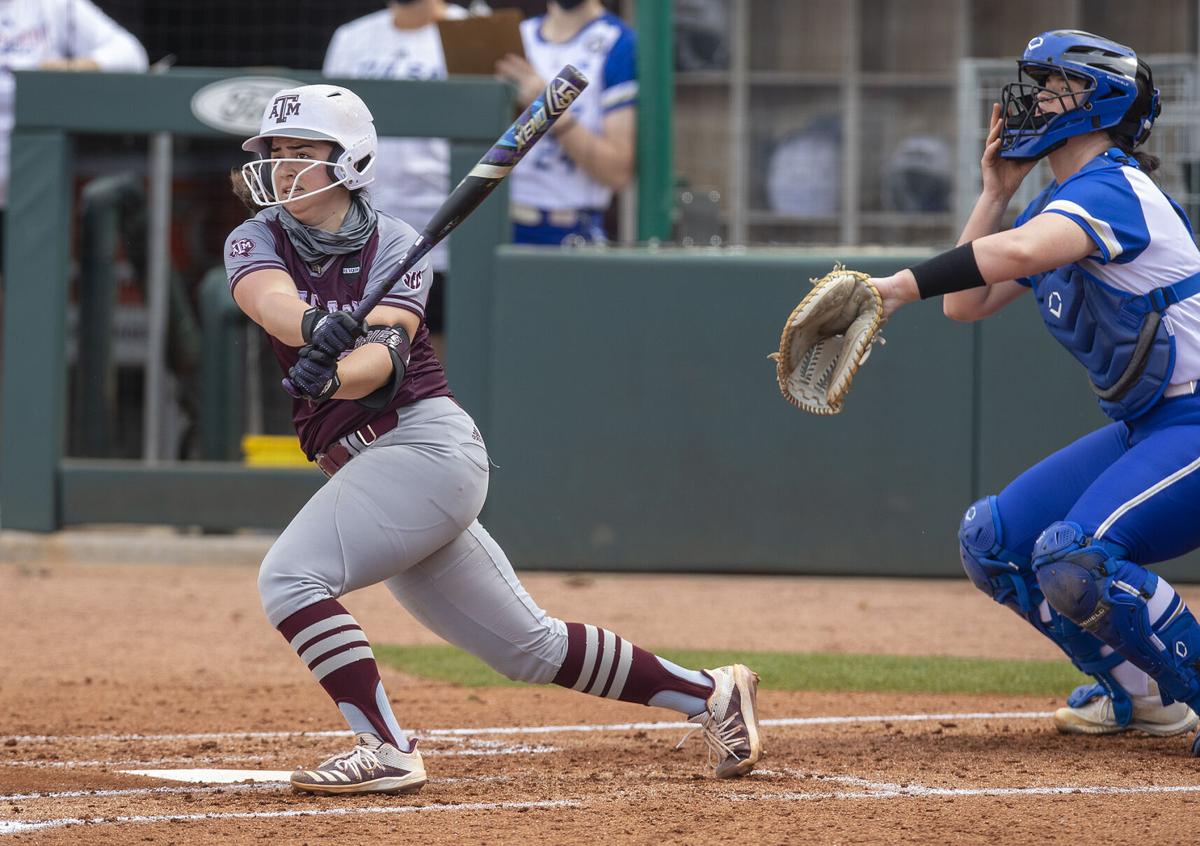 Big swings carried the Texas A&M softball team to a 9-6 nonconference victory over Tulsa on Saturday afternoon at Davis Diamond.
A&M freshman Bre Warren hit a two-run triple in a three-run first inning that started with a leadoff double by Makinzy Herzog. Freshman Trinity Cannon capped the scoring with a solo home run in the sixth as the Aggies (5-2) had a season-high 10 hits with six of them for extra bases to win their third straight.
"[Our] mentality is you're up to the plate to do damage," A&M coach Jo Evans said. "We're not up there to hit four singles in a row, so we can score a run, which is really hard to do. We can put together a hit and a walk with a hit in the gap and now we're rolling."
That was the case in a five-run third that gave A&M an 8-2 lead. Shaylee Ackerman singled, and Jourdyn Campbell doubled on the inning's first two pitches from Tulsa starter Samantha Pochop. It must have rattled her as she threw only one more strike in the inning, walking two batters and hitting one, leading to two runs. Relief pitcher Sara Liamas-Howell entered and got an out, but Herzog cleared the bases with her second double of the game.
"I just had to stay in there and see some pitches and see what she was going to give me," Herzog said. "It kind of came across the plate in that last pitch, and I just got hold of it."
Herzog has A&M's best eye in the batter's box with a team-high four walks. She worked the count to 2-2 on both of her doubles, and the left-handed hitter found the opposite-field alley both times.
"I really felt like Herzog's double there just broke their backs," Evans said. "I mean that was really hard for them to recover from."
Tulsa (0-2), though, went from possibly being run-ruled to making a game of it with two runs in the fifth and two more in the sixth, getting three hits in each frame.
Both rallies ended with aggressive base running. An infield hit in the fifth by Tulsa's Sarah Briers scored pinch-runner Kennedy Cramer from second, but A&M threw out trailing runner Haley Morgan trying to take third. In the sixth, Tulsa's Alexis Perry grounded a single down the left-field line with the bases loaded to plate two runners, but when the throw home bounced by the catcher, Tulsa's Imani Edwards tried to score and was thrown out with A&M pitcher Grace Uribe making the tag.
That ended the day for Uribe, who was touched for six runs (four earned) on 10 hits and two walks. She struck out four. The freshman right-hander was razor sharp last weekend, allowing only four hits and one run in 10 1/3 innings. Uribe's best inning Saturday was the third when she got out of a bases-loaded, no-out jam by allowed only one run.
"She did what she needed to do," Evans said.
A&M's infield made errors that helped put Uribe in trouble in the third and sixth innings.
Cannon got the momentum back for A&M with a booming home run, and senior transfer Kelsey Broadus worked a hitless seventh inning of relief to earn her second save of the season.
The highly touted Cannon was the lone freshman in A&M's batting lineup for the season opener, but she didn't start the last two games after going 0 for 10.
"It's really cool to have your first hit be a home run," Evans said. "To me it was just a matter of time, because she had just missed a few."
Catcher Haley Lee and Herzog led A&M with two hits each. Herzog also had three RBIs for the second straight game.
"It's great to see Herzog get comfortable," Evans said. "She's so dangerous at the plate and really makes us go."
Herzog, who transferred from Florida State, has been a big part of A&M revamping the 2019 team that didn't have much power. Herzog batted .415 last season with 11 doubles, two triples and six homers, helping the Aggies finish the shortened season with 85 extra-base hits, 26 of them homers in the 17-game run that ended because of COVID-19. That was a vast improvement over 2019 when A&M had just 92 extra-base hits (32 homers) over 55 games as the Aggies went 28-27 and finished last in the Southeastern Conference.
Herzog has only five hits this season, but all are for extra bases. The Aggies have 24 extra-bases hits.
"We've been working a lot in practice, working on up the middle, gap to gap," Herzog said. "I guess it's just paying off and showing up in the game."
NOTES — The series finale will be at 11 a.m. Sunday. ... Ackerman extended her hitting streak to six games. ... Warren, a freshman from College Station, reached base nine straight times before striking out in the fourth.