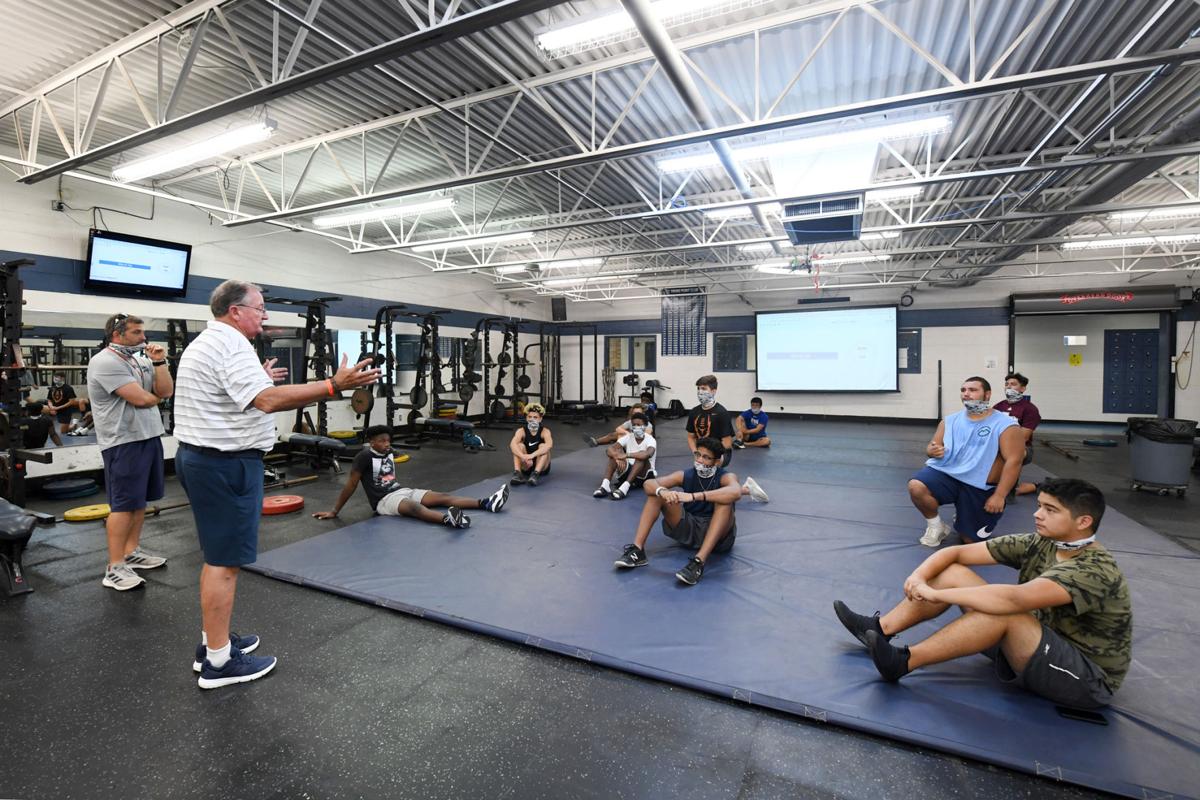 The University Interscholastic League updated its COVID-19 risk mitigation guidelines on Wednesday with an emphasis on wearing masks.
The new guidelines say masks should be worn by employees, parents, visitors and students 10 and older when not actively participating in a practice or UIL activity. Face coverings also are required to enter and exit practices and workouts and can be taken off by student-athletes once they are actively exercising at least six feet away from other students and staff.
Schools will be able to open locker rooms starting Monday, but the UIL is still requiring students to show up to practices already wearing their workout clothes and to leave campus immediately after practices to shower at home.
The new guidelines take effect immediately and continue until the first day of school or the start of in-season activities, depending on which starts earlier.
Executive Order GA-29 regarding face coverings was put into effect by Gov. Greg Abbott on July 3 and will be required by all coaches, staff, fans and student-athletes not actively participating in a drill or game during summer workouts and in-season activities for the 2020-21 school year. Masks were not previously required at summer workouts by the UIL.
The UIL says face coverings include "non-medical grade disposable face masks, cloth face coverings (over the nose and mouth) or full-face shields to protect eyes, nose and mouth."
Exceptions for face coverings include any person with a medical condition or disability that prevents a covering, someone who is eating or drinking, anyone who is in a body of water such as a pool or lake and congregating groups that remain six feet apart from each other.
For skill-specific workouts, competitive drills will be allowed starting Monday. For example, football is allowed to have one or more students in an offense vs. defense drill. Students and staff not included in the drill must wear face coverings.
Students and staff who are confirmed, suspected or exposed to COVID-19 must stay home during the 14-day infection period. They can't return to workouts until they have improved in symptoms, at least three days have passed since recovery or resolution of fever and at least 10 days have passed since their symptoms first appeared.
If a student or staff member wants to return to workouts without meeting the criteria, they must receive permission from a medical professional or show two separate negative COVID-19 tests.
On July 2, the UIL recommended schools suspend summer workouts and skill practices until Monday due to the possible increase in COVID-19 cases during the July 4 holiday. Bryan and College Station schools followed the UIL's recommendation and have suspended summer workouts until Monday.
The UIL said it will continue to monitor information from the Centers for Disease Control and Prevention as well as from local and state officials to further modify guidelines if needed.
Be the first to know
Get local news delivered to your inbox!