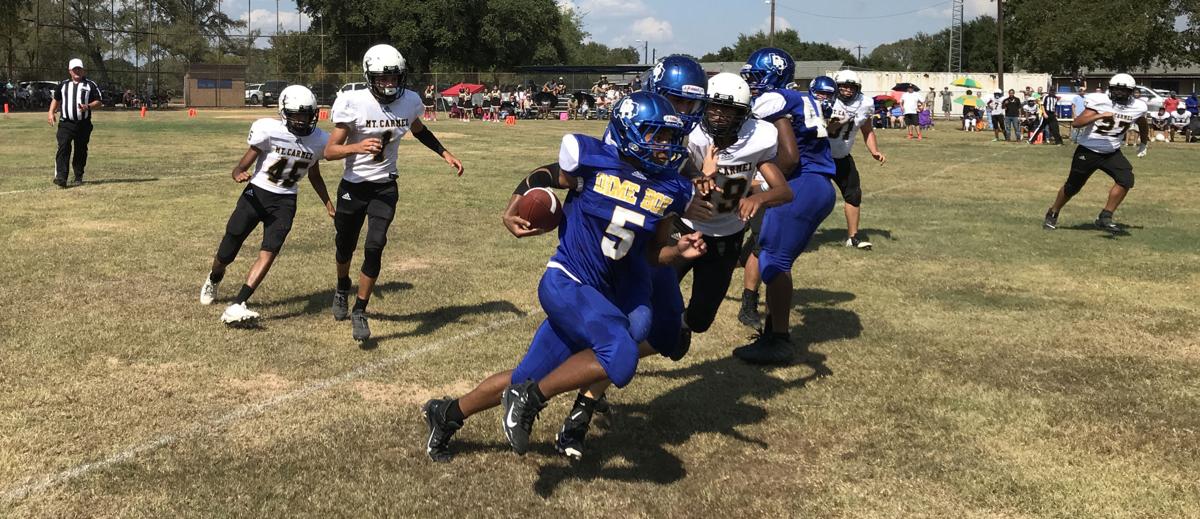 It just got real for Dime Box.
Following its inaugural 6-man football season with an outlaw schedule in 2019, the Longhorns learned their first UIL district Monday as part of the 2020-22 realignment process.
Dime Box will be in a four-team District 14-A Division II with Buckholts, Mount Calm and Oglesby, essentially taking Calvert's position in last year's group. Mount Calm also is new, replacing McDade.
With the Longhorns' location and it being their introduction to the UIL, head coach Rick Frey didn't have much of an idea where Dime Box would go. Being in a district with Calvert seemed like a possibility, as did going out to a travel-heavy district in East Texas. But Frey is pleased with the results of the Longhorns' first realignment.
"I think it ended up pretty good," Frey said. "Looking at the teams in our district, we don't know a whole lot about them, but I think we're going to match up pretty well. We're going to be bringing a lot of kids back. It should make for some competitive games."
Dime Box lands in an ideal district as it looks to make its first playoff appearance. All three district mates had losing records last season, while the Longhorns went 4-1 and return the bulk of their strong defense as well as quarterback Blake Scott.
There will be important players to replace, including star running back Ray Gilbert, but Dime Box is already light years ahead of last season, when coaches had to teach the basics to a group of eager first-timers. Frey said being able to build from a sturdy foundation will allow Dime Box to be more creative on offense and put more responsibilities on his defensive players.
As the program continues to build with new milestones, so does the excitement surrounding it. After drawing a strong following in Dime Box's first season, Frey anticipates even more support and said that the buzz around football continues to grow.
"Everybody's really excited about it," Frey said. "We're doing pretty well right now in basketball. It's really cool that we were able to end football on a high note and expect to make a deep run in basketball. Then we'll start in offseason football, and I've already got kids telling me they're ready to start. We're going to have that same enthusiasm. It's exciting to be moving into UIL with the possibility of going to the playoffs."
The Brazos Valley's other Class A team, Calvert, moved to 13-A Division II, where it is paired with Apple Springs, Chester and Oakwood.
District of champions
Bremond and Mart have six combined 2A state football titles in the last six years, with Bremond three-peating in Division II from 2014-16 and Mart winning three straight – one Division I and two Division II – from 2017-19.
Now they're in the same district, along with a strong group of Chilton, Frost, Wortham and Hubbard to make up 10-2A Division II.
"It's Mart and everybody else," Bremond coach Jeff Kasowski said. "Mart's got a great program; they've done a great job over there. They've got elite talent for our level. The rest of the district is going to be competitive with Chilton being a good team, Wortham came on and had a good year last year, and Hubbard's a traditional playoff team."
Area teams Burton, Iola, Milano, Snook and Somerville are joined by Granger and Bartlett to make up 13-2A Division II.
In 2A Division I, Brazos Valley teams Centerville, Leon and Normangee are in 11-2A-I with Alto, Grapeland and Groveton. Hearne is in 12-2A-I, along with Bruceville-Eddy, Holland, Moody, Rosebud-Lott, Thorndale and Thrall.
Volleyball heavyweights
Leon and Iola had three fantastic volleyball matches last season, with the third sending Leon to the state tournament in a five-set thriller.
The Brazos Valley is in for more of the same as District 22-2A will have both its co-champions back for the 2020-21 seasons.
Also in the district will be Centerville, Hearne, Mumford, Normangee, Calvert and North Zulch, making it an all-Brazos Valley affair.
Be the first to know
Get local news delivered to your inbox!