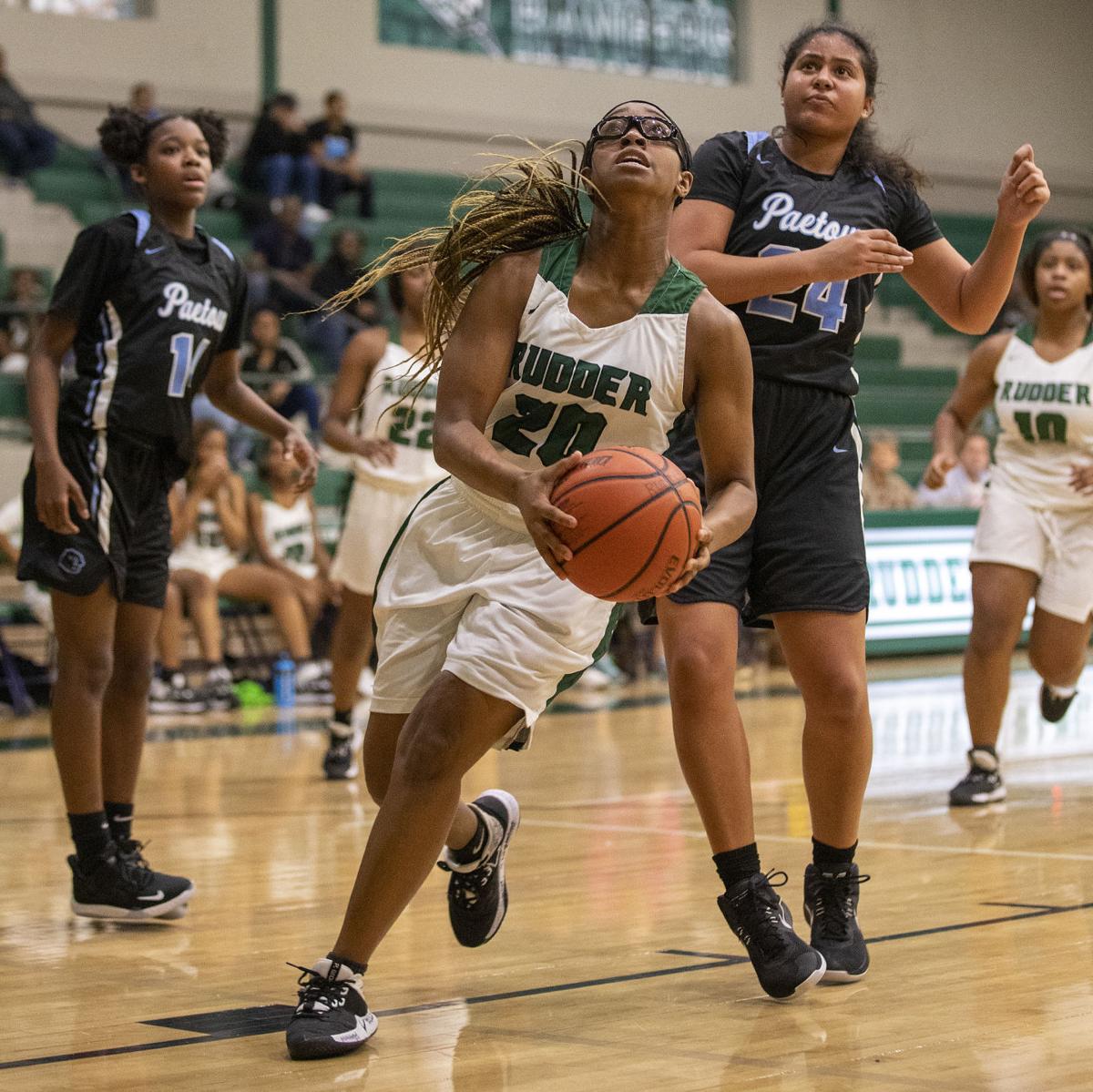 When Tianna Mathis was two years old she said her very first word — "ball."
Little did she know, this word would kickstart her journey to basketball and her passion for the game.
"My first words weren't mom or dad, it was actually ball. So, my mom bought me a basketball and ever since then I fell in love with the game," Mathis said.
About 14 years later and the junior point guard averages 14 points, five rebounds and four assists per game for Rudder, proving to be a threat in the paint and on the 3-point line.
Mathis said Rudder coach John Shelton taught her that with her combination of quick feet and good ball handling, it's better to attack the goal first before trying to shoot.
"She's always been one that attacks the basket real hard, and she's been like that since she was junior high and little dribblers," Shelton said. "She is as good a person as she is a player.
"The good thing about her too is that she can shoot the 3 or she can penetrate, and that makes it hard on defenses because you have to come out to get her on the 3, and then when you come out, she goes by you."
As a veteran on the squad, Mathis takes Shelton's advice seriously and thinks of him as a father figure.
"Since my freshman year, I've grown a lot," Mathis said. "Coach Shelton has really invested a lot in me, and he's prepared me to be the person that I am."
The Lady Rangers (22-3, 4-1) went on a 19-1 run to start off the season, only falling to Killeen Ellison in week two. Mathis said losing to Ellison was a turning point for the team.
"We had to pick up the slack and play Rudder ball. We became the team that we're supposed to be," Mathis said.
Rudder's second loss of the season came on Dec. 28 when they faced District 19-5A opponent, the College Station Lady Cougars (19-5, 5-0) in the Aggieland Invitational championship game.
The two teams will meet again Tuesday at Cougar Gym at 6:30 p.m. But regardless of the outcome, Shelton said it's always fun to see two hard-working teams battle it out on the court.
"They like playing them and a lot of it has to do with them knowing them all their lives," Shelton said. "The good thing about it is they play real hard and we play real hard. I told Coach [Megan] Symank after the last game, 'Boy, that was really fun.' Of course, we lost, but it was still really fun."
Aside from her skills on the court, Mathis is also a leader to her teammates and peers in the classroom. When it comes to facing a tough opponent or needing help on your homework, Mathis is the one to go to.
"She's a good leader. The team usually goes where Tianna goes," Shelton said. "When it's down to crunch time, we really want her to handle the ball. She makes good decisions on who she passes it to and she's a great player to coach."
Mathis said her passion for helping others comes from her family's involvement in her dad's church. There, Mathis helps with youth groups, offering advice and participating in events.
After high school, Mathis hopes to continue playing basketball at either Baylor or Texas State and wants to major in forensic science with a minor in sports medicine. Mathis said she first got interested in forensic science by watching episodes of Law and Order.