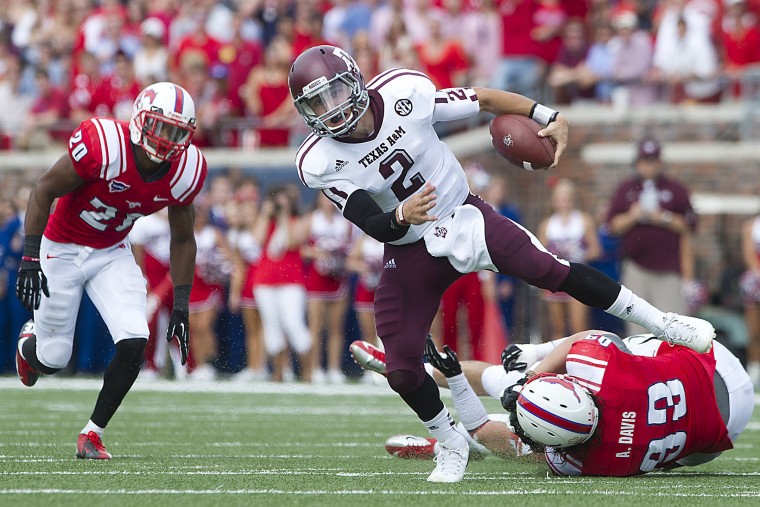 Texas A&M redshirt freshman quarterback Johnny Manziel accounted for 418 yards and six touchdowns in a 48-3 victory at SMU. Manziel passed for 294 yards with four touchdowns and rushed for 124 yards with two scores as Kevin Sumlin won his first game as the Aggie head coach. Sumlin had been an assistant at A&M from 2001-02.
Madisonville's Chris Whaley rushed for 286 yards on 16 carries with three touchdowns in a 21-20 victory over Rockdale.
St. Joseph's Chris Alejandro rushed for 302 yards on 30 car-ries with two touchdowns in a 29-12 victory over Baytown Christian.
Madisonville's Kevin Ford had 143 yards rushing on 18 carries with a touchdown in a 34-28 victory over Caldwell. Ford, pledged to Rice, stole the spotlight from Caldwell quarterback Jason Carter and Madisonville fullback David Underwood, two of the state's top recruits.
Bremond's Courtney Creeks rushed for 184 yards on 18 carries to lead the Tigers to a 34-0 victory over Franklin in a battle of Robertson County foes.
Cameron's Del Thomas rushed for 160 yards on 23 carries with three touchdowns and scored on an 98-yard kickoff re-turn, but the Yoemen lost to Groesbeck 35-31.
Hearne's Brodrick McGrew rushed for 184 yards on 16 carries with two scores in a 30-29 loss to Lorena.
Be the first to know
Get local news delivered to your inbox!