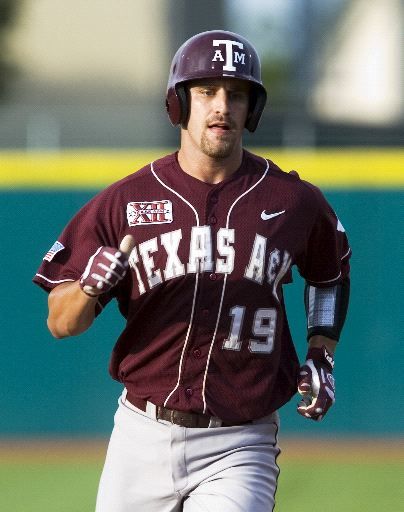 12th-ranked Texas A&M scored five runs in its last two at-bats to rally for a 6-5 victory over 10th-ranked Tennessee, trying their NCAA tournament super regional softball series at one game each. Freshman Payton McBride (2-1) pitched 1 2/3 scoreless innings and senior Tori Vidales had two hits.
Top-ranked Nacogdoches Central Heights got a two-run homer with two outs in the top of the ninth from Cade McCarty and then held on for a 3-2 victory over Franklin to sweep their Class 3A baseball regional semifinal series.
Senior Kaylee Puailoa's pinch-hit, two-run homer with two outs in the seventh lifted No. 16 seed Georgia to a 3-2 win over top-ranked and two-time defending national champ Florida, giving the Bulldogs a surprise berth in the Women's College World Series.
Texas A&M pounded Baylor 14-6 to win its first Big 12 baseball tournament. Senior catcher Craig Stinson went 4 for 6, making him 11 for 19 in the tourney with a homer and nine runs batted in to earn MVP honors.
The Texas A&M baseball team missed the NCAA tournament for the third straight season. A&M coach Mark Johnson said the Aggies (35-24) were on the board until the final cuts. "We were one of those pretty close bubble teams and could have gone either way," Johnson said.
In one of the biggest upsets in Grand Slam history, Pete Sampras was ousted at the French Open by 21-year-old Ramon Delgado of Paraguay, ranked 97th in the world, 7-6 (8-6), 6-3, 6-4.
Arie Luyendyk won the fastest Indianapolis 500 by overpowering former winner Bobby Rahal over the final 33 laps, for his first Indy car victory in 76 races. His average speed of 185.984 mph broke Rahal's record of 170.722 in 1986. Luyendyk became the first to finish the race in under three hours.
Top-ranked Texas A&M blasted South Alabama 17-6 to storm into the championship of the NCAA Central Regional baseball tournament. John Byington paced a 14-hit attack with three hits, including a home run, knocking in four. Chuck Knoblauch also drove in four. The Aggies (58-5) have outscored three regional opponents 65-13 in advancing to play 11th-ranked LSU.
Rick Mears won the Indianapolis 500 by the largest margin in 17 years with a record-setting 163.612 mph. Mears beat Roberto Guerrero and Al Unser by two laps. Fifteen of the 33 drivers were eliminated during two crashes.
Texas A&M's Danny Briggs shot a tournament-record 65 in the second round of the NCAA men's golf tournament. Briggs' 138 total is a shot back of the co-leaders. A&M's 282 score was the day's best as the Aggies climbed into second place at 282, trailing Houston (270).
Julius Erving of the Philadelphia 76ers was named the NBA's Most Valuable Player, making him the only player to win MVP honors in both the NBA and the ABA.
Willie Shoemaker won his 8,000th race and then three more. Shoemaker got the milestone on top of War Allied in the first race at Hollywood Park.
Philadelphia goaltender Bernie Parent blanked the Buffalo Sabres 2-0 in Game 6 to give the Flyers their second straight Stanley Cup title. Parent earned the Conn Smythe Trophy to become the first back-to-back winner of the award and the second player, after Bobby Orr, to win it twice.
"Papa Bear" George Halas retired as head coach of the Chicago Bears. Halas finished with 318 regular-season wins and six NFL titles.
A $20,000 match race between American Eclipse (representing The North) and Henry (representing The South) is held at Union Course, Long Island, N.Y. American Eclipse won in two-of-three heats, after his original jockey, William Crafts, was replaced by Samuel Purdy before the second heat. The race, witnessed by 60,000 spectators, is the first to have been timed by split-second chronometers, which were imported for the event.