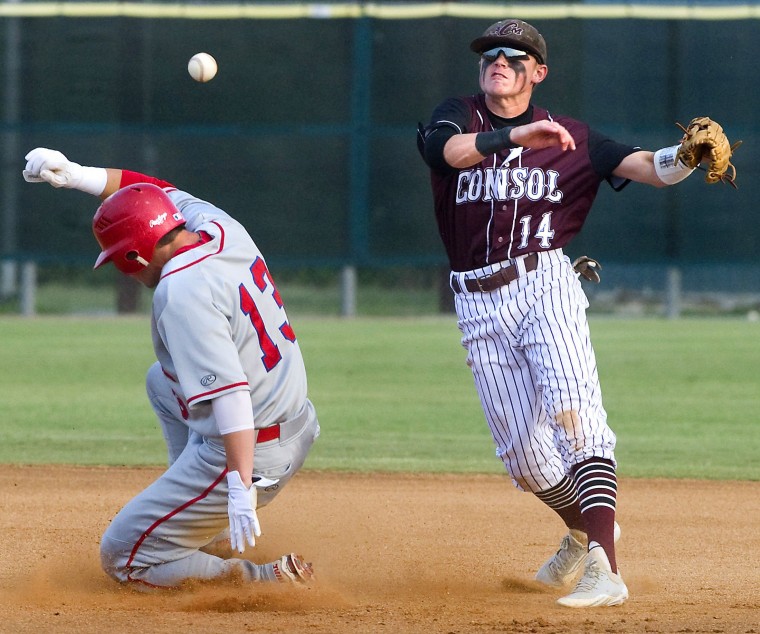 Here were some of the top stories in The Eagle on this date in history.
Nacogdoches Central Heights' Grayson Rodriguez threw a no-hitter, striking out 13 in a 4-0 victory over Franklin in a Class 3A baseball best-of-3 regional semifinal series opener. Rodriguez is a Texas A&M commit for the top-ranked Blue Devils.
Josh Beckett, who signed with Texas A&M but never played for the Aggies, pitched the first no-hitter of his career and the first in the majors this season, leading the Los Angeles Dodgers over the Philadelphia Phillies 6-0 on Sunday. Beckett struck out six, walked three and doesn't come close to allowing a hit.
Kansas eliminated eighth-ranked Texas A&M 5-3 at the Big 12 baseball tournament, putting a damper on the Aggies' chances of getting a top eight seed for the NCAA tournament. A&M (42-16), two-time Big 12 tourney champs, went bang-bang after winning its first-round game over Kansas.
A&M Consolidated's Ford Moore pitched a complete game in an 8-1 victory over Tomball, evening their Class 5A baseball best-of-3 regional semifinal series. Moore (8-0) has won 22 straight games. Consol's Logan Howell had a pair of triples and Ford added two hits.
Round Rock McNeil batted around three times in putting an end to Bryan's 14-game winning streak in a 17-9 victory, tying the Class 5A baseball best-of-3 regional semifinal series. Bryan, which led 9-8, made six errors.
North Zulch's best softball season in school history ended in an 11-1 loss to Flatonia, which swept the Class A regional final series.
Seventh-ranked Texas A&M grabbed a 2-0 victory over Florida to open NCAA super regional play at the Aggie Softball Complex. Amanda Scarborough threw a three-hitter, striking out eight and fellow All-American Megan Gibson hit a home run.
The NCAA approved moving the 3-point line in men's basketball to 20 feet, 9 inches beginning in the 2008-09 season.
Bryan split a pair of games with 5A defending softball champ Garland in a best-of-3 regional series. The Lady Vikings won 2-0 as senior Katye Hamlin threw a three-hitter, but the Lady Owls bounced back with a 2-0 win of their own.
A&M Consolidated's Kyle Nicholson pitched a five-hitter to lead the Tigers to a 1-0 victory over Lake Highlands and a sweep of their Class 5A baseball best-of-3 regional semifinal series.
The Pittsburgh Penguins, led by Mario Lemieux, won the Stanley Cup for the first time with an 8-0 rout of the Minnesota North Stars.
Brenham's Jon Peters lost his first high school game as West Orange-Stark's Eric West and Kyle Free combined for a no-hitter to even the Class 4A baseball best-of-3 sub-regional series. Peters (53-1), coming off a career-high 19-strikeout effort in a 3-2 victory over Bay City in nine innings, was high with his fastball and the A&M signee didn't have his sharp curve. Peters allowed only four hits, but he walked five and his teammates made five errors. It was an unusual no-hitter as West and Free combined to walk eight and West Orange-Stark committed three errors.
Top-ranked Texas A&M pounded Jackson State 23-3 in NCAA Central Regional baseball play.
Southwest Conference commissioner Fred Jacoby says persistent rumors that Texas, Texas A&M and Arkansas will leave the league for the Southeastern Conference is "a dead issue." But UT athletic director DeLoss Dodds said the makeup of the SWC will change in the 1990s whether it's teams leaving or something else.
Second-ranked Oklahoma State hung on for an 11-9 victory over Texas A&M to win the NCAA Mideast Regional baseball tournament and advance to the College World Series for a seventh straight year. A&M (44-22-1) lost its last two games and was denied its first trip to Omaha since 1964. A&M's John Byington hit a two-run homer. Robin Ventura hit a homer for OSU and drove in three runs.
Texas A&M beat Oklahoma State 4-1 and 5-3 in eight innings to win the AIAW Women's College World Series. Shannon Murray's two-run double broke the 3-3 deadlock to give the program its first national title and the school's first national team title since the 1939 football team. Freshman Iva Jackson had a two-run homer in the opener. Patti Holthaus, hitting only .200, had five hits on the day as the top-seeded Aggies won seven straight after dropping their opening game.
Johnny Rutherford won his third Indianapolis 500 in seven years and became the first driver to win twice from the pole position.
Muhammad Ali knocked out Sonny Liston a minute into the first round in the controversial rematch for Ali's heavyweight title. Listed as the fastest knockout in a heavyweight title bout, Liston went down on a short right-hand punch.
Ben Hogan won the PGA championship, beating Mike Turnesa in the final round, 7 and 6.
Be the first to know
Get local news delivered to your inbox!