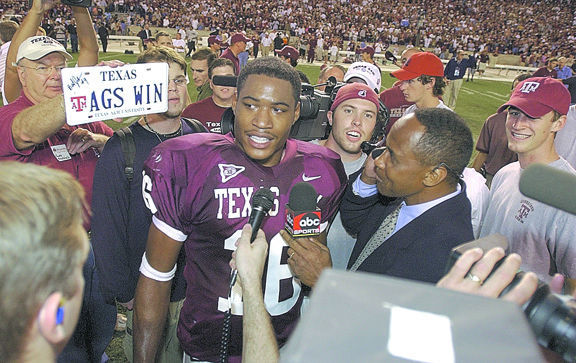 Former Texas A&M pitcher Ross Stripling was picked to play for the National League in Major League Baseball's All-Star Game in Washington, D.C. Stripling, in his third season for the Los Angeles Dodgers, was a replacement for St. Louis' Max Muncy. Stripling was 7-2 with a 2.22 ERA and 103 strikeouts in 89 1/3 innings. He led the NL in strikeout-to-walk ratio at 7.92-to-1. Second baseman Chuck Knoblauch was the last Aggie to play in the All-Star Game in 1997. Pitcher Michael Wacha earned a spot on the NL team in 2015 but did not play.
Former Bryan High student Brek Shea, who plays for FC Dallas, was selected to the Major League Soccer All-Star team which will play the top players from Europe's Manchester United.
Former Texas A&M defensive coordinator Carl Torbush was introduced Wednesday as assistant head coach and linebackers coach at Carson-Newman, his alma mater. Torbush, who was fired as defensive coordinator at A&M after last season, graduated from Carson-Newman in 1974 after being an NAIA All-American in football and baseball. Carson-Newman now competes in NCAA Division II.
Lufkin quarterback Reggie McNeal made the trip from home to College Station with his family to give his nonbinding, oral commitment to the Aggies. "It's a good school," said the 6-foot-3, 190-pound McNeal. "It's close to home, and I know I'll be surrounded by good people there. I also think I can come in and play my freshman year." As a junior, McNeal completed 150 of 230 passes for 2,150 yards and 25 touchdowns with two rushing scores. He also finished third in the 100-meter dash (10.52 seconds) at the Class 5A state track meet. He is Texas Football's Super team quarterback. McNeal said the other finalists were Oklahoma, Arkansas, Florida State and LSU.
Midland shortstop Jayson Nix, Texas A&M's most highly regarded baseball signee, agreed to sign with the Colorado Rockies. Nix accepted Colorado's offer of a $925,000 signing bonus. Nix was the 44th overall pick, a compensatory choice between the first and second rounds. Laynce Nix said his son loved A&M and had looked forward to playing for the Aggies, but the Rockies' offer was too good to refuse.
Bobby Jones won the U.S. Open. Jones, who also won the British Open, the American Amateur and the British Amateur, became the only golfer to take all four events in the same year.