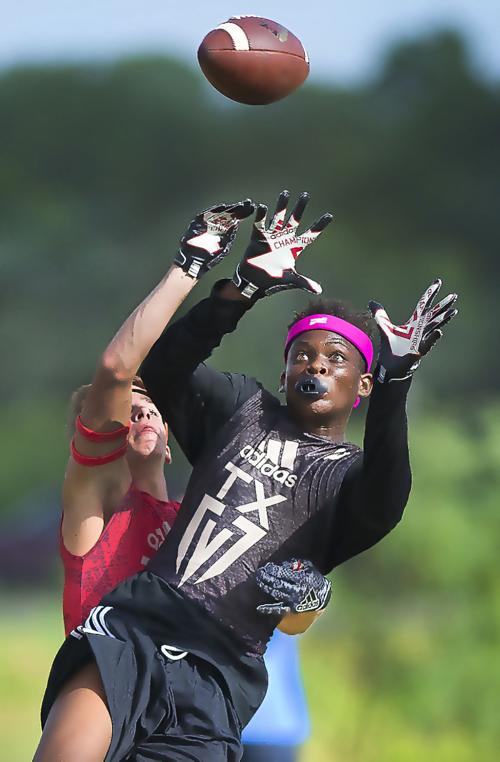 Lake Travis' Garrett Wilson caught a touchdown pass on the last play to give the Cavaliers a 41-40 semifinal victory over A&M Consolidated in the semifinals of the adidas 7-on-7 State Tournament. Consol's run to the semifinals included a 46-35 victory over College Station.
Texas A&M football players Deshazor Everett, 21, and Floyd Raven Sr., 20, turned themselves in to authorities after being accused of assault in an April fight. Each is facing two counts of assault causing bodily injury, a Class A misdemeanor punishable by up to one year in jail. Warrants were issued that stated both also will be charged with one count of criminal mischief, also a Class A misdemeanor. Raven was released on $12,000 bail, Everett on $15,000 bail.
Tiger Woods won the AT&T National at Congressional in Bethesda, Maryland, for the 74th PGA Tour win of his career. That moved him past Jack Nicklaus into second place on the all-time list, eight short of Sam Snead.
The NBA locked out its players, a long-expected move putting the 2011-12 season in jeopardy.
The Texas Hurricanes, in last place at 1-6 in the Southern Indoor Football League, announced they'll play the last three games of the season at the Arctic Wolf Ice Center. The Hurricanes, formerly the Pirates, had been playing at Kicks Indoor Sports Complex in Houston.
The NBA locked out its players at 12:01 a.m. in the first work stoppage in league history.
Bob Feller of the Cleveland Indians pitched his third career no-hitter, beating the Detroit Tigers 2-1.
Maurice Garin won the first stage of the first Tour de France bicycle race. Garin finished 55 seconds ahead of Emile Pagie. The first stage from Paris to Lyon was 467 kilometers long and took 17 hours and 45 minutes, riding both day and night. Only 37 of 60 riders completed the stage.
Amherst defeated Williams 73-32 in the first college baseball game. The game was played by Massachusetts Rules, a wide-open form of the sport commonly known as roundball. Amherst won by reaching the pre-established score of 65 runs. Amherst exceeded the 65-run limit during a 10-run 26th inning.
Be the first to know
Get local news delivered to your inbox!