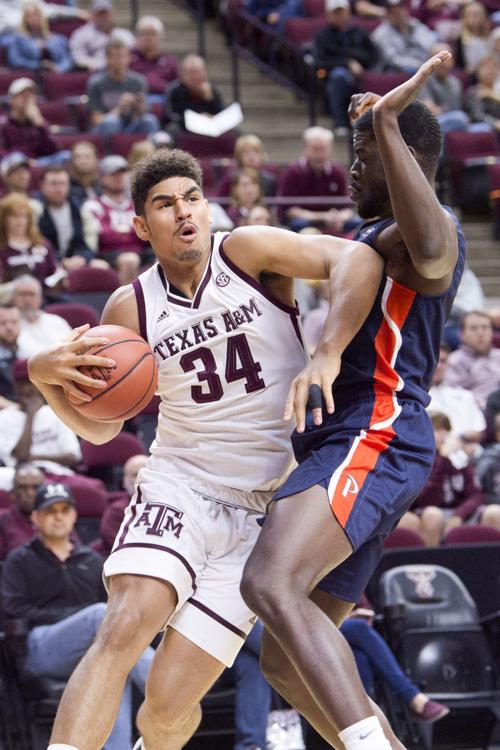 FIRST TEAM
Alex Caruso, guard (2013-16)
Caruso finished his career as the Aggies' all-time leader in assists (649) and steals (276) and was named the 2016 Southeastern Conference defensive player of the year by CBS Sports. His career assists and steals also rank fifth and fourth all-time in SEC history. In four seasons playing for his hometown school, he averaged 8.0 points, 4.7 assists and 2.0 steals per game and helped lead Texas A&M to an NCAA tournament Sweet 16 appearance as a senior.
Khris Middleton, guard (2009-12)
Middleton earned All-Big 12 Conference second-team honors in his sophomore season. He averaged 11.3 points, 2.0 assists and 3.6 rebounds per game in three seasons in Aggieland.
Danuel House, guard (2014-16)
House, who transferred to A&M from Houston before his junior season, was key in the Aggies' conference title and Sweet 16 berth in 2016. He averaged 15.3 points, 2.1 assists and 4.3 rebounds per game in his two seasons at A&M. His 563 points during his senior season ranked eighth in the SEC that year.
Tyler Davis, forward (2015-18)
Davis was one of the few Aggies to factor in both of their Sweet 16 appearances in the 2010s. In three seasons at A&M, he averaged 13.4 points and 7.4 rebounds per game and ranks second all-time in the SEC in field-goal percentage at 61.4. He led the conference in field goal percentage (.585) and rebounds (313) and made the All-SEC first team in his final season.
Robert Williams, center (2016-18)
The two-time SEC defensive player of the year led the conference in blocked shots in 2017-18 with 78 and ranked second in blocked shots per game in both of his seasons. Williams averaged 11.1 points, 8.7 rebounds and 2.5 blocks per game over his career.
SECOND TEAM
Elston Turner, guard (2010-13)
Another successful transfer story for the Aggies, Turner came to Aggieland after two seasons at Washington and averaged 15.2 points, 3.2 rebounds and 2.2 assists per game in three seasons. His highlight moment was a 40-point effort in the Aggies' 83-71 win at Kentucky in 2013.
Admon Gilder, guard (2015-18)
Though Gilder finished his career at Gonzaga, he was part of both of A&M's Sweet 16 teams during the decade and finished as the Aggies' second-leading scorer behind Davis two seasons in a row. He averaged 10.8 points, 3.4 rebounds and 2.5 assists per game as an Aggie.
Jalen Jones, forward (2014-16)
Jones earned a first-team All-SEC nod in 2015-16 as he did his part to push the Aggies to the Sweet 16. He averaged 14.5 points and 6.9 rebounds per game in two seasons at A&M.
David Loubeau, forward (2008-12)
Loubeau made the All-Big 12 third team in 2010-11 when he posted career highs in points per game (11.8) and rebounds per game (5.0). In four seasons, he averaged 9.1 points and 4.4 rebounds per game.
Josh Nebo, Center (2018-20)
Nebo had only one real season of impact for the Aggies, but there was no more important player on the court during his senior campaign when the offense ran through him. In two seasons, Nebo averaged 10.3 points, 5.8 rebounds and 2.1 blocks per game.
Be the first to know
Get local news delivered to your inbox!