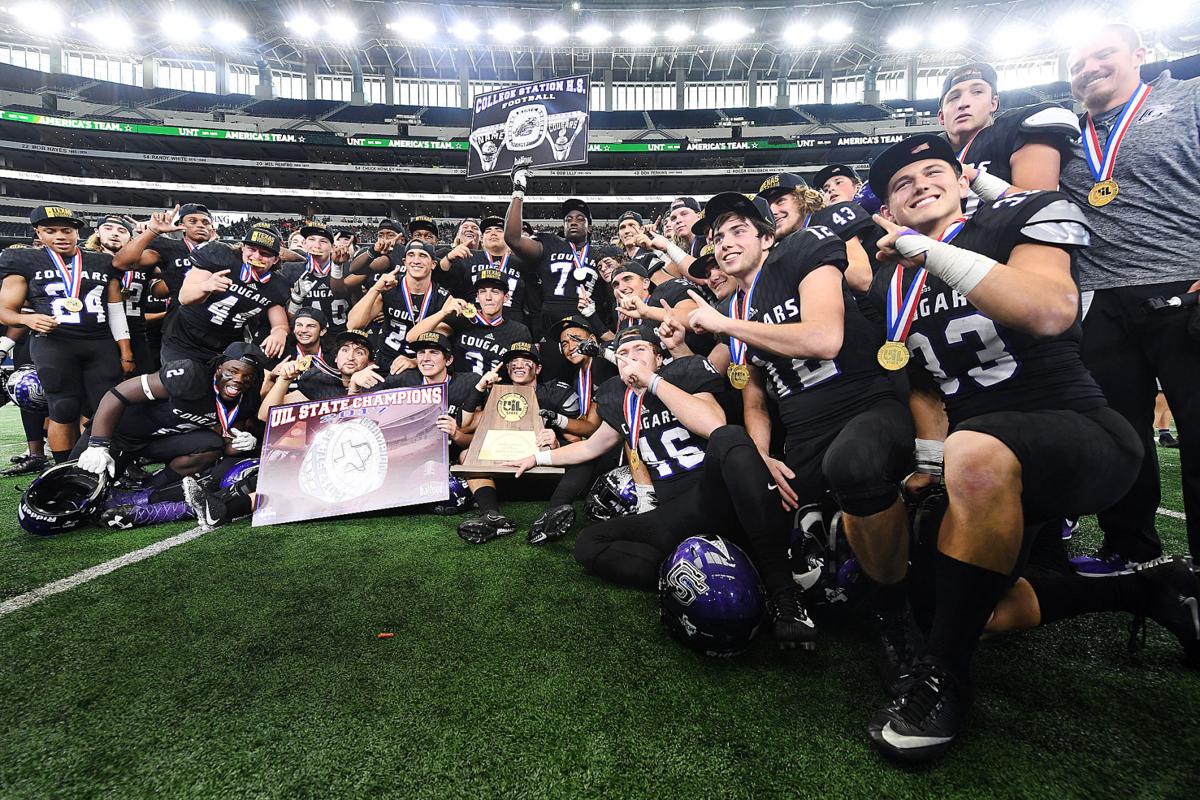 The Eagle's 2010s All-Decade High School Football Team
---
PLAYER OF THE DECADE
Roshauud Paul: Bremond 2017, quarterback
Roshauud Paul wants the ball in his hands.
It's for good reason. Paul spent an electrifying three years as Bremond's starting quarterback, leading the Tigers to three straight Class 2A Division II state championships, amassing an incredible 6,720 yards and 114 touchdowns rushing and 6,229 yards and 78 touchdowns passing.
---
TEAM OF THE DECADE: College Station 2017
College Station had a rocky start to its 2017 season, but turned things around midway through with their sights set on the state championship game. The team's goal came to fruition after beating Aledo 20-19 days before Christmas, earning the school's first football title since entering UIL varsity play in 2014.
The Cougars (14-2) started the season 1-2 and head coach Steve Huff said after their second loss to Houston's St. Puis, the team came together and went undefeated the rest of the season. After earning a spot in the playoffs, College Station didn't let off the gas and won its first three postseason games. But its future was put in jeopardy when two of its corners suffered injuries seven plays a part from each other.
"One of the things I really emphasized with that [senior] class was leadership, and it took a little while to get it all in place, but once they once took hold of it, they got better and better each week. They just kept improving," Huff said.
---
COACH OF THE DECADE
Jeff Kasowski: Bremond Tigers (2011-present)
Kasowski took an already tradition-rich Bremond program and helped the Tigers reach heights that few programs do.
The Tigers won three straight undefeated Class 2A Division II state championships from 2014-16 with the latter two some of the earliest 16-0 seasons in Texas high school football history. The run also made up most of the Tigers' 49-game win streak from 2014-17, which is tied for the third-longest win streak in Texas behind Celina's 68 (1998-2002) and Allen's 57 (2012-15).
Bremond won six district championships in Kasowski's nine seasons at the helm and made the playoffs each year. The Tigers went at least three rounds deep in the playoffs six times, most recently a run to the 2A-II state quarterfinals in 2019.
---
FIRST TEAM
Shelton Eppler
Navasota 2016, Quarterback
A three-year letterwinner for Navasota and a two-time All-Brazos Valley selection, Eppler led the Rattlers to a 16-0 season and Class 4A state title as a junior completing 67% of passes and throwing for 5,400 yards. He closed out his senior year with 60 touchdowns and threw for 4,000 yards before signing with Trinity Valley Community College then transferring to Northwestern State.
Marquez Perez
College Station 2018, Quarterback
Straight off their 2017 state title, Perez led the Cougars to a Class 5A Division II title with 1,645 rushing yards, 31 touchdowns, 2,366 passing yards and was named the District 18-5A most valuable player. Perez signed with Tulsa as a wide receiver, but redshirted his freshman season and transferred to Incarnate Word in last year.
Earnest Patterson
Brenham 2015, Running Back
Patterson recorded 5,076 career yards on 681 carries, which garnered him all-district and all-state honors and a three-star rating by 247Sports.com. Patterson played at Blinn for two years as a receiver before transferring to Louisiana-Lafayette and gaining 308 yards on 22 receptions.
KeeKee Johnson
Bryan 2015, Running Back
In Bryan's 9-4 season that led the Vikings to the regionals, Johnson set the program's single-season rushing record with 301 carries for 2,187 yards as a senior. Johnson also compiled 35 touchdowns and caught 10 passes for 108 yards that season, which landed him a spot on a Tyler Junior College squad. 
Jared Spivey
Bryan 2016, Offensive Line
Spivey was a three-time letterwinner and two-time All-BV selection for Bryan. As a junior, he graded out at 90% for an offensive front that included a 2,000-yard running back, before topping it his senior year with a 95% grade and allowing just one sack.
Jeremiah Williams
College Station 2018, Offensive Line
Williams was a key player for the Cougars' offensive line that gained 6,482 yards and averaged 46.2 points per game during his junior season alone. He closed out his high school career as a first-team all-state TSWA selection after grading out at 93.7%. 
Jordan Jefferson
Navasota 2020, Offensive Line
A three-time All-BV selection and four-year starter for Navasota, Jefferson committed to Texas A&M as a freshman and enrolled early this spring. The 6-foot-2 lineman graded out at 97% and allowed no sacks as a sophomore, and during his junior year was a two-time unanimous first-team all-district pick. He helped the Rattlers on the defensive line in his final season and racked up 32 tackles.
Casey Phillips
Franklin 2018, Offensive Line
Phillips was a key part of a Franklin line that totaled 5,139 yards and averaged 8.1 yards per play in 2016. He helped lead the Lions to a 10-2 record in his senior season and was rated a three-star recruit by ESPN.com. Phillips chose Baylor over TCU, Texas Tech and Oklahoma State.
Cade Hawley
Lexington 2019, Offensive Line
A two-time All-BV selection and anchor for Lexington's offense, Hawley graded out at 93% with 53 pancakes in 2017 before upping the ante as a senior, with a 94% grade. Hawley is currently in his sophomore season with Army West Point.
Brandon Madison
Centerville 2018, H-back/tight end
Madison was a dynamic running back for Centerville. Madison, now a junior at Blinn, had 273 carries for 2,253 yards with 26 touchdowns and compiled 246 yards on kick returns. But he topped those numbers as a senior with 2,329 rushing yards and District 13-2A-I co-offensive MVP honors.  
Tren'Davian Dickson 
Navasota 2016, Wide Receiver
Dickson had 89 receptions for 2,136 yards with a national record 39 touchdowns during Navasota's 2014 state title. Dickson, the No. 14 overall player in the 2016 signing class according to 247Sports.com, racked up 82 receptions for 1,525 yards. He signed with Baylor and is now a redshirt junior for Texas Southern.
Austin Collins
Navasota 2013, Wide Receiver
Collins was a part of a Navasota team that took two consecutive trips to the state quarterfinals while he was on varsity, and in his senior season, he helped the Rattlers earn a state title. Collins racked up 2,666 receiving yards on 151 receptions. Collins played for Navarro College for two seasons.
Sicory Smith
Cameron Yoe 2017, Wide Receiver
Smith did it all for Cameron. In 2015, he compiled 1,581 yards on 77 receptions, 242 rushing yards, a total of 22 TDs and 585 returning yards with one season still to go. Smith finished his high school career with 70 receptions for 1,339 yards, a total of 21 TDs, 186 rushing yards and 457 yards on kick returns.
Traion Smith
Cameron Yoe 2016, All-purpose
Smith played a big part in Cameron's 4A-I state title even as a sophomore. In that season he rushed for 2,360 yards on 275 carries. He left it all out on the field as a senior and earned Class 3A offensive MVP honors after becoming Cameron's single-season and career rushing leader.
Malcom Brown
Brenham 2012, Defensive Line
Named 17-4A MVP as a senior, Brown was a menace in the middle of Brenham's defensive line and became a 5-star recruit, ranked a top-10 overall player nationally. Brown signed with Texas and was a two-year starter for the Longhorns, earning All-American honors as a junior. Brown was the 32nd pick in the 2015 NFL draft by the New England Patriots and has won two Super Bowls.
Cayden McBride
Rockdale 2019, Defensive Line
McBride was a first-team all-state selection as a junior in 2017 after leading the Tigers to a state title. He was a two-time All-Brazos Valley first team selection.
Josh Ellison
A&M Consolidated 2019, Defensive Line
Back-to-back seasons with 100-plus tackles earned Ellison 10-5A-II Defensive MVP honors as a senior. Ellison originally committed to Texas A&M but spent his freshman year at Blinn and signed with Oklahoma last December.
Edgar Luna
Cameron Yoe 2013, Defensive Line
Luna was a key cog in the Yoemen's defensive front, winning the 2012 2A-I state championship. In college, Luna played two seasons at Blinn before transferring to Midwestern State where he switched to offense.
Trevor Williams
A&M Consolidated 2018, Linebacker
A centerpiece of the Tigers' defense, Williams led the Tigers in tackles as a junior and senior, earning 18-5A defensive MVP honors in 2017. Williams now plays at Sam Houston State and emerged as a key linebacker as a sophomore in 2019.
Aaron Allert
Lexington 2020, Linebacker
Allert tallied over 150 tackles as a junior and senior for the Eagles and was named 8-3A-II defensive MVP as a senior. Allert signed to play at Texas State in February.
Marqez Bimage
Brenham 2017, Linebacker
Bimage was a beast for the Brenham defense as an edge rusher and was named 20-5A defensive MVP as a senior. Bimage is now a senior at Texas and has served as a key reserve on the Longhorns' defensive line for three seasons.
Will Fannin
Franklin 2019, Linebacker
Fannin was 10-3A-I co-defensive MVP as a junior and 11-3A-I MVP as a senior for his play on the Lions' defense.
Brandon Joseph
College Station 2019, Defensive Back
Joseph was a two-time first-team all-state selection as a junior and senior, helping lead the Cougars to their first state championship in 2017. Now at Northwestern, Joseph saw action in four games last season and made his first collegiate tackle against Ohio State.
Kolby Harvell-Peel
A&M Consolidated 2018, Defensive Back
At safety, Harvell-Peel was a playmaker and ballhawk for the Tigers. He now plays at Oklahoma State and was a first-team All-Big 12 selection in 2019 after a breakthrough 2019 season.
Nate Floyd
A&M Consolidated 2020, Defensive Back
Floyd was a key piece to the Tigers' defense, playing both cornerback and safety during his high school days. Floyd signed to play in college at Texas Tech.
Jared Pedraza
Franklin 2019, Defensive Back
Pedraza earned back-to-back district MVP honors as a junior and senior following standout seasons on defense where he recorded over 100 tackles in each year. Pedraza now plays linebacker at Northwestern State.
Angel Quiroga
Bryan 2018, Kicker
Quiroga was a special teams weapon for most of three seasons with the Vikings as he made 25 of 29 field goals and 111 of 113 PATs during his high school career. He bounced back from an injury his junior year for a stellar senior season in which he connected on 15 of 17 field goals and 50 of 51 PATs. Possibly even more than his accuracy, one of Quiroga's best traits was his excellence on kickoffs.
Kyle King
Milano 2018, Punter
The three-time all-state punter (as well as three-time all-state defensive back and one-time all-state quarterback) booted it better than anyone in the Brazos Valley this decade. King kicked over 4,400 yards worth of punts in his high school career, averaging over an eye-popping 44 yards per punt. King was the only one to make the All-BV teams in football, basketball and baseball in the same school year (2016-17).
Eric Peterson
College Station 2017, Return specialist
Peterson was a threat to take it to the house whenever he touched the ball, scoring 15 touchdowns on 49 touches his senior season, and was a key piece in College Station's run to the 5A Division II state semifinals. Five of those came on 12 punt returns in which he averaged 34.1 yards per return. He also was effective on kickoff returns during his three years, averaging 23.5 yards on 24 returns.
---
SECOND TEAM
Kadarius Baker
Navasota 2013, Quarterback
Baker led the Rattlers to a Class 3A state title in his final season, but he put up strong performances during his three years on the squad. In 2011, Baker had 4,421 passing yards with 55 touchdowns, adding to his 3,074 passing yards as a junior. He played two season at Houston Baptist and completed 32-of-83 passes for 366 yards as a redshirt freshman in 2014.
Caleb Harmel
Burton 2019, Quarterback
Harmel's final season at Burton topped off his illustrious career with 2,070 passing yards and 1,464 rushing yards, a total of 52 touchdowns and a 59% completion rate, which earned him TSWA third-team all-state honors. Harmel signed with Trinity as a linebacker and racked up 53 total tackles and 2.5 sacks.
Darius Floyd
Franklin 2013, Running Back
In Franklin's 2A quarterfinal run in 2011, Floyd gained 2,023 yards on 187 carries with 25 TDs to get the Lions to a 9-3 season. The 6-foot, running back turned wide receiver played for Trinity Valley Community College before transferring to Prairie View A&M in 2015. Floyd led the Panthers as a senior in receptions with 40 and was second in receiving yards with 501. 
Ja'Kobe Cooper
Lexington 2019, Running Back
As a junior, Cooper led the Brazos Valley in rushing yards with 3,140 on 266 carries and 37 touchdowns. That season he was named District 13-3A offensive MVP and made the TSWA first-team all-state. Cooper continued to lead Lexington's run game with 1,402 yards and 18 TDs during his senior season and he made the TSWA third-team all-state. Cooper signed with the Hardin-Simmons Cowboys.
Cody Duewall
Franklin 2020, Offensive Line
A two-time All-BV selection, Duewall anchored a line that dominated in its running attack. During his junior season, Franklin rushed for 5,819 yards and Duewall earned first-team all-district honors and made the TSWA third-team all-state team for his efforts. Duewall closed out his high school career protecting a Lions' offense that rushed for 3,500 yards last year.
Jake Fryrear
Caldwell 2016, Offensive Line
Fryrear was a four-year starter for the Hornets and was voted as District 11-4A's outstanding lineman with a 93% grade as a senior after leading a Caldwell squad that passed for 3,000 yards and rushed for 1,500 yards.  Fryrear, who moved from guard to center, made the 4A all-state third-team on offense and the all-district first-team as a DT.
Cameron Cermin
A&M Consolidated 2012, Offensive Line
The 6-foot-5 offensive lineman was the leading rusher for Consol as a senior, grading out at 91% on an offense that averaged 376.5 yards and 28 points per game, which earned him a unanimous 12-5A all-district selection. Cermin, a three-star prospect by Rivals.com, played for Purdue. In his last two years he started at left and right tackle.
Reid Francis
A&M Consolidated 2019, Offensive Line
Francis graded out at 93% through 12 games as a senior for a Consol offense that compiled 1,472 rushing yards and 46 touchdowns. He made the TSWA third-team all-state team in 2018 and earned second-team all-state and second-team all-district honors as a junior and sophomore, respectively. The two-star lineman plays for Incarnate Word.
Cole Elms
Brazos Christian 2015, Offensive Line
Elms helped lead the Eagles to their second trip to the state semifinals in 2013, earning first-team all-state honors on both the offensive and defensive line for a offense that had two 1,000-yard rushers. Elms signed with Rice and redshirted his freshman year.
Courtland Sutton
Brenham 2014, H-back/tight end
The three-star ESPN.com recruit, doubled as a tight end and safety for Brenham, in which he made the all-district first and second team, respectively as a senior. Sutton chose SMU over Colorado and Rice, and compiled 3,220 receiving yards on 195 receptions with a total of 32 TDs. Sutton was drafted in the second round of the 2018 NFL draft to the Denver Broncos.
Dede Westbrook
Cameron Yoe 2012, Wide Receiver
Cameron's Westbrook has gone the distance as a receiver. Westbrook compiled 1,056 yards on 75 receptions and 16 touchdowns in the Yoemen's state run as a junior. He played two seasons at Blinn before transferring to Oklahoma where he became a Heisman Trophy finalists. He was drafted by Jacksonville in the fourth round of the 2017 NFL draft.
Solomon McGinty
Navasota 2013, Wide Receiver
McGinty was a constant on Navasota's stat sheet, earning all-state honors as a receiver ad honorable mention as a linebacker in 2011 and 2012, while totaling 44 touchdowns, 3,131 receiving yards and 159 receptions as a junior and senior. McGinty played for Tyler Junior College before he transferred to Liberty as a linebacker.
JaQuayln Crawford
Rockdale 2018, Wide Receiver
The three-year letterwinner for Rockdale and an ASPE all-state defender, Crawford doubled as a receiver and defensive back with 53 total TDs, 2,569 receiving yards, 1,200 rushing yards and seven interceptions in his career. Crawford was a redshirt freshman with Oklahoma before transferring to Arkansas this year.  
Dee Winters
Burton 2019, All-purpose
A two-time All-BV selection and two-time TSWA al-state pick, Winters had strong performances on the ground and in the air. As a junior he racked up 1,171 receiving yards and 650 rushing yards with 33 TDs, which earned him a District 13-2A co-MVP. Winters' 28 TDs and 1,629 total yards earned him a spot on a TCU squad as a linebacker. 
J.J. Lollar
A&M Consolidated 2012, Defensive Line
A three-year starter for the Tigers, Lollar anchored Consol's defensive line. Lollar signed with Texas Tech, but transferred to Blinn after being diagnosed with an eye condition.
Jordan Wells
Navasota 2014, Defensive Line
Wells was strong on the defensive line for Navasota and was named the defensive MVP of the 2012 3A-II state championship game. Wells played two seasons at Cisco College before transferring to Tarleton State where he was a third team All-American in 2019.
Jabril Hunter
Navasota 2017, Defensive Line
A three-time All-Brazos Valley first team selection, Hunter was a key cog on the Rattlers' defensive line. Hunter went on to play basketball in college at Wilberforce University in Ohio.
Marquise Conchola
College Station 2018, Defensive Line
Conchola was a leader of the Cougars' defense en route to the 2017 5A-II state championship. Conchola was a first-team all-state selection as a senior. He played two seasons at Tyler Junior College.
Colin Reed
Normangee 2012, Linebacker
A two-way starter for the Panthers, Reed raked up 154 tackles as a senior, including 26 for losses, as well as three interceptions and four forced fumbles.
Coy Imhoff
Navasota 2015, Linebacker
Imhoff recorded over 150 tackles as a junior and senior, earning district defensive MVP honors as a senior for the Rattlers.
Colton Renick
Iola 2018, Linebacker
Renick recorded 183 tackles as a senior, earning 12-2A-II defensive player of the year honors.
Mark Wagner
College Station 2017, Linebacker
A four-year letterwinner for the Cougars, Wagner was a force for the College Station defense. As a senior, he helped lead the Cougars to the 5A-II semifinals with 183 tackles, including 14 for loss.
Josh Murray
Lexington 2012, Defensive Back
A two-way standout, Murray helped guide the Eagles to a 2A-II state championship game appearance and a state semifinal appearance. Murray was named district MVP as a senior after recording 160 tackles and five interceptions.
Rajah Preciado
College Station 2016, Defensive Back
Preciado was a four-year playmaker for the Cougars and also starred as a kick returner. He played two seasons in college at Baylor.
Ryan Stapp
College Station 2019, Defensive Back
Stapp had a strong senior season, earning honorable mention all-state honors. He now plays at Abilene Christian.
Zacarrius Haynes
Anderson-Shiro 2020, Defensive Back
Haynes doubled as the Owls' starting running back, but also starred on defense. He was a key leader for the Owls.
Ryan Bowersox
College Station 2016, Kicker
Bowersox, a three-time all-state kicker, was a big scorer for the high-octane Cougars, putting up 293 points from kicks. He connected on 25 of 28 field goals and 218 of 226 PATs over three seasons.
Chalon Pratt
Anderson-Shiro 2020, Punter
Pratt, a two-time All-BV selection, was masterful at coffin corner kicks. He pinned opponents inside their 20-yard line 30 times during his standout sophomore and junior seasons. He also averaged 39 yards per punt as a junior.
Javareyon Bailey
Hearne 2019, Return specialist
Bailey was a 2A all-state first-team selection at kick returner in 2018, when he returned three kickoffs and two punts for touchdowns. The receiver was also a focal point in the Eagles' high-flying offense, helping Hearne to the playoffs three seasons in a row following an 0-10 season in 2015.