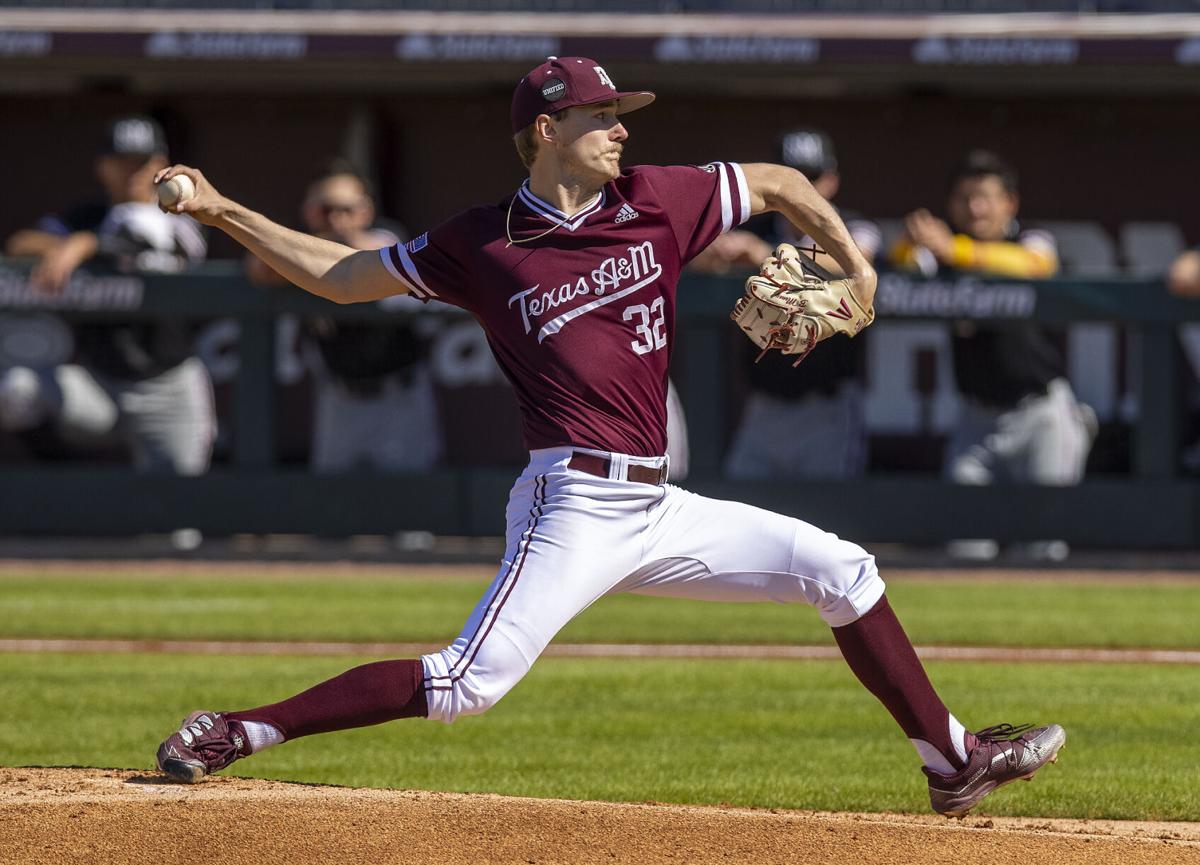 Texas A&M baseball veterans Bryce Miller and Will Frizzell have always played a small role in the Aggies' success, but before the 2021 season began, many believed the pair would be the ignition to the team's machine this year.
They lived up to their billing in a 5-0 win over New Mexico State on Saturday in the second of their three-game nonconference series at Blue Bell Park.
Game 3 is set for 1 p.m. Sunday.
In his third start of the season, Miller recorded a career-high 15 strikeouts, while allowing just four hits and no runs in seven innings. He walked one.
Miller began the season as A&M's ace but gave up four runs on four hits in just 3 2/3 innings in his first start. The next week he moved to the No. 2 starter and threw five scoreless innings against Oklahoma.
On the rebound, Miller also found his curveball during a midweek bullpen session and used it Saturday against New Mexico State (1-5).
"We got his front side closed and got his arm up and established the curveball," A&M head coach Rob Childress said. "He did not throw a slider until the third inning, and he established that pitch."
Miller's secondary pitches served a supporting role to a fastball that remained around 96 miles per hour throughout Saturday and touched 98 early in the game. Leaning heavily on the fastball as a strikeout pitch, Miller blew it by New Mexico State hitters as he struck out the side in the third, fourth, fifth and seventh innings.
"Fastball has always been my main pitch and trusting it and throwing it over the plate," Miller said. "Today, I felt like I could put it anywhere I wanted to, and if I'm doing that, I'm going to be pretty confident against whoever we are facing."
Switching from starting Game 1 to Game 2 with Dustin Saenz also has given Miller a chance to study the opponents' order during the series opener, he said.
Miller (2-0) faced just three batters over the minimum and is the second Aggie pitcher to reach the seven-inning threshold this season following Saenz's 7 2/3-inning performance Friday.
Miller's 15 strikeouts are the most for an Aggie since Casey Fossum fanned 15 against Baylor in 1998.
"Amazing performance out of our pitching staff today," Childress said. "Bryce Miller was as good as he possibly could be."
Senior receiver Chandler Jozwiak picked up where Miller left off, striking out the side in the eighth and ninth innings to close out the victory.
Frizzell led the Aggies (8-4) at the plate, going 5 for 5 with a double and scoring a run in A&M's four-run seventh inning. He is leading A&M in hitting with a .447 batting average.
"Will's a hitter, first and foremost," Childress said. "He's a power guy second. He commands the strike zone extremely well. He knows what his strengths are as a hitter, and he's able to take the pitches that aren't his strength, albeit strikes, and get himself in a position where he can attack his strikes."
Frizzell said health has made all the difference in his strong start to the season.
"I feel like last year I was making strides towards it, and I felt really good last year," Frizzell said. "This year being able to play defense every day and run way better, I just feel way better and way more conformable with myself and with my body."
Although Frizzell leads the Aggies in RBIs with 10, the rest of the lineup drove in A&M's runs Saturday.
Shortstop Kalae Harrison drew a bases-loaded walk to drive in second baseman Ty Coleman in the second inning for a 1-0 lead.
Center fielder Ray Alejo led off the bottom of the seventh with a walk, and Frizzell singled. Alejo scored on a wild pitch for a 2-0 lead, and Rody Barker walked to load the bases with one out. Then with two outs, Coleman and third baseman Trevor Werner hit back-to-back RBI singles. Coleman's drove in Barker and Frizzell, and Werner's plated Coleman, who got into scoring position by taking second on another wild pitch.
Coleman finished the day 2 for 4 with two RBIs and two runs scored. Werner recorded his first two hits of the season in 14 at-bats.
"Offensively, we had some shots early and didn't cash in, and then it was game on," Childress said. "Luckily for us, we were able to score late and get a little breathing room going out for the eighth inning."
NOTES — A&M has a chance for its first series sweep of the season Sunday. A&M sophomore left-hander Jonathan Childress (0-1, 0.84 ERA) will start against senior right-hander Chris Jefferson (1-0, 2.57). ... A&M's combined 21 strikeouts Saturday are one short of the single-game team record set last year against Army. It also is the most New Mexico State has struck out in a game.