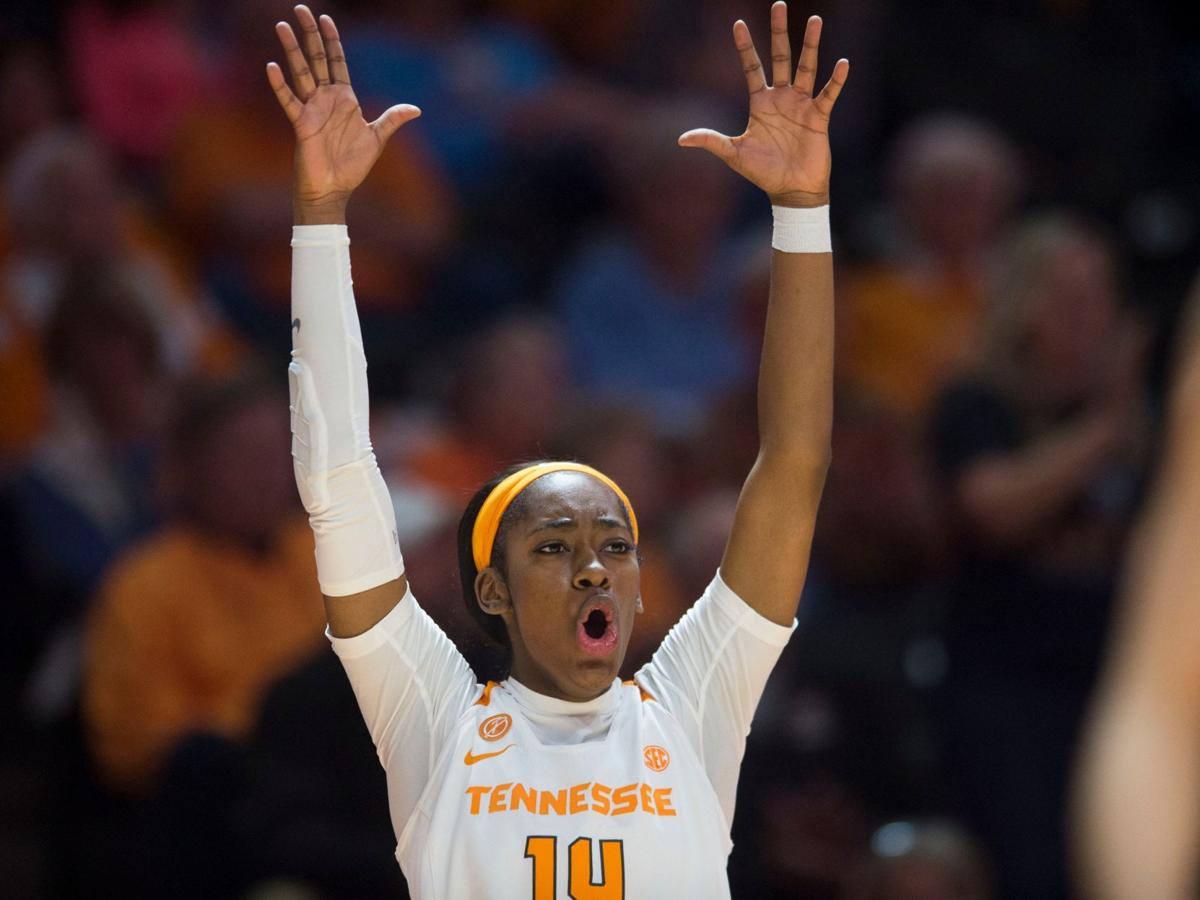 Texas A&M women's basketball coach Gary Blair had a day to rival LSU quarterback Joe Burrow, who was the top pick in Thursday's NFL Draft.
Blair's day started with his third career hole-in-one as he aced the seventh hole at The Traditions Club. The paperwork for sophomore guard Zarielle "Zaay" Green, a transfer from Tennessee, was finalized early Thursday night, and within the hour, Blair's beloved Dallas Cowboys drafted Oklahoma's CeeDee Lamb.
"They got a big-time receiver," Blair said. "It's been a heck of a day."
Blair's biggest news was landing Green, a former McDonald's All-American at Duncanville High School.
"Zaay is a young lady that we have known since she was in the seventh grade," Blair said. "We lost her to Tennessee the first time around, but she is coming back home to the state of Texas to be an Aggie. She is a skilled offensive player with tremendous athletic ability."
Ironically, Green's mother, Yolanda Harris, was a four-year starter at Stephen F. Austin University. She signed with Blair, but he never coached her because he left for Arkansas.
"It's funny. It is kind of wild," Green said.
Green entered the NCAA transfer portal April 1. She played only two games this past season, tearing her anterior cruciate ligament in her right knee in practice Nov. 9. The 6-foot Green scored 26 points with nine rebounds in those two games.
Green said after she entered the portal, some teams talked to her, but she had pretty much decided she was coming back home and A&M was the top choice. She wasn't able to visit because of the coronavirus but took a virtual tour, adding she was familiar with everything, had played at Reed Arena her freshman season and was excited "to be playing in Aggieland."
Green averaged 9.6 points, 4.0 rebounds and 2.3 assists in 2018-19 to make the All-Southeastern Conference coaches' freshman team. She hit 129 of 328 field goals (39.3%), including 22 of 101 (21.8%) on 3-pointers.
"This [move] is really going to help me develop my skills for the next level," Green said. "I'm going to have to get mentally better on the court, taking better care of the ball. I just have to step my game up."
Green likes A&M's defense and just their overall style of play.
"They press, they get up on you," Green said. "They push the ball, too. They're going to allow me if I get the ball on the rebound to push it up the court. They are just very versatile in how they play, and I like that."
Green is hopeful the NCAA will allow her to play immediately and not have to sit out a season. She said getting away from home was appealing coming out of high school, but she realized she needed to be close to home.
Green also talked to A&M center Ciera Johnson, who also was a McDonald's All-American and teammate at Duncanville. Johnson signed with Louisville and transferred back to A&M, starting her sophomore and junior seasons after sitting out a season.
Johnson and Green won the Class 6A state championship together in 2016, beating Spring Dekaney 76-42. Green had 25 points and Johnson added eight points and 14 rebounds. The following season, Duncanville beat Cypress Ranch 76-65 for the title with Green scoring 25 points and being named the game's most valuable player.
"She is a position-less and impact player that we are eager to incorporate into our program," Blair said.
Green was ranked the nation's 10th-best recruit in the Class of 2018 by ESPN.com's HoopGurlz.
Green originally pledged to Kansas but opted for Tennessee, telling national analyst Dan Olson "I felt the school was calling my name, I knew this was the one."
It turned out not to be the good fit.
"I would like to thank the fans and everyone else who has supported me through this journey the past two years," Green said on social media when she entered the transfer portal. "I'm very grateful for the memories, but due to my actions and decisions and the coaches, it has been best for me to part my ways for University of Tennessee and figure out what is best for Zaay Green."
Green is hopeful to be in Aggieland by the end of May. She was scheduled for a May 4 misdemeanor citation booking on a charge for simple possession/casual exchange of a controlled substance in Knoxville, reported the Knoxville News Sentinel. But Green said she probably will pay a fine and not have to go to court. She had no further comment except to say "it was over-exaggerated."
NOTES — Johnson, who was injured early in the Southeastern Conference quarterfinal loss to Arkansas, had surgery early Thursday to repair the tendon in her ankle. … Blair used a 22-degree utility club for his hole-one-one on the 150-yard hole with a slight wind in his face. He didn't see the ball go in the hole because it was a dog leg. He also didn't see his other two hole-in-ones. He was playing with Ted McElroy, Don White and Chuck Lohse.