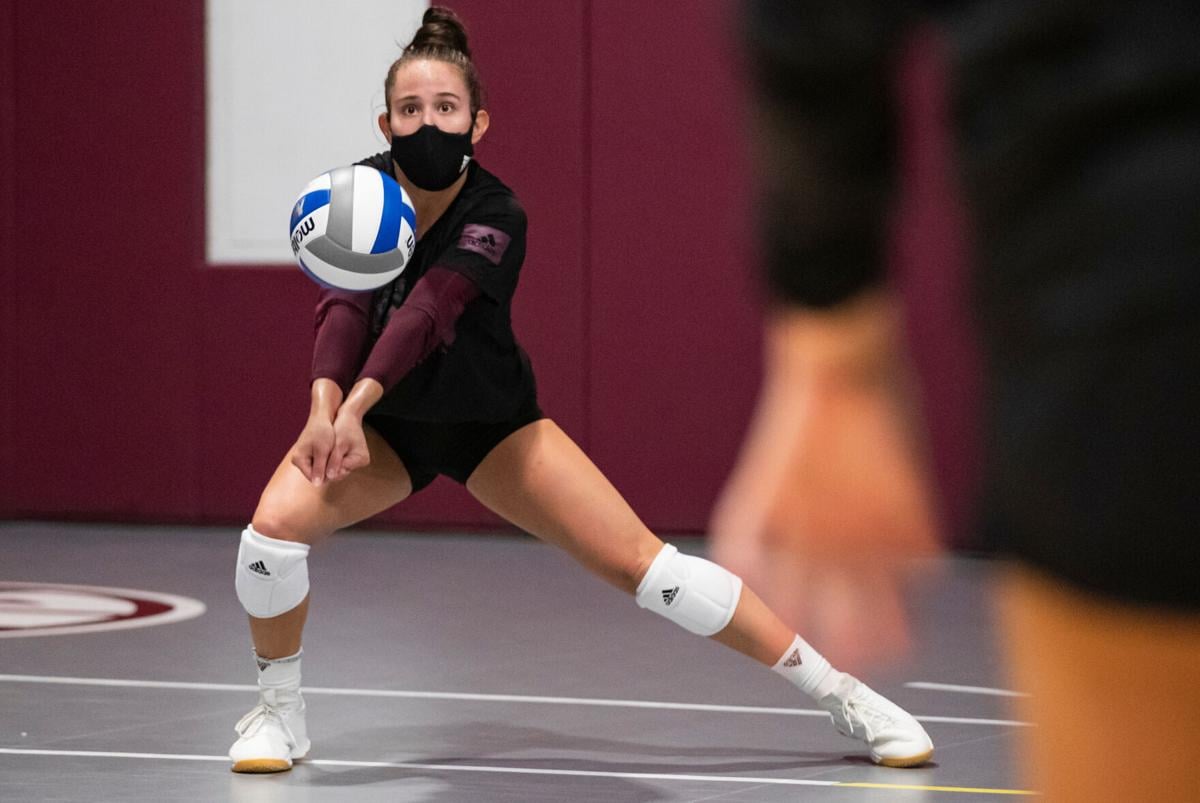 For months, college volleyball has wandered in the wilderness of uncertainty if and when a season would take place while the COVID-19 pandemic continues around the world.
Texas A&M head coach Bird Kuhn emphatically said the calendar turning over this week, with the Aggies season opening series with LSU, was GPS for the soul.
"It feels like home," Kuhn said. "It feels like home to be in game week again, you know?"
While welcoming LSU to Reed Arena Saturday at 1 p.m. brings some normalcy to the home of Aggie volleyball, the furniture has been rearranged. Games in the truncated eight-match, all-Southeastern Conference schedule will be played in pairs against the same opponent. The Aggies will close out the series with the Tigers 3 p.m. Sunday.
The series format will provide a litmus test in maturity for Kuhn's team, she said.
"How much can you adapt?" Kuhn said. "You adapt and adjust during a matchup, but how well do you do that the next day, playing the same opponent? It's not only what are they going to change against us, but how are we going to adjust to how we defend them? I think the competition is going to just force growth and accelerate any kind of progress we've made now, just playing ourselves."
After the eight-game fall season, a spring segment of the season will take place, culminating in the NCAA championship. The format of that segment has yet to be decided.
Before championship dreams can be realized, the Aggies must fill two key vacancies in the rotation made by record-setting outside hitter Hollann Hans and Columbian international libero Camila Gomez, both exiting due to graduation. The pair helped push A&M to a 23-8 record and a berth into the Sweet 16 of the NCAA tournament, A&M's best showing since 2009.
The Aggies return a pair of outside hitters in Lauren Davis and Treyaunna Rush who provided key support as true freshman last season.
"When I say we have a lot of pieces — like Trey, before we left from the spring, she evolved into this monster of a player," Kuhn said.
"I think you're going to see the evolution of some of those players stepping into those roles, like Trey and Davis," she continued. "She had a big role for us last year, but that's going to look different this year. There's going to be more balance."
Davis saw action in 30 matches for the Aggies as a freshman, recording 253 kills with a .189 hit percentage. Rush also played in 30 matches, slamming down 173 kills with a .172 hit percentage.
The Aggies also have the abilities of two outside hitter transfers from Kansas, Morgan Christon and Camryn Ennis, at their disposal.
"I'm pretty confident with all of our hitters," Rush said. "I think that all of us know that we have to step up and I know that all of us can step up and play how we need to play to get the job done."
Kuhn has instituted a philosophy of playing fast on offense in her two previous seasons in Aggieland and the extra time in practice, due to the delayed start in the season, has made the attack even quicker, she said.
"Our offense will be crucial," Kuhn said. "We've sped things up. The last two scrimmages our passing was really good. We need that in order to run the offense we want to be running."
It starts with the libero and sophomore Karly Basham, who has separated herself as the frontrunner, after two weeks of a deep position battle, Kuhn said.
Basham played in 30 matches last season, collecting 147 digs.
"Karly Basham has kind of solidified that she is the [libero]," Kuhn said. "That is almost more of her demeanor than her actual play, because all of them have their strengths. She kind of owned that role, once she was given the opportunity and I think everyone respects that and it's the way she's so direct with the communication."
Beyond the excitement of returning to play after an uncertain offseason is the chance to square off against LSU, a team that downed the Aggies 3-1in Baton Rouge in their last meeting. With no nonconference film to study before the start of the SEC schedule, Kuhn said she doesn't know what kind of Tiger team they will face. But her team is ready to face that challenge, shouting, "chip" every time they break a team huddle, emphasizing the chip they have on their shoulder entering the two-game series.
"LSU is going to be good," Kuhn said. "They've added some really good pieces as freshmen. ...We know that they are going to be a good opponent. They're going to be tough. They're going to have their strengths."
Be the first to know
Get local news delivered to your inbox!