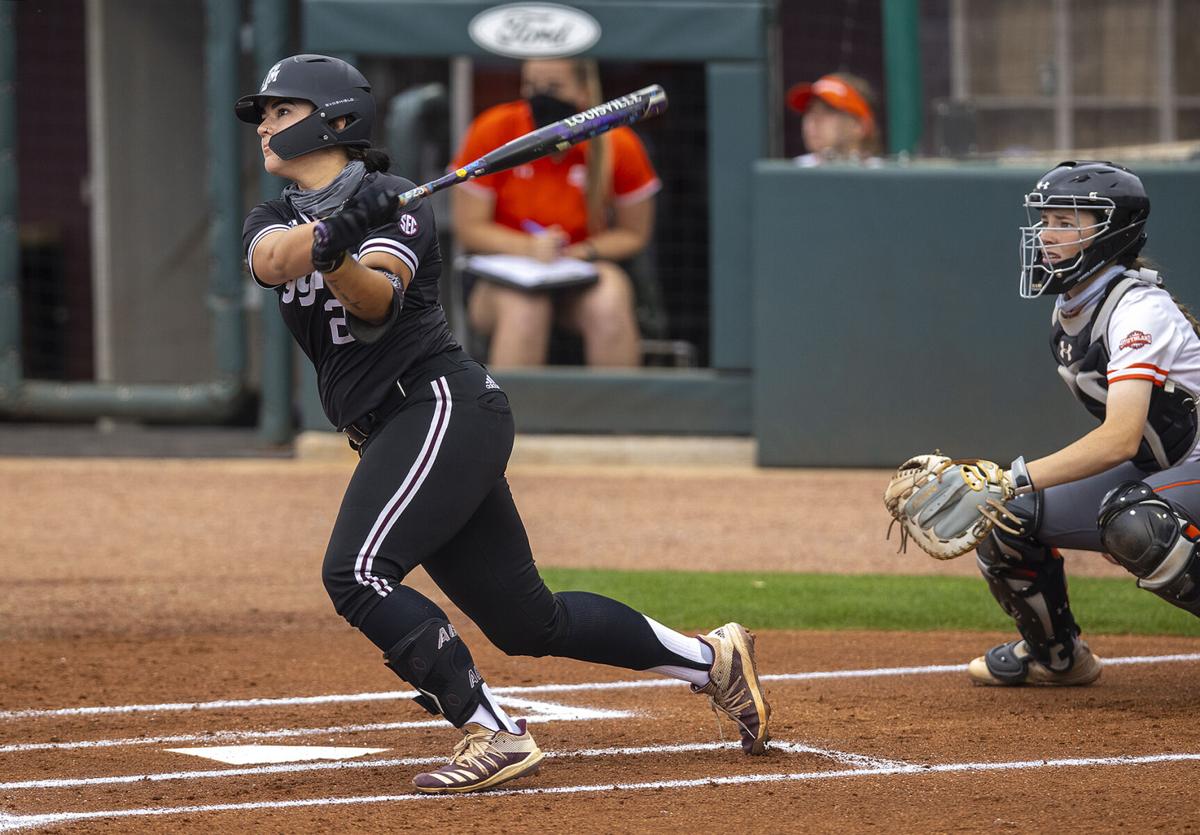 Things are looking up for the Texas A&M softball team.
The Aggies reached the halfway point of their Southeastern Conference schedule with a 5-7 record, only a victory short of matching their win total from two years ago. A&M was 6-18 in 2019, its worst record in conference play since it began league play in 1996 when it joined the Big 12. The Aggies were still good enough to make the NCAA tournament for the 18th straight time, though A&M sweated out the NCAA Selection Show. A&M (27-11) is hopeful that won't be the case this year and with a strong finish it could be one of the 16 national seeds.
A&M is tied with Kentucky for ninth place in the SEC standings with four league series remaining. They are part of seven teams which are separated by two or less games in the loss column. A&M will play one of those teams this weekend in Ole Miss (26-14, 8-7), which is tied with LSU (24-13, 8-7) for fifth place.
"I think we're not as good as we're going to be, measuring what we've done up to this point," said A&M coach Jo Evans, adding that's not necessarily in regards to wins and losses, "but how we are playing the game. I didn't like the way we played the game against Alabama when we dropped that series. I want to see us be a more confident, composed, together team."
The Aggies dropped two of three games last weekend against Auburn, but the defense and pitching were better in the last two games, Evans said.
A&M got a huge lift in Wednesday's 8-0 victory over Sam Houston with junior right-hander Makinzy Herzog throwing a two-hitter, striking out a career-high 13. Herzog (10-2) looked like the pitcher who dominated McNeese State, LSU and South Carolina in helping the Aggies be ranked in some polls until dropping the Auburn series. A&M's defense has been solidified in recent weeks and the offense has had some success against just about every pitcher other than being handcuffed twice by Auburn freshman Shelby Lowe.
"I'm not going to get hung up on the wins and losses, because every team we play is a top 25 RPI team," Evans said. "If we can start to play the game with our feet on the ground like we've been doing the last three games, I'll be pleased with that, because I know we'll get the results we want."
No one is getting better results than A&M junior catcher Haley Lee who hit two home runs against SHSU, her third multi-homer game of the season. Lee has 17 homers and 35 runs batted in. She has a 1.031 slugging percentage and a .563 on-base percentage. She leads the SEC in slugging percentage, is second in homers and third in batting.
"Haley Lee is just doing what Haley Lee does," Evans said.
Lee batted second for the first time this season against SHSU. She had batted third in every game with sophomore Shaylee Ackerman batting cleanup since the fifth game of the season, replacing sophomore Jourdyn Campbell. Freshman Bre Warren (.341, 2 HRs, 16 RBIs) batted leadoff for the first time this season against Sam Houston State. The number three batter was Herzog, who had batted leadoff in every game but two. Herzog said she hadn't batted third since her 10 & Under youth team.
"I think it's going to put us in a really good spot moving forward when you look at the tools of each player and what they bring to the table in each of those positions," Herzog said.
The new lineup might make it tougher to pitch around Lee who has 27 walks. Herzog (.353, 8 HRs, 30 RBIs, 17 SBs) and Ackerman (.298, 11 HRs, 33 RBIs) potentially are a solid 1-2 punch behind Lee.
NOTES — The NCAA Division I baseball and softball tournaments this year will have predetermined sites for regionals and super regionals as a safeguard against COVID-19. The 16 regional hosts for softball will be announced next week. The deadline to submit a bid was April 12 and A&M submitted one. "We feel like with the COVID restrictions and all the protocols and how things operate, that Davis Diamond is a perfect place to host a regional and we have enough space to keep people separate and keep those protocols together," Evans said. Along with having one of the nation's best facilities, the Aggies also have a second field if needed with the Aggie Softball Complex. The super regional sites will be picked from the regional sites. ... The SEC sent all 13 teams to the last two NCAA tournaments. The league had six national seeds in 2019 — 5, Florida; 8, Alabama; 10, LSU; 11, Ole Miss; 12, Tennessee; and 14, Kentucky. It had nine national seeds in '18 — 2, Florida; 7, Georgia; 9, South Carolina; 10, Tennessee; 11, LSU; 12, Alabama; 13, Arkansas; 15, A&M; and 16, Kentucky. ... Campbell, who was last year's starting shortstop, opted out of the season before SEC play started. She played in 17 games, hitting .143 with a homer and five RBIs. … A&M ranked 37th in the NCAA RPI after last week's games. Ole Miss is 25th. … Ole Miss first-year coach Jamie Trachsel had great success at Minnesota, taking the Golden Golphers to the Women's College World Series in 2019. She took North Dakota State to the NCAA tournament five of her six years. She was at Iowa State for one year (2017), going 23-35 for her only losing season. … A&M has 13 shutouts, which ties it for fifth in the country with Alabama, Fresno State, Ole Miss, Oregon and Virginia Tech. … A&M leads the Ole Miss series 15-2.