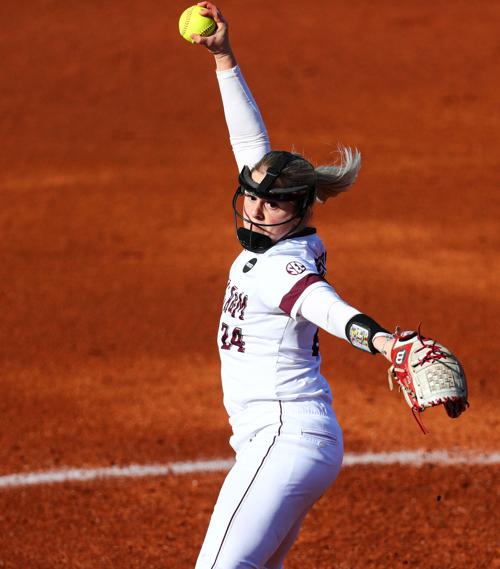 The Texas A&M softball players are quick learners.
Less than 24 hours after an epic seventh-inning meltdown, the Aggies stepped up for a 2-0 victory over Central Arkansas on Monday afternoon at Davis Diamond as Kayla Poynter and Kelsey Broadus combined on a five-hitter.
A gut check for the Aggies (3-2) came in the sixth inning as they nursed a 1-0 lead when Poynter hit the Bears' Kristen Whitehouse with a pitch and freshman first baseman Trinity Cannon booted Mary Kate Brown's grounder. It was a carbon copy of the start of Texas Tech's seventh inning in the Red Raiders' come-from-behind 2-1 victory when a walk and error set the table. The Aggies then gave the game away because of a mental error and another physical error.
Instead of déjà vu Monday against Central Arkansas, the Aggies flashed some defense.
A&M senior third baseman Dani Elder foiled Central Arkansas' sacrifice bunt attempt by pouncing on the softball and throwing a strike to freshman shortstop Rylen Wiggins covering third base. Poynter struck out the next batter and slick-fielding Wiggins made a nice play on hard-hit grounder by pinch-hitter Megan Crownover.
"Yeah, I feel really good about the way our team processed what we talked about after the game yesterday because I was hard on our kids," A&M coach Jo Evans said. "I was not easy on them whatsoever. I think it's really important for our young team to learn how to win, learn how to win close games, learn how to keep a lead with some pressure in the late innings."
A&M had a 1-0 lead because of the Bears' atrocious defense in the second inning. Third baseman Cylla Hill booted Cannon's grounder. Left fielder Tremere Harris and center fielder Reagan Sperling allowed Bri Warren's catchable fly ball to drop for a double. Ashlynn Walls' groundout scored Cannon and that was the only run the Aggies needed, though they did some sweating in the sixth.
College Station freshman Warren, along with the double, added a swinging bunt single and walk for a perfect day in her first collegiate start after walking as a pinch-hitter on Sunday. 
"She's someone we want to give opportunities, we think she's a special player," Evans said. "Today, I thought she took some really good swings. I thought she managed the strike zone really well."
"I don't know if the kid lost [the ball] in the sun or whatever," Evans said with a smile. "It's in the scorebook, it's a double and on the stats, it's a double. Good for you kid; you got the ball from your first hit."
A&M added an insurance run in the sixth on Shaylee Ackerman's double which plated Kelbi Fortenberry who opened the inning with her second hit of the game. Sophomore Ackerman is hitting .545 (6 for 11), already matching last season's hit total when she batted .171 (6 of 35).
"Last year, I felt like I was definitely trying to rush my process rather than trusting my work, trusting everything that I'm putting into the game," the right-handed hitter said. "So this year, I definitely came in with a different mentality of like, everything's going to be OK, it's going to happen when it's going to happen, rather than me trying to rush everything."
Central Arkansas (3-5) had five hits and several other well-struck balls off Poynter, but was shut out by the Aggies for the second time in the Aggieland Invitational. Poynter helped herself by striking out seven, walking only one and not allowing an extra base hit.
"She did a good job with getting ahead of hitters, throwing strikes early," Evans said.
Pitching was A&M's strength for the weekend, allowing only three earned runs. Along with the Aggies giving Texas Tech two runs, they handed Colorado State four unearned runs in a six-run inning that powered the Rams to a 7-6 victory.
A&M senior transfer Kelsey Broadus, who gave six hits in that inning, most of them well-struck, bounced back for a hitless seventh against Central Arkansas.
"I was pleased to see Kelsey bounce back from her start the other day against Colorado State," Evans said. "[I was] really happy to see how she managed that."