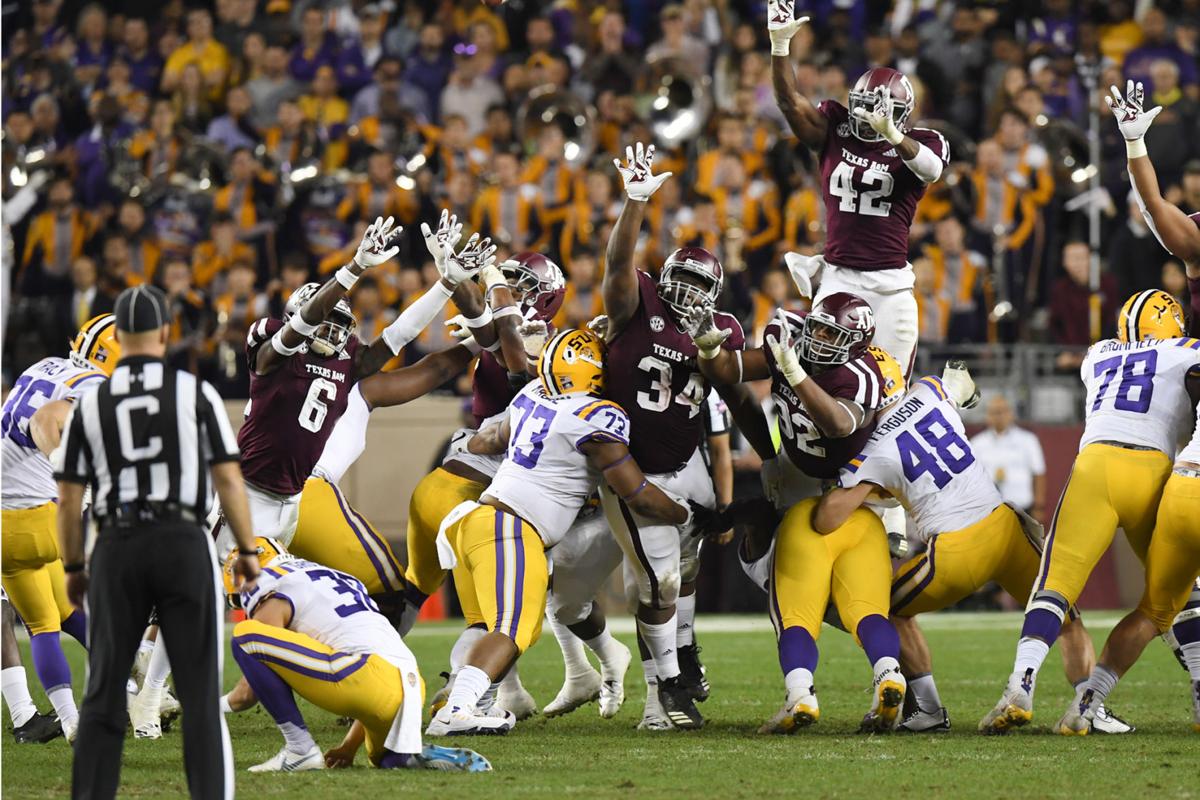 The Texas A&M football team is looking forward to Saturday's game against defending national champ LSU, but after a 21-day hiatus the Aggies probably would be eager to play the Akron Zips who have lost 20 straight.
"LSU is always going to get your attention because of what they've accomplished and what they've done, no doubt," A&M coach Jimbo Fisher said Monday in a Zoom press conference. "But I think right now, not playing for three weeks, it wouldn't matter who we were playing, it would get our attention, I promise you that."
The fifth-ranked Aggies (5-1) were one of the nation's hottest teams when it had to take a two-game break because of COVID-19 issues. A&M had capped a four-game winning streak with a resounding 48-3 victory over South Carolina on Nov. 5. But afterward a player and staff member tested positive for the coronavirus, joining sophomore safety Demani Richardson who didn't make the trip after a positive test. That led to more than a dozen players having to be quarantined for 14 days because of contract tracing. A&M, which had climbed 16 spots in the Associated Press poll during its winning streak, had to cancel its Nov. 14 road game at Tennessee and the Nov. 21 home game against Ole Miss.
"I've been really, really ready to get back on the field," said A&M sophomore running back Isaiah Spiller who averaged 125.3 yards rushing during the winning streak. "I'm just ready to play and get out there with my brothers. And just show A&M fans that we still are here to play well, and we can still play at a high level."
A&M in its last two games before the break didn't have a turnover. The Aggies showed great balance, averaging 223 yards rushing and 263 yards passing. Could A&M show rust in its return?
"Well, I mean, I worried that could we keep it going?" Fisher said. "I mean, sometimes you worry that you're playing so well, can you keep it going? Do the guys get lax and they take it for granted?"
Fisher said he'd be worried if they had played or if they hadn't, that's just the coach in him, but he does like what he's seen in practice.
"I think the guys are hungry," Fisher said. "I think they want to play; I think they miss playing. So I don't anticipate them not coming back full board."
It also helps that A&M has history with LSU. This will be the 59th meeting with the last two quite memorable. A&M grabbed a 74-72 victory two years ago in seven overtimes at Kyle Field, beating the Tigers for the first time since joining the SEC in 2012. The Tigers returned to their winning ways last year with a 50-7 victory.
"Getting LSU does make it better, I mean, as far as getting your guy's [attention] because you know you got to play while they're very talented and very well coached," Fisher said.
LSU (3-3), has had a trying season, but the Tigers are coming off a 27-24 victory at Arkansas.
A&M is expected to be fifth in the initial College Football Playoff rankings, which will be announced Tuesday night on ESPN.
"I won't have time to look at a TV," said Fisher, adding that someone will tell him where the Aggies rank and that it does matter because every team's ultimate goal is the CFP. "We understand that. It's great to be mentioned. You want to be there, but you can't worry about it. What we have to do now is take care of our business one week at a time."
There will be no tailgating at Saturday's game, which was the case for A&M's first three home games. … A&M is scheduled to play at Auburn on Dec. 5, but the league is using a six-day window to announce game times and there's speculation the schedule could be adjusted. "I got the same thing [as you guys]," Fisher said. "They said that six days before they would tell you the game times and all those types of things. I know exactly what you know." Later Monday, the SEC announced the Arkansas at Missouri game on Saturday was postponed because of positive tests and contact tracing within the Arkansas program. Thus, Vanderbilt will play at Missouri on Saturday and the Tennessee at Vanderbilt originally scheduled for Saturday has been postponed. The league said it will evaluate the opportunity to reschedule Arkansas at Missouri and Tennessee at Vanderbilt. A&M is tentatively scheduled to play Tennessee on Dec. 12 with the A&M-Ole Miss game also being evaluated with Dec. 19 a possibility as the league added that date for teams not in the title game that day. … Fisher said the team is COVID free.
No Experience Required, a documentary on the A&M 12th Man kickoff team, will debut at 8 p.m. Tuesday on the SEC Network. The documentary is about former head coach Jackie Sherrill creating a kickoff coverage team in 1983 featuring nonscholarship walk-ons. Those interviewed for the film, which is part of the SEC Storied documentary series, includes 22 members of those 12th Man kickoff coverage teams, along with Sherrill, Gary Kubiak, Von Miller and Ray Childress.
A&M redshirt freshman wide receiver Kam Brown, who entered the NCAA transfer portal last week, announced via twitter Monday he's transferring to UCLA.
"A great young man, I wish him nothing but the best," Fisher said.
Brown played in all six games this season with starts against Vanderbilt, Alabama, Mississippi State and South Carolina. He had five receptions for 55 yards. The 6-foot-1, 192-pounder played in three games last year, making two receptions for 19 yards.
A&M's offensive line was among 22 named to the midseason honor roll for Joe Moore Award, which is presented annually to the nation's most outstanding offensive line. Other SEC teams included were Alabama, Georgia, Kentucky and Ole Miss. North Texas also made the list.