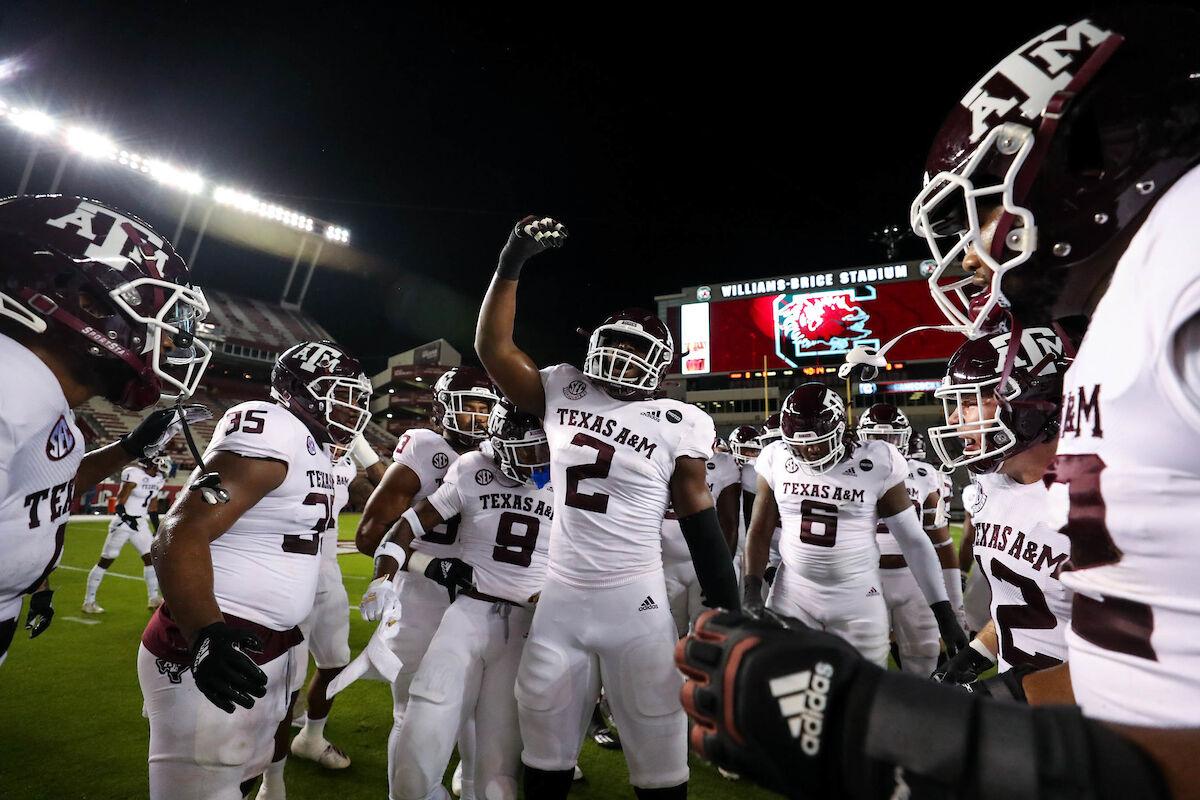 Texas A&M's football game against Ole Miss on Saturday at Kyle Field was postponed because of the continued quarantine of some A&M players.
Fifth-ranked A&M (5-1) also postponed last week's game at Tennessee after two players and a staff member tested positive for the COVID-19, causing more than a dozen players to be quarantined because of contract tracing, A&M athletics director Ross Bjork said.
Those players had to be quarantined for 14 days per COVID-19 protocols adopted by the Southeastern Conference, which announced the A&M-Ole Miss postponement Monday morning. 
Because the Tennessee game has been tentatively scheduled for Dec. 12, the opportunity to reschedule the Ole Miss game "will be evaluated," the SEC said in its release. The Rebels (3-4) are scheduled to be open Dec. 12 after being home to Mississippi State on Nov. 28 and at LSU on Dec. 5.
"I think we're going to make every effort to make up the game," Ole Miss athletic director Keith Carter told the Clarion Ledger. "We'll see how the dates play out."
Dec. 19 is a possibility because last week the SEC added that playing date for teams not in the SEC title game, which is also that day.
A&M's next scheduled game is against LSU on Nov. 28 at 6 p.m. at Kyle Field. A&M will be at Auburn on Dec. 5. A&M's last game was a 48-3 victory at South Carolina on Nov. 7. The Aggies played that game without safety Demani Richardson who had tested posted for COVID-19 earlier that week. Another player and staffer tested positive after returning from South Carolina, leading to more players being out via contact tracing.
After South Carolina, A&M was left under the SEC's minimum of 53 scholarship players to possibly play a game because of contact tracing along with injuries and players who opted out of the season.  
One of A&M's two players who had tested positive has returned to the team, A&M head coach Jimbo Fisher said during a Zoom press conference Monday.
A&M will get the majority of its quarantined players back Sunday, Fisher said.
The SEC had four of seven games postponed last week because of COVID-19, including LSU at No. 1 Alabama. Tigers coach Ed Orgeron said he expects most of the players missing last week to be at practice by Tuesday. LSU will play at Arkansas this Saturday.
LSU already has a make-up game with Florida scheduled for Dec. 12, and the SEC set its television times for Thanksgiving weekend, which includes the Iron Bowl between Alabama and Auburn.
Any juggling of schedules in the SEC to make up postponed games is likely to come after Thanksgiving weekend.
"I believe LSU and Alabama will play, but we don't know for sure," Orgeron said.
Last week, 15 FBS games were called off because of COVID-19, the most yet this season as the total since late August approaches 70. The Mid-American Conference announced its first cancellation, Ohio at Miami (Ohio) scheduled for Tuesday night.
Major college football conferences have been tweaking policies to provide their schools flexibility to schedule games on short notice.
The Pac-12 signed off on California playing at UCLA on Sunday, less than 48 hours after the Bears and Bruins had their original Saturday opponents postpone. Utah, which has had to postpone its first two games because of COVID-19 cases, is scheduled to host No. 20 Southern California this Saturday.
If the Utes still can't play, USC and Colorado might be able to play instead. The Trojans and Buffaloes are currently scheduled to meet in Los Angeles on Nov. 28.
In the SEC, presidents approved teams be permitted to re-work schedules as late as Monday night for the following weekend. No rematches are allowed and only games that already exist on the schedule can be moved up. No new matchups can be created, the way the Pac-12 did with Cal-UCLA.
In the Atlantic Coast Conference, Pittsburgh and Georgia Tech was postponed last week because both teams were dealing with COVID-19 issues.
Be the first to know
Get local news delivered to your inbox!