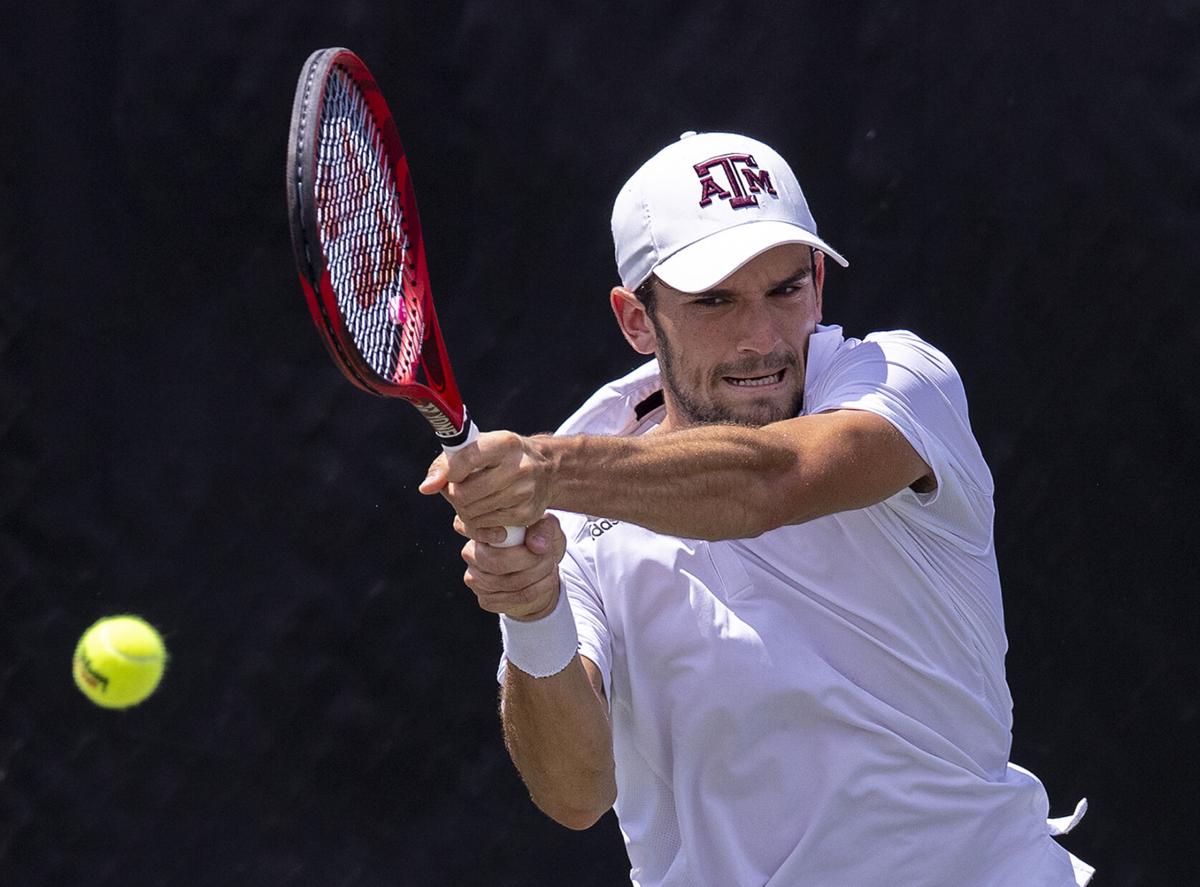 Unfinished business brought Texas A&M men's tennis standout Valentin Vacherot back to Aggieland for another season despite his aspirations to turn pro. Before COVID-19 ended last season prematurely, the Aggies were 12-3 overall and 4-0 in Southeastern Conference play, while holding a No. 10 national ranking. 
Vacherot and his teammates were in Starkville, Mississippi, in March 2020 when the season was put on pause and eventually canceled.
"It was a shock to everyone," Vacherot said. "Really sad moment, and we thought it was over for a few days, but things began to get more clear and I realized I had another chance. From that, I was looking forward to this."
The Aggies (18-8) will get another shot at No. 16 Mississippi State (18-9) at 6 p.m. Monday, this time in the Round of 16 of the NCAA Championship in Orlando, Florida.
"I felt like we were a Final Four team last year," A&M head coach Steve Denton said. "We had, I thought, beaten a couple of the best teams in the conference. Who knows? Maybe we would have run the table in the conference last year."
In the final individual rankings put out on March 3, 2020, Vacherot ranked third in the nation. A professional career was clearly in the sights of the French international, but he decided another year back in Aggieland was necessary to see what could have been.
"Of course, I was getting ready to go on the professional tour and had that stuff ready for me. I had to just make sure that it was fine to get pushed back a little bit. And from that moment I saw that everyone was OK for me to come back, then it was a really easy decision."
The Aggies return to postseason play with another year of experience under their belt — including leaders Vacherot and seniors Hady Habib and Juan Carlos Aguilar.
"Those three guys have a perspective of what it requires to be successful at the end of the year," Denton said. "With younger guys getting the opportunity to play a lot, because we've had some injuries this year and had some guys not being able to play for extended periods of time, it's given those younger guys an opportunity and they've been able to help and mentor them and let them see what it's really going to be like. As we get closer to the end here, they are going to rely on these seniors for their experience." 
Habib (15-5) enters the round as the third-ranked individual player, followed by Vacherot (21-5) at No. 5. Aguilar (15-10) rounds out the senior trio at No. 30. With Vacherot's singles win against Oklahoma in the second round, he became A&M's all-time singles win leader.
In the last year, Denton said Vacherot has taken another step in his progression to pro-level tennis.
"I think he's always been kind of a big-time player in terms of not being afraid to hit the ball in important moments," Denton said. "He's been pretty clutch, but his decision making has gotten better. He's more mature. His professionalism off the court, taking care of his body and preparing his body for the rigors of the circuit, I see those things improving." 
The Aggies beat Mississippi State 6-1 on March 5 this season, which builds some confidence within the team, Vacherot said. However, Denton said, this late in the season, two different teams will square off at the USTA National Campus. 
"My message to the team is, we absolutely can't even consider what happened before," Denton said. "This team we're going to play is significantly better than when we played them early in the season. They're a young team and they've grown up."
Denton said A&M is changing its lineup from the first meeting so the matchups will be different across the board. But the mantra that has pushed the Aggies this season remains the same as they try to achieve what could have been in 2020.
"It was unfinished business," Denton said. "They felt like their year and the opportunity was robbed from them and they wanted to come back and right that wrong. As a result of that, they wanted to come back and do something special and we'll see how that goes."