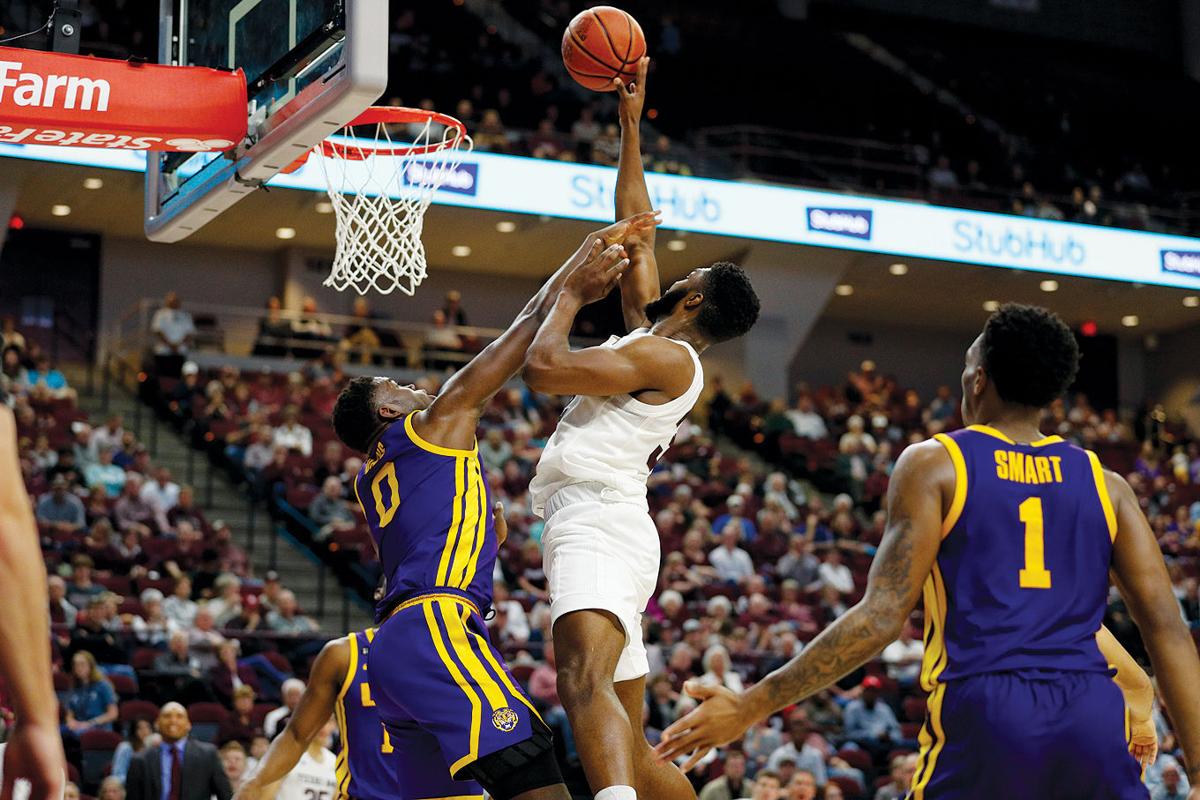 Heading into Southeastern Conference play, Texas A&M men's basketball head coach Buzz Williams said his team wouldn't be favored in any of their remaining games.
The Aggies didn't sound like underdogs following an 89-85 overtime loss to LSU on Tuesday night, muttering profanities under their breath as they walked off the court at Reed Arena after missing a chance at a three-game winning streak.
"Honestly, right now in the locker room, we were a little bit down because we really felt like we let that one get away," senior post John Nebo said. "We know we fought really hard, but we are down about how we let this one slip away."
The Aggies (8-7, 2-2) roared back from a 16-point deficit to lead by six with less than two minutes to play but couldn't close out LSU (12-4, 4-0). A turnover by A&M junior guard Jay Jay Chandler sandwiched by two LSU 3-pointers pushed the game into an overtime period. LSU, ranked 28th nationally in the NET rankings, took the lead early in overtime and never relinquished it.
A&M had just five turnovers until Chandler's lone turnover in 30 minutes. A&M, which came in averaging 15 turnovers a game, finished with a season low seven as it had a 19-7 edge in points off turnovers. 
A 3-pointer by LSU sophomore guard Javonte Smart opened overtime, ending his night at a 4-for-10 clip from behind the arc. LSU senior guard Skylar Mays also hit 4 of 10 from long range as LSU made 14 of 38.
Meanwhile, A&M, the country's worst 3-point shooting team, had its best night from behind the arc by hitting 14 of 35 (40%). Junior forward Savion Flagg led the way by making 4 of 7.
In total, 12 players from both teams hit at least one 3, including seven Aggies.
"It's one of those deals where they're hitting 3s, and I'm clapping because they got different guys out there taking them that we don't mind taking them, and Buzz is over there clapping when our guys are making 3 because we have guys making them that typically don't make them," LSU coach Will Wade said.
The Aggies also had their best assist-to-turnover ration of the season at 15-to-7, but they made just 15 for 23 from the foul line and got out-rebounded 48-32. LSU's 6-9 freshman forward Trendon Watford led the Tigers with 11 rebounds.
"If we don't dominate the glass, we have no chance," Wade said.
Nebo led A&M in scoring with 20 points, while freshman point guard Andre Gordon had 17, Flagg 16, senior guard Wendell Mitchell 11 and Chandler 10.
Watford and Mays led LSU with 19 points each. Smart had 18 points, Days 16 and sophomore forward Emmitt Williams 10.
Down the stretch, Williams said A&M lost the level of effort that had kept it in the game.
"I thought we failed in our fight, if that's the appropriate word, the first eight minutes of the first half and we failed, and I was included in that fail, over the last [segment of the game]," Williams said. "I've got to find ways to help them more."
All things considered, the Aggies at 2-2 in SEC play have raised their level of expectation, Williams said. Their opponents are feeling A&M's newfound confidence. 
"We found a way, but A&M is playing so much better," Wade said. "Coach Williams has done a phenomenal job."
NOTES — A&M has raised its overall field-goal percentage 2% to 40% through the first four games of SEC play. Williams said it's due in part to more plays designed to open up one player for a shot and send the rest of A&M's rebounders to the weak side of the basket. "I think some of it has been shot selection," Williams said. "We've gotten better at that." ... A&M came in ranked 118th in the NET rankings, which is 12th in the SEC ahead of No. 125 South Carolina and No. 134 Vanderbilt.