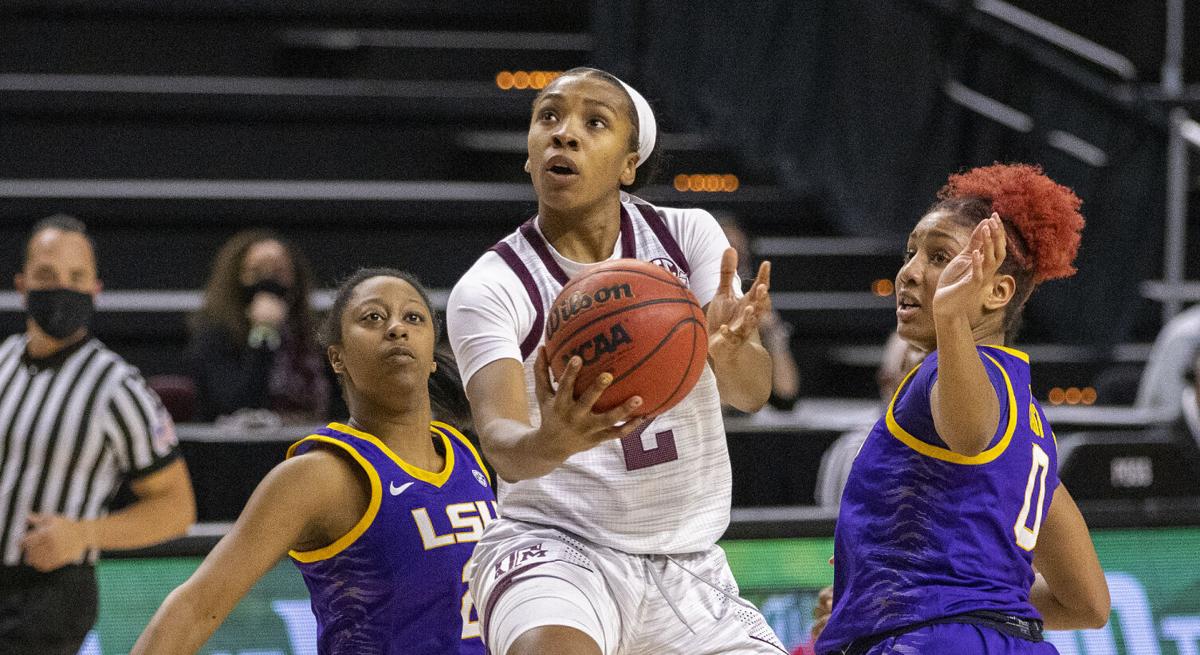 Defense and determination paid off in a big way for Texas A&M guard Aaliyah Wilson who was drafted 11th by the Seattle Storm in the first round of Thursday night's WNBA draft, then immediately was traded to the Indiana Fever.
Wilson led the way for a trio of Aggies to be drafted together for the first time in the 25-year history of the league. Power forward N'dea Jones was taken by Seattle in the second round with the 23rd pick and center Ciera Johnson was taken in the third and final round by Phoenix with the 32nd pick.
Wilson was a surprise first-round pick. She had been projected in the third round by most mock drafts and wasn't among the 16 potential first-round picks the WNBA had set up for zoom interviews after they were drafted.
"I definitely knew I was going either in the first round or early second," said Wilson, adding that she too, was surprised when ESPN announced Seattle had drafted her.
"I had talked to Indiana really heavily, so I really wasn't paying attention when it was Seattle's go," Wilson said.
Within minutes all was well as Indiana Fever general manager Tamika Catchings called to tell Wilson they'd acquired her in a trade.
"I was pretty excited, because I knew the situation," Wilson said.
The 5-foot-11 Wilson led A&M in scoring at 12.7 points per game, but she also was the team's best defensive player leading the Aggies in steals (51) and blocks (24) while typically guarding the other team's best player in earning honorable mention All-America honors by the Associated Press.
"I can't say enough good things about her defensive tenacity," Catchings said. "She's another player who can score, play the one, the two, the three and can fill in in different positions."
Catchings said Indiana hasn't been efficient on the defensive side, which figured heavily in the seven players it drafted — along with "championship mentality" said the former Tennessee All-American.
Wilson said she takes pride in her defense.
"I'm a competitor whether it's on the offensive or defensive end," Wilson said. "If I'm guarding you, I'm going to use my talents not to let you score or make it as hard as I can. And if you are guarding me, some goes on the other end. I'm going to make it has hard as possible for you to be able to stop me."
A&M head coach Gary Blair often marveled at Wilson's defense, pointing out in postgame press conferences all the unsung things she had done.
"It's just my love for the game," Wilson said. "Defense is one of the things I work on. I love every aspect of the game."
Wilson had a long, hard road to become the program's third first-round pick, joining center Kelsey Bone (2013) and guard Chennedy Carter (2020).
Wilson transferred to A&M from Arkansas after her freshman season. The Muskogee, Okla. native who often jokes about coming from a small town, had a great start to the 2018-19 season by averaging 13.8 points per game, but in the ninth game she suffered a devastating knee injury, tearing the ACL, MCL and part of the meniscus. She came back the following season to average 6.5 ppg in 2019-20 but wore a big knee brace and her mobility was limited. Blair said it would take another year for her to be fully recovery. She had that breakthrough season as a senior, but unfortunately because of COVID-19, she wasn't able to walk up to a podium after hearing her name called during Thursday night's WNBA draft, but it still was most rewarding.
"For myself, just knowing where I've been and what I've dealt with, this is definitely a blessing," Wilson said. "It's a testament to how much time and work I've put in, and gone through the situations I've face knowing what my dream and the goal was. It paid off. It's paying off. I'm not done, but it's definitely paying off."
Jones, who watched the draft at home in Georgia, was surprised to hear her name, though many expected her to go in the second round.
"I didn't really move," she said. "Everybody was just kind of jumping up around me, and it was an unreal experience. A lot of people aren't blessed to see or hear their names, so it felt really good."
Jones, a la Wilson, believes defense will help her at the next level.
"Coming from A&M the four players are supposed to guard one through five, and I credit Coach Blair and my coaches for allowing me to just show my defensive skill," Jones said. "So that's something that I can see continuing over when I do get to Seattle and maybe guarding the two or three and maybe possibly the four."
The 6-2 Jones averaged 12.1 ppg and 10.3 rebounds per game this past season, also earning honorable mention from AP. She is A&M's all-time leader in rebounds (1,056) and double-doubles (41). Jones said two more things going for her are knowledge and working in Blair's offensive system.
"I've always had a pretty high basketball IQ," Jones said. "But I just think playing for such a great coaching staff where literally all the assistants could be head coaches at different schools, really helped out a lot. I got to pick each and every one of their brains, even sometimes help with plays. Coach Blair runs a lot of offensive sets, so I think that will help me, especially transitioning into the league. I think Coach Blair does a really good job of incorporating some WNBA sets."
Johnson has a unique situation in that she was the only player taken by the Phoenix Mercury.
The 6-4 Johnson averaged 10.5 ppg and 7.6 rpg this past season. Johnson had 22 double-doubles in her career to rank third. She shot 53% from the field to rank sixth. She was the team captain and Blair said all the players looked up to her.
"Ciera had a really strong year during her senior season, and we have heard so many great things about her leadership," Mercury head coach Sandy Brondello said. "We are excited to get her into camp to compete against the other players we have on our roster."
Johnson, Jones and Wilson led A&M (25-3) to its first Southeastern Conference regular-season title with A&M reaching the Sweet 16 of the NCAA tournament where it lost to eventual runner-up Arizona. The trio now have less than a month to make the opening-day roster with the WNBA season starting May 14.