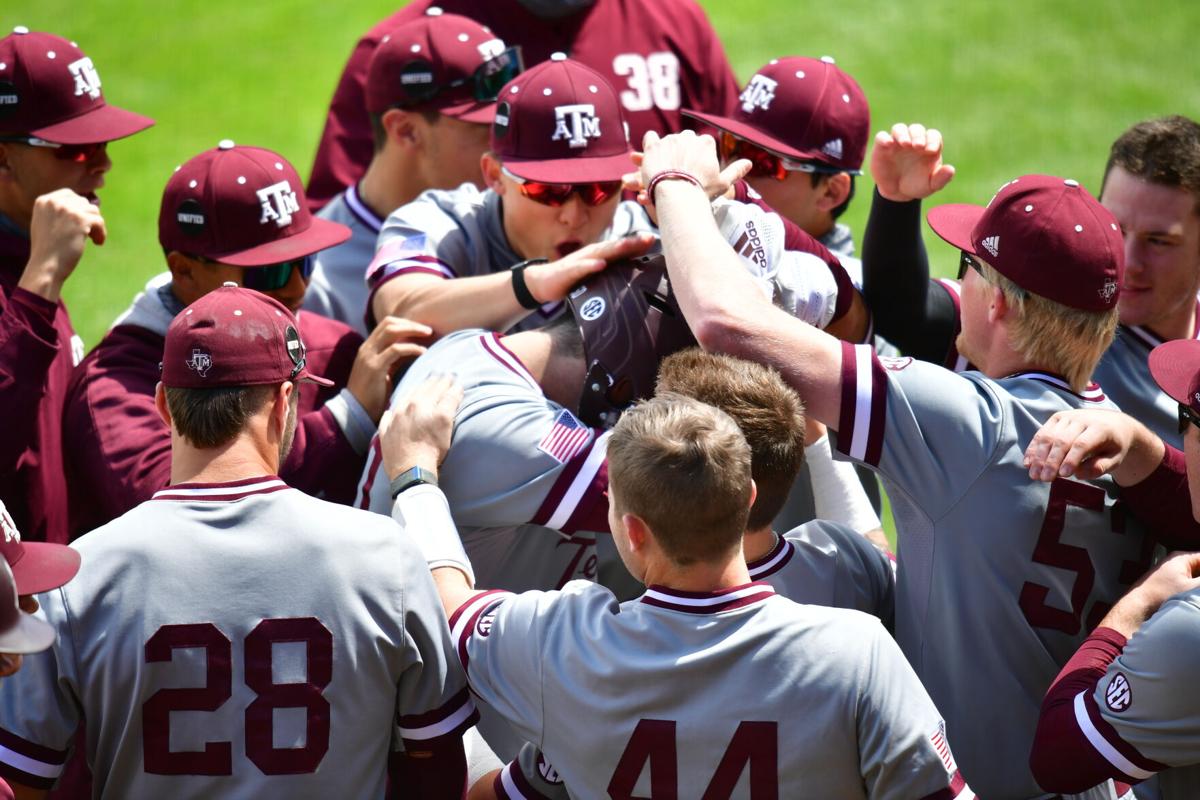 FAYETTEVILLE, Ark. — The Texas A&M baseball team bounced back from a doubleheader loss by holding on for an 11-10 Southeastern Conference victory over top-ranked Arkansas on Sunday at Baum-Walker Stadium.
Arkansas, gunning for a 12th comeback victory, had the bases loaded with one out in the ninth inning, but A&M senior left-hander Chandler Jozwiak struck out Matt Goodheart and Cayden Wallace on eight pitches, all but one a strike. Those batters had been a combined 4 for 9 with five runs batted in.
"The guy has the heart of lion," A&M coach Rob Childress said. "You put him in there in that spot, the only way you're going to get away with a win is for him to be perfect and he was certainly that today."
A&M was far from perfect Saturday as Arkansas pounded out a 13-0 victory in the opener and grabbed a 2-1 walk-off victory in the bottom 10th in the nightcap when the Aggies threw the ball away trying to complete a double play.
"I'm just incredibly proud of our team and the toughness that we showed after the first game yesterday and to bounce back and have the game in the balance late [in the nightcap] and again today," Childress said. "For us to come out and do what we did offensively [today] and mix and match out of the bullpen and do just enough to find a win today, it's incredibly important to finish the first half of conference play."
A&M (21-17, 4-11), which had lost seven straight SEC games, built a 10-4 lead as Hunter Coleman had a three-run homer and Will Frizzell had three hits, each driving in a run. A&M had 11 hits a day after having only eight in 19 innings.
"I thought Hunter's three-run home run was incredibly huge," Childress said. "I think we scored [six] runs with two outs. Will Frizzell had a couple big knocks along the way just to give us some momentum."
Coleman's blast capped a four-run sixth with all runs the scored with two outs, saying that his teammates told him what to expect after facing left-hander Caden Monke on Saturday when Coleman didn't play.
"I was looking for one pitch and he threw it right there and I didn't miss it," Coleman said.
Arkansas (30-6, 11-4) matched A&M's 11 hits as Moore, Goodheart and Zack Gregory each hit homers. Moore hit a solo shot in the fourth to tie the game at 4 and Goodheart hit a three-run shot in the bottom of the sixth to pull Arkansas within 10-7. A&M made it 11-7 in the seventh on an RBI single by Kalae Harrison that turned out to be the difference as the Aggies scored in six of the first seven innings.
Gregory pulled the Razorbacks within a run in the bottom of the seventh with a three-run homer.
Arkansas put itself in position to tie or win the game in the ninth with two walks and a sacrifice bunt off Trevor Werner (2-0) who allowed only one hit in 1 1/3 innings. A&M intentionally walked Moore to load the bases. A&M turned to Jozwiak, who had been betrayed by his defense Saturday night.
"If you look back to him coming in last night he actually got Wallace to pretty much hit into a double-play ball and they made a mistake and we won the game," Arkansas coach Dave Van Horn said. "He was really good last night and they brought him in bases loaded, left-handed hitter and he took care of Goodheart on three pitches. Give him credit. He made three great pitches. As a hitter, obviously you're just got to find a way to put a bat on the ball."
Jozwiak handled the pressure for his fifth save.
"I've been there before," the senior left-hander from Brenham said. "Coach trusts me, I can trust Mikey [Hoehner] behind the plate. I trust the defense behind me to get it done and they trust me, so there's not much pressure when that's your job and that's what you're supposed to do."
It could be a victory for A&M to build on, Jozwiak said.
"Against a team like that, that's a really good team, a really good lineup, good pitching," Jozwiak said. "To compete with them for two games, you wish you could have gotten the win last night, but that's baseball. Then to come out here today and keep going and keep our confidence up is big for us."