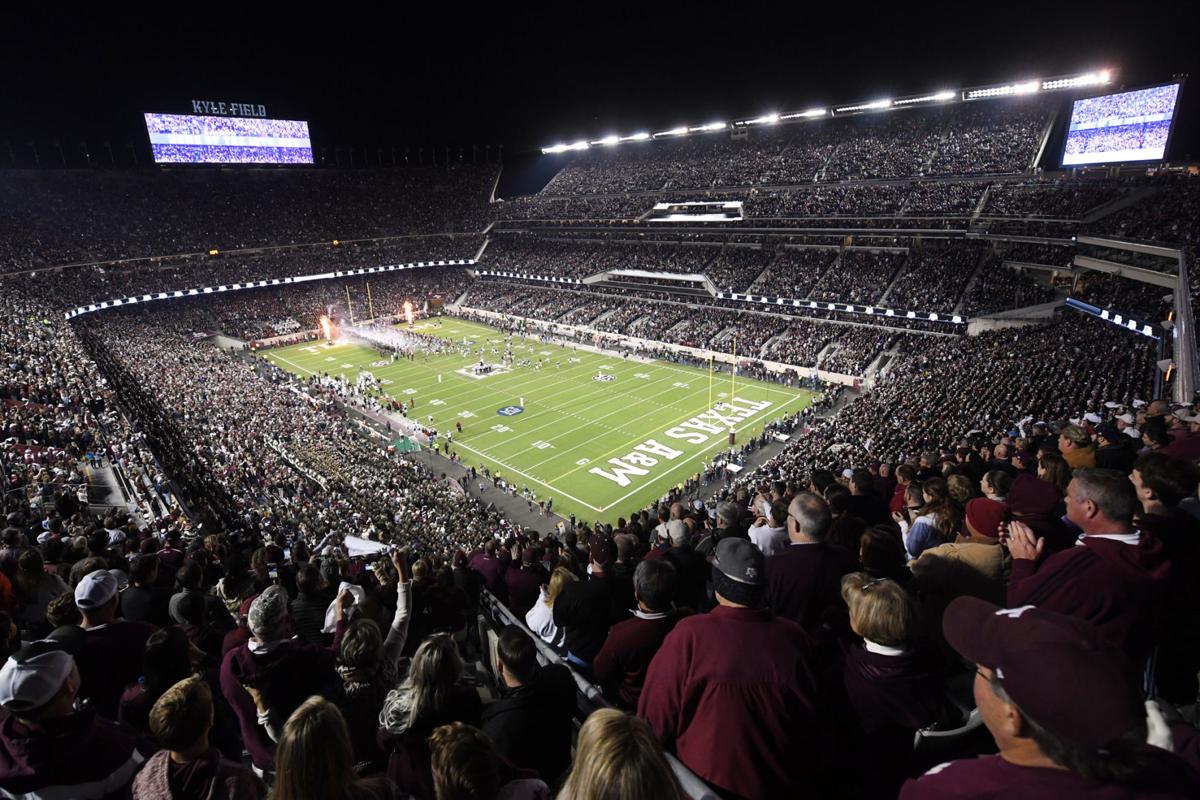 The Southeastern Conference will play a 10-game, conference-only schedule in football this fall, the league announced Thursday afternoon.
The season will begin Sept. 26 and end Dec. 5. The conference championship game will be held at Mercedes-Benz Stadium in Atlanta on Dec. 19 and any makeup games will be played on Dec. 12 if necessary. Each school also will have one midseason open date, which will likely be spread between three weeks conferencewide, SEC commissioner Greg Sankey said on the Paul Finebaum Show.
Texas A&M's season is now slated to begin against Arkansas on Sept. 26. The Aggies are this year's designated home team in the annual neutral-site game, and A&M athletic director Ross Bjork said he is trying to get the game moved from AT&T Stadium in Arlington to Kyle Field.
"This is the right decision for the SEC, our athletics program, and most importantly the well-being of our student-athletes," Bjork said in a statement. "Given the evolving nature of the current health challenge and the potential variables our university faces when thousands of students return to College Station, we believe a late September start for college football gives our students, student-athletes, staff, coaches and university community the safest environment possible. An 'SEC-only' schedule gives us clarity, hope, and optimism as we approach the weeks and months ahead."
No official word has been given on the additional two SEC opponents each school will face. A revised schedule will be announced later, according to the SEC's press release. The SEC will still be divided into two divisions for the 2020 season.
"This new plan for a football schedule is consistent with the educational goals of our universities to allow for the safe and orderly return to campus of their student populations and to provide a healthy learning environment during these unique circumstances presented by the COVID-19 virus," Sankey said in a statement. "This new schedule supports the safety measures that are being taken by each of our institutions to ensure the health of our campus communities."
Sankey said the SEC's decision to play a conference-only season this fall was based on the need for maximum flexibility in making adjustments in response to the COVID-19 pandemic.
"We believe these schedule adjustments offer the best opportunity to complete a full season by giving us the ability to adapt to the fluid nature of the virus and the flexibility to adjust schedules as necessary if disruptions occur," Sankey said. "It is regrettable that some of our traditional nonconference rivalries cannot take place in 2020 under this plan, but these are unique, and hopefully temporary, circumstances that call for unconventional measures."
The scheduling change was voted on by the SEC presidents and chancellors Thursday.
"We're excited about the return of our students in August and football in Kyle Field beginning in September," A&M President Michael K. Young said. "I want to thank all of our staff and faculty here for their hard work, and SEC commissioner Greg Sankey for his leadership in working with us to prepare for return to school and competition. Students will be back in class and in a new normal as we gear up for football in Kyle Field."
Due to the changes, A&M will not play its scheduled nonconference games against Abilene Christian, North Texas and Fresno State this season. The Aggies already lost their nonconference game against Colorado earlier this month after the Pac-12 Conference decided to play only conference games this fall.
The pandemic is covered under force majeure and act of God clauses in all four of the Aggies' nonconference game contracts, Bjork told The Eagle in June. A&M was set to pay $1.3 million to Fresno State, $1.25 million to North Texas and $500,000 to Abilene Christian, according to game contracts obtained by The Eagle via open records request.
Bjork said on the Studio 12 podcast Wednesday that A&M is aiming for 50% capacity at Kyle Field this fall, per Gov. Greg Abbott's orders. Masks will be required for fans in attendance.
"In the near term, we will be releasing specific details of our Kyle Field capacity plan that follow Gov. Abbott's executive orders, and will provide options for season ticket holders, students, and fans so they can experience Texas A&M and SEC football in 2020," Bjork said in Thursday's statement. "We will also work with the University of Arkansas and officials at AT&T Stadium to officially move our game to Kyle Field since we are the designated home team for this season."
Arkansas AD Hunter Yurachek said earlier this month that should the 2020 game be played at Kyle Field, he would want the 2021 game to be played in Fayetteville, Arkansas.
The game contract for A&M and Arkansas does not specify a specific buyout for any years of the contract, but it does contain a force majeure clause. Any dispute in the contract will be mediated by Sankey, according to the contract.
The SEC ADs will meet again Friday to continue their discussions on returning to play, including when and how football programs will begin full practice, Sankey said.
"We want to make sure young people are supported and healthy," Sankey said. "I think one of the things to keep in mind is we didn't have spring practice. There is an opportunity to build in that mentality of let's go slow so we can go fast when the season begins."
The last time A&M played a 10-game football season was 1969. The 2020 opener also would be the latest start for the Aggies since they opened the 1942 season on Sept. 26.
Earlier this month, the SEC announced that volleyball, women's soccer and cross country would not start competition until at least Aug. 31. Any further changes to these schedules will be announced at a later date, according to the SEC's statement Thursday.
The SEC will continue to work on safe return-to-play procedures, including testing. According to recommendations released by the NCAA earlier in June, athletes are to be tested within 72 hours of competition and face coverings are to be used during training and competition when possible.
Be the first to know
Get local news delivered to your inbox!