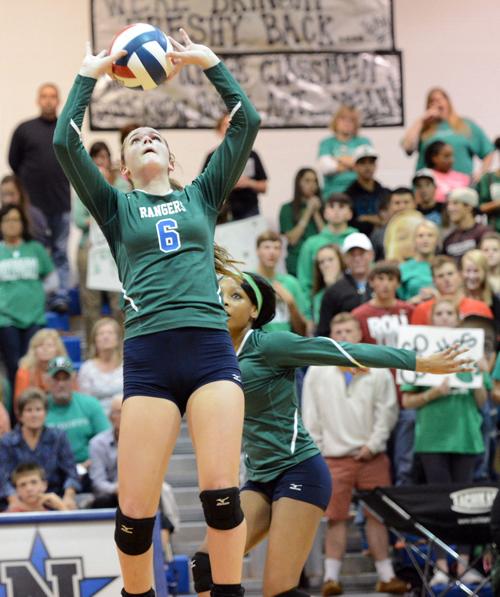 Allison Vaughan gained more from volleyball than a laundry list of awards and stats.
Vaughan no longer warms up with her teammates on gamedays or makes the dash from backcourt to set up her hitters at the net. But she continues to draw from the lessons she learned from volleyball and the people she met.
Building a strong work ethic and lifelong friendships often come to mind when Vaughan looks back on what she values most about her 10 years in volleyball and her four years at Rudder. In fact, she usually talks about the good ol' days with her former Lady Ranger teammates even three years after graduating.
"My core friends that I played with at Rudder since my freshman year, we talk about our memories [from high school] all the time," she said. "We talk about games, practices and bus rides all the time. Junior year we had a very strong team and top to bottom the whole roster was very, very close, which helps on the court. Then bus rides were so fun and when we ate with the team, [Coach Jacky Pence] never let the team have phones out and that made all the difference in the world. We made some of the best memories at restaurants before or after a game."
Vaughan was a four-year letterwinner for Rudder and a four-time All-Brazos Valley first-team selection. As a setter and outside hitter, Vaughan had 3,322 assists, 1,083 kills and 783 digs while earning District 18-4A's newcomer of the year in 2013 and becoming a three-time team most valuable player. She helped lead Rudder to consecutive regional tournament appearances in 2014 and 2015 and an area championship in her final season. Aside from her efforts on the court, Vaughan made the academic all-district and all-state teams all four years.
Vaughan's talent pushed her to the top of The Eagle's 2010s All-Decade High School Volleyball Team as its player of the decade.
Vaughan's parents Steve and Sarah were no strangers to The Armory since all three of their daughters, including Kendall (class of 2015) and Megan (class of 2021), played under Pence. Vaughan had the chance to play with her older sister, Kendall, for her first two years on the team. While playing with your sibling could be rocky, Vaughan said it helped having a familiar face on the team as she made the transition from junior high to a freshman on varsity.
Kendall was a defensive specialist and would have to cover for Vaughan when she left her post early on serve-receive to set the ball, which is something they still joke about today.
"I would leave and she would have to get a deep ball and she was always like, 'Allison!'" Vaughan recalled.
During her freshman year, dreams of playing collegiate volleyball started to creep onto Vaughan's radar. Everything she did from then on was in pursuit of earning a spot on a college team.
"After school I would go to strength training and work out with a trainer for an hour," Vaughan said. "Everything I did went towards volleyball. That was all I did."
In September of 2015 Vaughan committed to the University of Texas-San Antonio in the midst of her junior season. Vaughan would finish out the season with 1,355 assists, 182 kills, 431 digs, 72 aces and 27 blocks. Vaughan suffered a SLAP tear or labrum tear in her shoulder during her senior year. With only a seven- to eight-man roster in 2016, Vaughan played setter and outside hitter in each game, which overworked her shoulder and led her to surgery once the playoffs were finished.
While the injury didn't overly affect Vaughan's last season with Rudder, it did change how she prepared for college volleyball. Vaughan said before reporting for preseason at UTSA her doctors cleared her to hit and serve, but she still wasn't feeling 100%. She went through therapy and said serving the ball became a problem she had to overcome. Something her fellow teammates didn't have to worry about was her attitude. Regardless of the setbacks, her injury didn't detour her excitement about starting a new chapter and watching her goals come to fruition.
Vaughan said the main difference between high school and college was the height and power of the hitters. As a setter, Vaughan had a front row seat to the hitters and blockers from the opposing teams. But Vaughan learned just how powerful collegiate hitters were during the summer before her freshman year when a 6-foot-3 senior hitter from UTSA accidentally hit her in the face. It hurt Vaughan's jaw, but she was ready to go in a few seconds.
Vaughan later made her debut with the Roadrunners during the Baylor Classic, a preseason tournament, after UTSA's starting setter got sick. While Vaughan said she was nervous, her nerves doubled when she had to set against then-No. 6 Texas just three days later. It was the biggest game on UTSA's schedule and had a record-breaking crowd. Vaughan had nine assists and three digs in the game.
"It was insane, it was so fun," Vaughan said about her unique college debut. "I was literally thrown into college volleyball. It was so fun."
Vaughan decided to leave after the 2018 season because of certain changes within the program and was ready to begin a new journey outside of volleyball. She played in 12 sets and compiled 41 assists in two seasons.
Vaughan transferred to Texas A&M and started classes last fall. She is majoring in industrial distribution and hopes to work in sales like her dad.
Vaughan admits that coming to A&M was a hard transition because she was used to being on campus as a student-athlete and having a set schedule throughout the day. She said she is continuing to find her identity outside of volleyball and is working at it everyday.
Although Vaughan has moved onto the next chapter of her life, her drive and determination for success remains.
"Sometimes now when I'm not doing anything, I'm like, 'OK, you used to do stuff way harder than this,'" Vaughan said. "It's that mindset that kind of never goes away. That competitive mindset just never it never leaves."