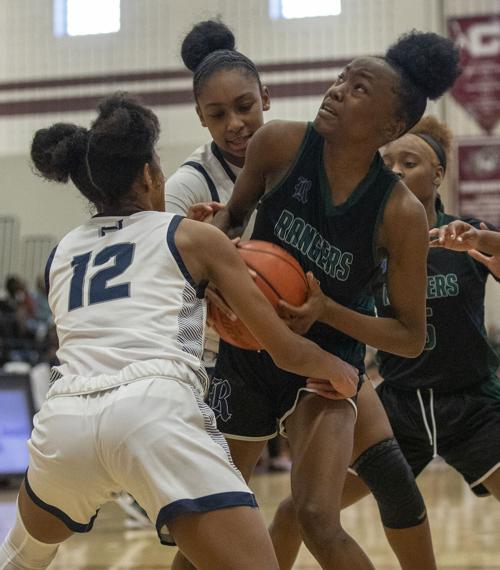 The Pflugerville Hendrickson girls basketball team hadn't lost in 23 games, and the Lady Hawks weren't going to start Saturday.
Ninth-ranked Hendrickson used its size and deep bench to earn a 68-39 victory over Rudder in the Class 5A area playoffs at A&M Consolidated's Tiger Gym.
Hendrickson will play the winner of Consol vs. Pflugerville Weiss in the regional quarterfinals next week. The Lady Hawks beat Weiss twice in District 18-5A play by 34 or more points each time. Weiss and Consol will play at 6 p.m. Monday in Cameron.
Rudder (20-6) struggled to capitalize on second-chance shots early against Hendrickson, and it left the Lady Rangers in too big a hole to dig out of.
"Really the big thing besides not blocking out was we missed a lot of shots in the paint, a lot of real easy shots," Rudder head coach John Shelton said. "When you miss those easy shots, your morale goes down a little bit and you get frustrated."
Rakia Lee scored off a turnover just seconds after tip-off, giving Rudder its only lead of the game at 2-0. Hendrickson turned to 6-foot-1 senior guard Zoe Nelson, who scored eight points in the first quarter including two baskets off offensive rebounds as the Lady Hawks built a 16-10 lead.
Hendrickson (24-2) continued grabbing offensive rebounds in the second quarter with six more, but Rudder's defense started to affect the Lady Hawks, who turned over the ball seven times.
"I was pretty confident about our game plan," Hendrickson head coach Norma Sierra said, "[but] early on Rudder was playing an aggressive defense, and we were turning the ball over. I knew once we settled in we'd be a little bit better, so we stuck to our game plan and did what we practiced."
With the defense in a rhythm, the Lady Rangers began working on their offense. Keaundra Kelly broke an Hendrickson run with a 3-pointer from the right corner and a free throw. Almost a minute later, Asani McGee scored on a fast break after Bryanna Turner stole the ball from Nelson. McGee kept the momentum going with six more points in the second quarter, and Hendrickson needed two late baskets for a 30-24 halftime lead.
"I thought going down by six going in to halftime, we were fortunate," Shelton said. "I was just trying to convince them to keep doing what we usually do."
But the Lady Hawks didn't give Rudder many chances in the second half.
Junior guard Erika Suarez, who finished with a game-high 19 points, went on a solo 9-0 run to start the third quarter and aided in a 7-0 run to end the period with two assists and her third 3-pointer to give the Lady Hawks a commanding 46-28 lead.
Rudder held Hendrickson scoreless for almost four minutes in the middle of the period, but the Lady Hawks' work before and after made up for the unusual downtime.
"I do have a deep bench, and even when my two point guards got in foul trouble, I was able to substitute and do some different things," Sierra said.
It also helped having Nelson and the 5-6 Suarez on the floor.
"They understand the importance of rebounding and doing all the little things right," Sierra said of the duo. "Nelson was on fire on the boards, and she was just grabbing everything. Suarez was frustrated in the first half but then got hot in the second half, and she's [good] on the outside once she gets a rhythm going."
Nelson led the Lady Hawks with seven points in the fourth quarter as Hendrickson made an efficient 8 of 12 from the field. Nelson scored Hendrickson's first three baskets and earned praise from the crowd after Makayla Ward found her open up the middle, which led to a 57-32 lead with 4:22 left. Rudder's Alexis Austin and Suarez exchanged 3-pointers, and Hendrickson eventually closed out the game with a 6-2 run.
"[Hendrickson is] obviously a great team," Shelton said. "If we were going to beat them, then we were going to have to play really well and do the small things, and I feel like we didn't do the small things like we should have today."
Pflugerville Hendrickson 68 Rudder 39
RUDDER (20-6) — Asani McGee 19, Keaundra Kelly 7, Rakia Lee 4, D'airdrynik Gray 4, Alexis Austin 3, Tianna Mathis 2.