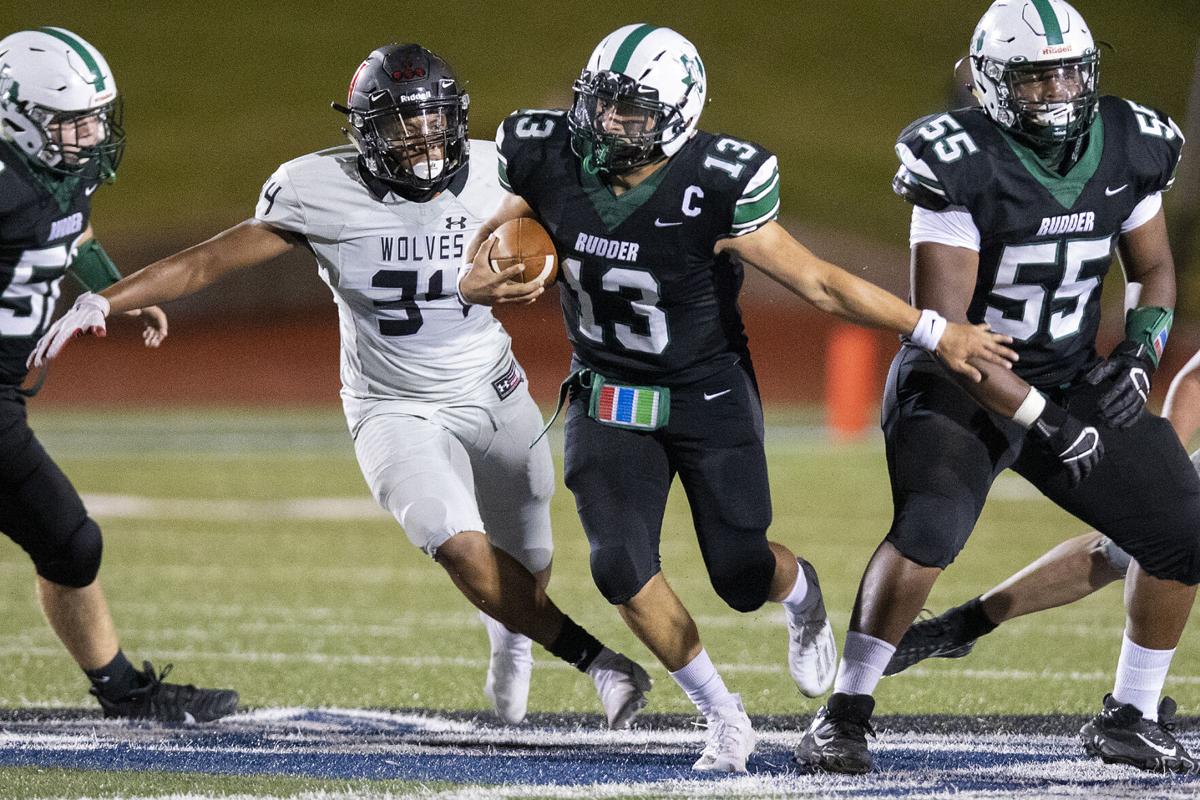 Rudder stopped Pflurgerville Weiss from scoring just once in the second half, but the single stop proved to be all the Rangers needed.
Rudder scored one last time after its defensive stop late in the fourth quarter, which lifted the Rangers to a wild 63-56 victory Friday in nondistrict play at Merrill Green Stadium.
The teams combined for 11 touchdowns in a back-and-forth second half. The Rangers took a 56-49 lead with 9:07 left on a 35-yard touchdown run and two-point conversion run by senior wide receiver Keithron Lee.
Rudder's defense then forced Weiss to convert a fourth-and-2 at the Rangers' 41-yard line. Junior defensive lineman Lyndon Williams and senior linebacker Tyreike Nickerson gave the Rangers a much needed stop by sacking Weiss' quarterback Dior Bradfield, putting Rudder back in control with 7:33 left.
"We hadn't stopped them all night, so we go 'Hey, we got them!'" head coach Eric Ezar said. "So with a stop there, that was huge. Our defense played really well last week, not so much this week, but Weiss had a great offense too. You have to give them a lot of credit."
Rudder's offense wasn't stopped once in the second half and only trailed once at 49-48 at the start of the fourth quarter.
Lee's touchdown and two-point conversion paired with a 14-yard touchdown pass from EJ Ezar to Milton Mooring sealed the Rangers' victory.
"They never stopped us. Our kids on offense played unbelievable," Ezar said. "I don't even know what the stats are, and I'm kind of curious to see, but between Keithron and EJ ... I don't even know. It was crazy. It was a great game."
Lee had 12 catches for 278 yards and four TDs and 91 rushing yards and two more scores on 12 carries. EJ Ezar threw for 426 yards and ran for 167 yards and a TD. Rudder's DJ Wallace added 93 yards on 14 carries, and Marcus Diles caught four passes for 82 yards and a TD.
The Rangers scored almost four minutes into the first quarter on a 4-yard EJ Ezar run. Rudder scored again in its next possession on EJ Ezar's 65-yard touchdown pass to Lee for a 14-7 lead.
Rudder carried its momentum into the second quarter and took a 14-point lead after EJ Ezar found a wide open Lee, who beat two defenders for a 33-yard touchdown catch on fourth-and-8.
Weiss cut its deficit to 21-14 when Bradfield found Devin Cross in the end zone on a 28-yard touchdown pass.
The Wolves scored again as time expired in the second quarter after a storybook play by Bradfield, who spun out of a potential sack and avoided two more defenders before chucking the ball to Tavian Cord for a 32-yard pass to get Weiss to Rudder's 7. Bradfield connected with Cord in the middle of the end zone two plays later to tie the game at 21.
"I thought they got kind of upset themselves about making mistakes," Coach Ezar said. "We just talked [at halftime] about flipping the script. Every new play is a new play, and you can't be worried about the old play, just keep going, and I thought they did a good job of really getting after it [in the second half]."
The Rangers will face Waco University at 7:30 p.m. next Friday at Merrill Green Stadium.