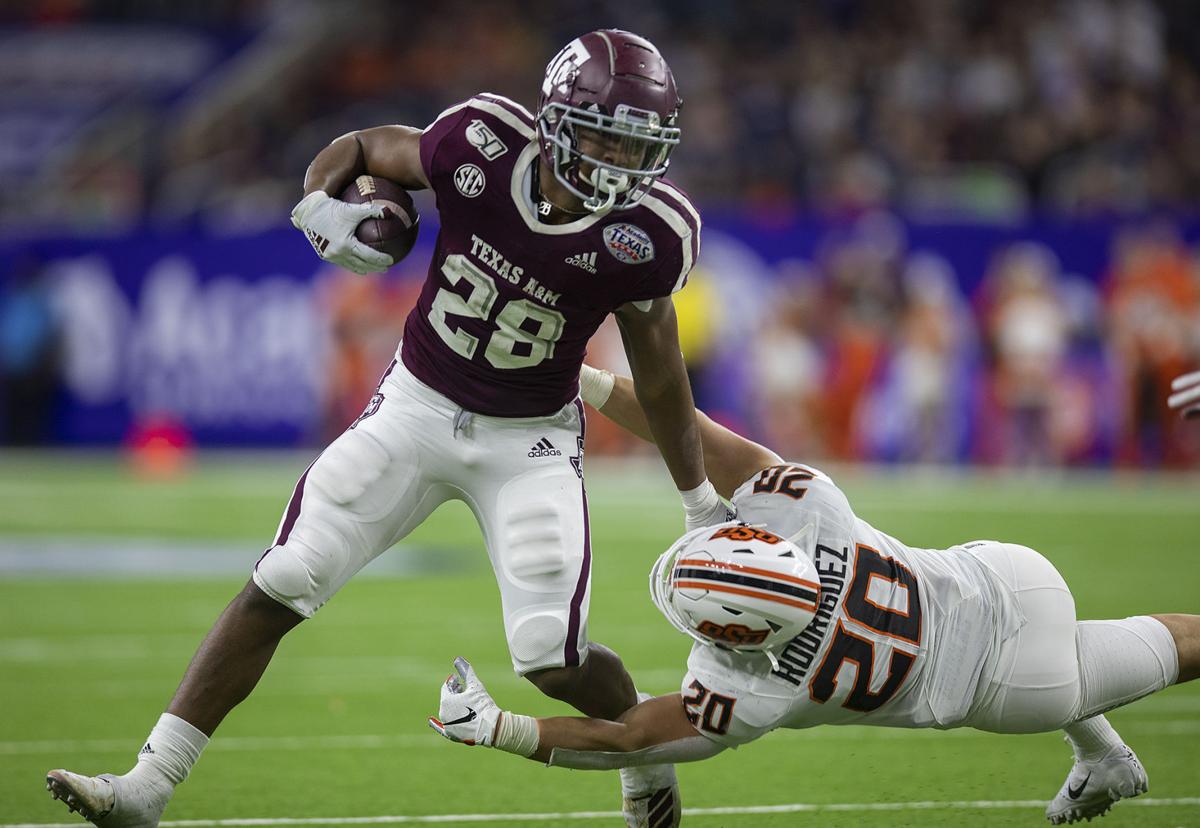 Here are the preseason grades for the 2020 Texas A&M football team with last season's preseason grades in parentheses:
QUARTERBACKS: B+ (B)
• The good: Kellen Mond is the most experienced quarterback in the Southeastern Conference with 34 starts, which also leads the Aggies. He's on schedule to leave as the school-record holder for career passing yards, touchdowns and total offense.
• The bad: Redshirt freshman Zack Calzada is A&M's only backup quarterback with experience. He has played in one SEC game, mopping up against Mississippi State's JV defense.
• Bottom line: Mond has soaked up everything Jimbo Fisher has thrown at him for 26 games. It's time for Mond to use that knowledge and experience to make this team one of the SEC's best.
RUNNING BACKS: C+ (B)
• The good: Isaiah Spiller was a lifesaver last year after Jashaun Corbin suffered a season-ending injury. Spiller ran for 946 yards, including four 100-yard games. Spiller, Mond and Ainias Smith complemented each other well in the Texas Bowl victory over Oklahoma State, combining for 248 yards on 38 carries.
• The bad: Spiller had 33 yards rushing on 34 carries against Auburn, Arkansas, Alabama and Georgia. Did he struggle against the best because he was a freshman or because his line wasn't good? Much is expected from Smith this season, but he'll have to handle the grind of a 10-game SEC schedule.
• Bottom line: There's zero experience but lots of talent behind Spiller and Smith. This year's unknowns at running back — Devon Achane, Earnest Crownover, Darvon Hubbard and Deondre Jackson — could be better than last year's no-names. That's saying something since last year's group included Spiller along with the departed trio of Jacob Kibodi, Codarrian Richardson and Deneric Prince.
OFFENSIVE LINE: B (B)
• The good: The starters have combined for 106 starts led by senior tackles Carson Green (30) and Dan Moore Jr. (27). The best player is sophomore left guard Kenyon Green, who could be ready to dominate after 13 starts as a true freshman.
• The bad: This unit struggled big time in big games last year. A&M ran for just 305 yards on 122 carries in the team's five losses. The line also allowed 33 sacks.
• Bottom line: Mond won't have a career-defining season unless he gets protection. There is a ray of hope after injuries contributed to the line's problems last year. If senior center Ryan McCollum is over his back problems and the others stay healthy, maybe Mond won't take a beating and have those iffy halves, especially on the road.
RECEIVING CORPS: D (B+)
• The good: Tight end Jalen Wydermyer made the SEC all-freshman team and has the potential to be the conference's best. Youth will be served even more this season. There are eight freshman wide receivers on the depth chart topped by former five-star recruit Demond Demas and five more four-star recruits. The lone two sophomores also were four-star recruits.
• The bad: A&M could have had a quartet of senior wide receivers in Quartney Davis, Kendrick Rogers, Camron Buckley and Jhamon Ausbon and two good-looking tight ends in Baylor Cupp and Blake Smith if not for injuries and the lure of the NFL.
• Bottom line: There's going to be growing pains, especially in those early back-to-back games against Alabama and Florida. Wydermyer will be a marked man until a wide receiver or two emerge.
DEFENSIVE LINE: B+ (B-)
• The good: The depth keeps getting better. A&M lost Justin Madubuike but return the next five linemen who had 20 or more tackles last season. The line features a good mixture of upperclassmen led by seniors Bobby Brown III and Michael Clemons and junior Tyree Johnson, though sophomore DeMarvin Leal might be the best player. Two or three true freshmen also will be good enough to get snaps.
• The bad: A&M needs to find a way to pressure the quarterback from the middle. Clemons came to A&M with all-conference potential, and this is his last chance to earn those honors.
• Bottom line: This group has a chance to be the team's best unit.
LINEBACKERS: C- (C-)
• The good: Senior Buddy Johnson was consistent in leading the team in tackles and had a flair for making big plays with 9.5 tackles for loss and a 62-yard return of a fumble the keyed the victory at Ole Miss.
• The bad: Junior Anthony Hines III opting out less than a week before the opener was a killer. He had 73 tackles, 10.5 of them for losses. Hines will be replaced by Aaron Hansford, who had 15 tackles and three tackles for loss — and he's the experienced one in the group by far.
• Bottom line: If anything happens to Johnson, opposing offenses will try to flood the middle of the field.
SECONDARY: B- (C-)
• The good: Cornerback Myles Jones is poised for a big senior season, and safety Demani Richardson had 71 tackles last season as a freshman. He might have led the team if not for missing a game with an injury.
• The bad: A&M's depth took a hit, especially in regards to experience, with Debione Renfro passing on his senior season to prepare for the NFL draft and junior safety Derrick Tucker and senior cornerback Elijah Blades also opting out this season — Tucker to promote social justice and Blades reportedly to get 100% healthy.
• Bottom line: Despite recent personnel losses, A&M is deep in the secondary. Junior safety Leon O'Neal Jr. is a projected starter, returning after entering the NCAA transfer portal. Junior cornerback Travon Fuller, senior safety Keldrick Carper and nickelbacks Clifford Chattman and Devin Morris have been solid role players. A&M's newcomers expected to play include junior Brian George and freshman Jaylon Jones at cornerback.
SPECIAL TEAMS: B- (A)
• The good: Junior Seth Small made 78.3% of his field goals. He's improved his range, saying he's confident anywhere inside 60 yards. Smith should improve on his punt return (11.9) and kickoff return averages (19.8) with a year's experience under his belt.
• The bad: The departed Braden Mann was arguably the nation's best punter for two years. A&M doesn't have someone that good ready to take over, though freshman Nik Constantinou hit a 57-yard punt last year in his lone kick.
• Bottom line: A&M might not have an All-American or All-SEC performer in the unit, but the kicking game should be solid.
COACHING: A- (A)
• The good: Head coach Jimbo Fisher will be calling plays for a senior quarterback working behind an offensive line with four seniors. Third-year defensive coordinator Mike Elko has playmakers who have been in his system for long enough to know what's expected, and Elko was able to hand pick two assistants during the offseason.
• The bad: Losing Ausbon and Hines during fall camp produced big-time negative vibes. The new assistants — tight ends coach James Coley, running backs coach Tommie Robinson, defensive backs coach TJ Rushing and linebackers coach Tyler Santucci — didn't have spring training to bond with players.
• Bottom line: Several players from A&M's recent back-to-back sixth-ranked recruiting classes are going to have to step up to fill holes left by veterans who opted out or suffered injuries. The coaches will have to get the most out of multi-talented players such as running back/wide receivers Smith and Achane along with defensive end/tackle Leal and several in the secondary.
OVERALL: B (B)
• The good: A&M will start more than 10 seniors a year after ending with only three on the depth chart for the Texas Bowl.
• The bad: Beginning with Madubuike skipping the Texas Bowl, the Aggies have lost 13 players with a combined 167 starts who aren't playing because of choice or injury. And arguably A&M's easiest schedule since joining the SEC got much tougher with the addition of Florida and Tennessee.
• Bottom line: Fans initially were optimistic this would be A&M's best season since joining the SEC, but unexpected departures and COVID-19 have them taking their temperature often as the Aggies' chances of having a great season have cooled.
Be the first to know
Get local news delivered to your inbox!