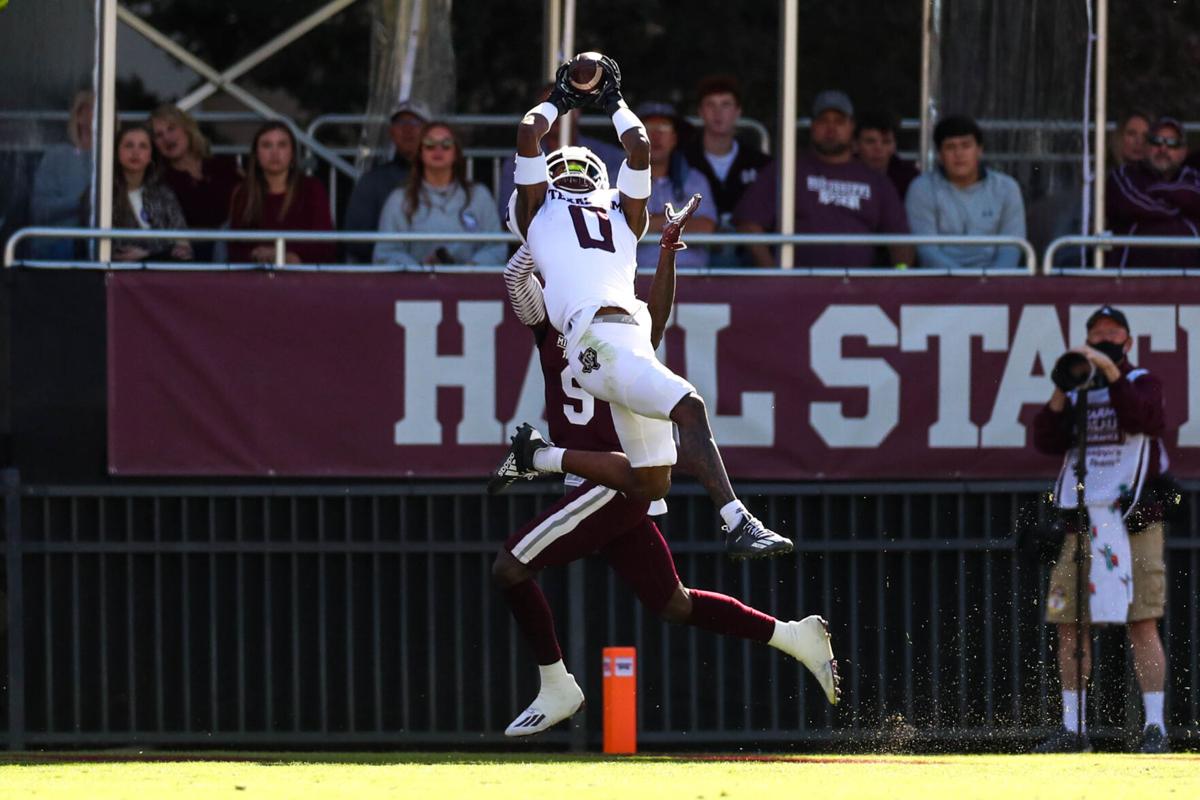 • Easy interception: Mississippi State gained 34 yards on four plays, picking off the game's initial two first downs, but a poorly thrown pass by K.J. Costello because of pressure from end DeMarvin Leal led to an interception by A&M cornerback Myles Jones in the end zone.
• Costly penalty: A holding call on A&M sophomore guard Kenyon Green wiped out a 49-yard completion to Ainias Smith to the Mississippi State 3.   
• A healthy return: A&M's Isaiah Spiller was injured on a 13-yard run that caused him to sit out the next play in which the Aggies didn't pick up a first down and had to punt. When A&M got the ball back, Spiller rushed for 26 yards on the first play.
• Key statistic: The teams combined for 0 for 4 on third downs.
• Blocked punt: A trio of Aggies pressured Mississippi State punter Tucker Day with Chris Russell Jr. getting the block and Day the recovery at the Mississippi State 1. The Aggies scored on the next play.
• A losing trifecta: A&M had three penalties on a Mississippi State punt that wiped out a 30-yard return by Smith. Brian George and Cooper each had illegal blocks that were declined and Leon O'Neal Jr., had a personal foul that was accepted.  
• Best coverage: Mississippi State security quickly handled two PETA protesters who ran out on Scott Field. One was tackled and taken off the field while the other was quickly escorted to the sidelines.
• Sacked: Mississippi State was in position to score after converting a third-and-18 on Jaden Walley's 19-yard reception to the A&M 26. But A&M's Jayden Peevy came up with the team's fourth sack on the next play and Mississippi State eventually punted.
• Key statistic: Mississippi State had the ball for 11 minutes, 54 seconds in the quarter, but managed only 50 yards.
• Pinball touchdown: Mississippi State safety Colin Duncan broke up a pass intended for Smith that bounced high into the air and back toward the line of scrimmage. Cornerback Emmanuel Forbes, who had been blitzing, caught the football and returned the interception 60 yards for a score after he slipped away from Mond.
• Answering: Four plays after Mississippi State had scored, A&M's Chase Lane turned a short reception over the middle into a 51-yard touchdown.
• Johnson strikes again: A&M linebacker Buddy Johnson sacked Costello and caused a fumble that Peevy returned 19 yards to the MSU 8. A&M scored two plays later. Johnson in last week's 41-38 victory over Florida caused the fumble that led to the game-winning field goal on the final play.
• Key statistic: A&M had a 149-34 edge in total yards.
• Dry spell ends: Mississippi State's Malik Heath had a 32-yard touchdown reception, eluding A&M's Jones at the 15. It was Mississippi State's first offensive score in 30 possessions.
• Lucky tip: Mississippi State's Austin Williams had a 16-yard reception for a first down on a pass that A&M linebacker Aaron Hansford deflected.
• Close it out: A&M took the last 5:06 off the clock by running the football. Smith ran seven times for 38 yards and reached the 1, allowing Smith to plow into the line for a 1-yard loss on the game's final play.
• Key statistic: A&M had 53 yards in the final quarter, all on the ground as it attempted only one pass.
Be the first to know
Get local news delivered to your inbox!