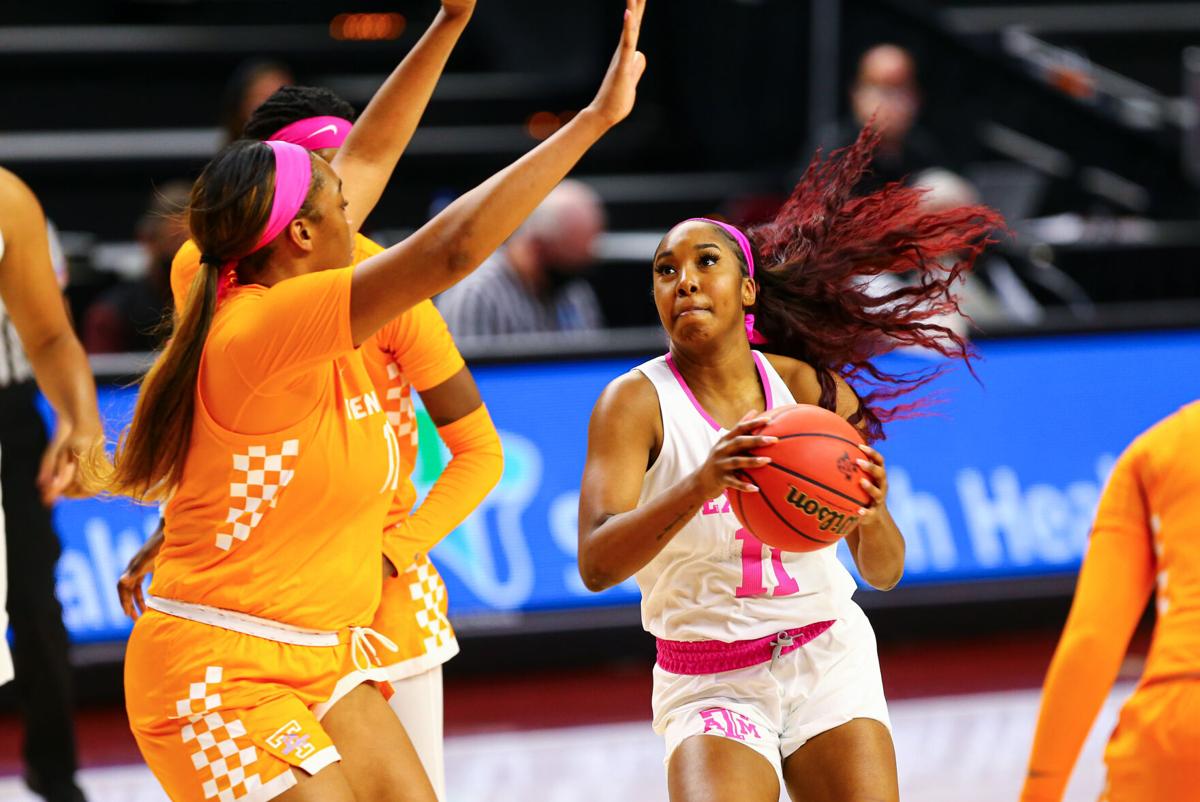 The weather suited someone from Detroit and Texas A&M's Destiny Pitts didn't disappoint.
Pitts, a senior transfer from Minnesota, scored a season-high 18 points to lead the sixth-ranked Aggie women's basketball team to an 80-70 Southeastern victory over 16th-ranked Tennessee on Sunday at Reed Arena.
Pitts hit 5 of 7 field goals, including 3 of 5 from 3-point range and added 5 of 6 at the free-throw line in her best all-around game of the season. Pitts was at her best in the fourth quarter, scoring 11 points to help A&M (19-1, 10-1) win its seventh straight. The 5-foot-10 Pitts was a nightmare matchup for the taller Lady Vols (12-5, 6-3) who dominated the paint, but had trouble with A&M's quick, attacking guards. Pitts hit a 3-pointer off an inbounds play to give A&M a 70-66 lead with 1 minute, 29 seconds left. Tennessee's Rennia Davis answered with a driving layup and was fouled, but missed the free throw. The Aggies got the ball back to Pitts who was fouled shooting a 3-pointer. She made all three free throws for a 73-68 lead with 1:21 left.
"Pitts, she's just a gamer," A&M head coach Gary Blair said. "She doesn't worry about stats, but she hunts her shots and she knows how to hit the tough shot, like the little runner that was really tough in the second half [to pull A&M within 44-42 in the third quarter]. She can put the ball on the floor. So she's not just a situational player, a 3-point shooter. She's a complete player."
After Pitts' free throws, A&M sophomore point guard Jordan Nixon ended any chance Tennessee had by stealing the ball from Davis. Frustrated with turnover, Davis fouled Nixon who hit two free throws with 1:05 left to push the lead to 75-68. Nixon added five more free throws as the Aggie were 17 of 22 in the quarter and 25 of 34 for the game at the line. Tennessee was only 11 of 15.
Nixon, Pitts and senior guard Kayla Wells combined to go 21 of 24 from the line.
"I had my best free-throw shooters go to the line at the right time," Blair said.
A&M's guards also helped the Aggies have an 18-4 edge in points off turnovers. The free-throw shooting and defense more than offset Tennessee's 40-29 edge in rebounding, including 17 offensive rebounds for a 19-6 edge in second-chance points for the Lady Vols.
A&M's started the game by having 6-foot-2 power forward N'dea Jones shoot short jumpers, but after starting 1 of 6, the Aggies turned to Pitts who showed why she was the Big Ten freshman of the year and earned first-team honors while at Minnesota.
"I just took what the defense gave me today," Pitts said. "I knew they are used to playing like a traditional two big [offense], so it was going to be a mismatch if I was playing at the four for me. So I kind of just took what the defense gave me."
A&M had five players score in double figures. Nixon had 15 and Wells and senior shooting guard Aaliyah Wilson each added 13 and senior post Ciera Johnson had 10. Tennessee's 6-2 Davis, who missed Thursday's loss at Kentucky for medical reasons, had 25 points. Junior forward Rae Burrell added 18 and 6-5 sophomore center Tamari Key had 10. Kasiyahna Kushituah, a 6-4 senior center, and Key each had 10 rebounds.
"We played well throughout the game," Tennessee coach Kellie Harper said. "Unfortunately there in that [fourth] quarter we just put them on the free-throw line too many times and we didn't get there enough and that was the difference in the ball game."
A&M scored the first six points with Wells hitting back-to-back shots, but Tennessee answered with an 11-0 run. Jones finally hit a free throw to end a 5:37 scoring drought. The Aggies closed the quarter with an 8-2 spurt to tie it at 15 on Pitts' 3-pointer with nine seconds left.
The Lady Vols turned the tables the second quarter as Marta Suarez hit a 3 with six seconds for a 32-32 halftime tie. Tennessee closed the half with an 11-5 run.
NOTES — A&M officials encouraged fans to stay home because of the hazardous road conditions. The crowd was announced at 500. "I know the roads weren't necessarily really that well today in College Station," Pitts said. "For me, it's a lot different [where I come from]." … The A&M-Tennessee game had been rescheduled twice because of COVID-19 issues within the Tennessee program. The Lady Vols had to bus from Houston to A&M because of the weather. They are supposed to play at Mississippi State on Tuesday in a game that had been rescheduled. … A&M sophomore McKinzie Green came off the bench for four points and career-high five assists in 13 minutes. … A&M has the most victories over ranked teams in the country, going 8-0. ... The 19-1 start is the best in school history, topping the 2010-11 national championship team that started 18-2.