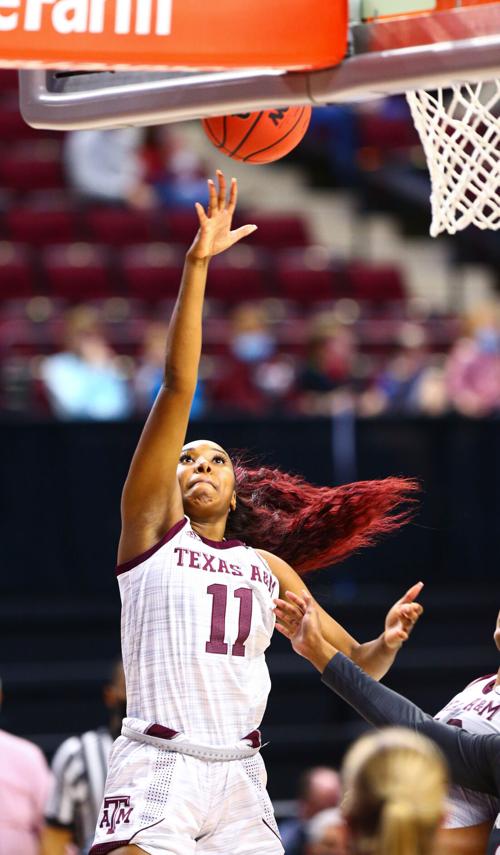 The guards have led the way for the third-ranked Texas A&M women's basketball team in its last four victories, but the Aggies will need center Ciera Johnson and forward N'dea Jones to step up Thursday at Alabama.
The Crimson Tide has the Southeastern Conference's best scoring duo inside with 6-foot-3 senior forwards Jasmine Walker and Ariyah Copeland, who combine to average 33.3 points per game. The three-year starters have Alabama (15-6, 8-6) in position to make its first NCAA tournament appearance since 1999.
"Copeland might be the most improved five player in our league this year," A&M coach Gary Blair said. "Walker had always been that good."
The Aggies (20-1, 11-1) know firsthand what Walker and Copeland can do after they combined for 42 points and 21 rebounds in last year's 76-63 victory over A&M. That was part of A&M's three-game losing streak that would have cost the Aggies a chance to host first- and second-round games in the NCAA tournament had it not been canceled because of COVID-19.
This season the stakes are higher for A&M, which is in position to dethrone fifth-ranked South Carolina (18-3, 13-1) as SEC champion and earn a No. 1 seed for the NCAA tournament.
"If we don't beat Alabama, it don't matter if we beat South Carolina [on Sunday to end the regular season]," Blair said. "We still finish second even though we won head-to-head because of winning percentage."
South Carolina hasn't lost any games to COVID-19 or weather and is on schedule to play 16 league games. The Aggies will play two less games because Vanderbilt canceled its season and last week's Missouri game was postponed by weather, a postponement that has turned into a cancellation.
"The Alabama game is our championship game, because there's no championship unless we beat Alabama," Blair said.
A&M is hopeful to get championship-caliber play from the 6-4 Johnson and 6-2 Jones, who have combined to average only 12.8 points per game in the last four games.
"We've got to be able to get our post players touches and points and production," Blair said. "And we've got to be able to score against a team that doesn't block a lot of shots, but they can raise their hands to the sky."
In last season's loss to Alabama, Johnson and Jones combined for 23 points by hitting 10 of 25 field goals. Walker and Copeland combined to hit 16 of 30 with Walker playing 39 minutes and Copeland 31.
"We've still got to be able to attack inside and keep drawing fouls like we did in the last ballgame against a shot-blocking team in Mississippi," Blair said. "We've got to find a way to go in there and play a little bit smarter earlier and score underneath the basket."
Last season when the Aggies played at Alabama, they won 79-74. Jones scored 21 points and Johnson added 15 as they combined to hit 13 of 28 field goals. Walker scored 18 points, but Copeland got in early foul trouble and played only 22 minutes, scoring two points on 1-of-3 shooting.
Walker and Copeland have struggled against the better teams this season, part of the reason Alabama is 1-5 vs. ranked teams. South Carolina beat Alabama 77-60 and 87-63 and held the duo to less than 25 points each time. Tennessee held Walker and Copeland to 24 points in an 82-56 victory, and while Walker scored 27 in an 81-68 loss to Kentucky, Copeland managed only five points.
Alabama's inside play is complemented by senior guard Jordan Lewis, who averages 16.3 points. Alabama's top three players average 49.6 points a game and the rest of the team only 25.7.
A&M is much more balanced. Senior shooting guard Aaliyah Wilson leads the way, averaging 13.3 which ranks only 24th in the SEC. Jones (12.4), Johnson (11.2) and senior guard Kayla Wells (11.2) also average in double figures with sophomore point guard Jordan Nixon (8.7) ranked 46th in the SEC in scoring.
NOTES — A&M had another bad start against Ole Miss, missing 10 of 14 field goals in the first quarter, but still led 10-9 en route to Sunday's 66-55 victory that gave the Aggies a eight-game winning streak. A&M has shot less than 33.3% from the field in the first quarter in seven of its last eight games. Blair said that will have to change against a senior-laden Alabama team playing the last home game of the veterans' careers. "This team needs to start finding it out a little quicker instead of waiting for the end of it," Blair said. "We plan on starting better. They'll be jacked up all the way to the Bear Bryant Museum." ... The Naismith defensive player of the year semifinalists include South Carolina sophomore forward Aliyah Boston and Kentucky senior guard Chasity Patterson. A&M's Jones made the 15-player watch list last month but not the list of 10 semifinalists who also include Northwestern junior guard Veronica Burton, Texas junior post Charli Collier, North Carolina State junior center Elissa Cunane, Oklahoma State senior forward Natasha Mack, Arizona senior guard Aari McDonald, Rice senior center Nancy Mulkey, Connecticut junior forward Olivia Nelson-Ododa and Baylor senior guard DiDi Richards.