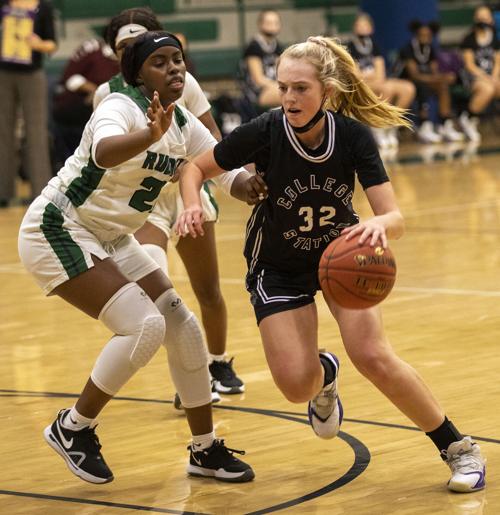 College Station's Na'layjah Johnson scored 12 of her game-high 19 points in the fourth quarter to lift the third-ranked Lady Cougars to a 49-42 victory over the Rudder Lady Rangers in District 19-5A play Friday night at The Armory.
Neither team could get separation until Johnson scored 10 points of her team's 11 points early in the fourth quarter to give College Station (13-2, 7-0) a 45-38 lead.
Points had been scarce until Johnson started her scoring spree with a driving layup after a Rudder turnover to extend College Station's lead to 36-33. The 14th-ranked Lady Rangers (12-5, 6-2) had another turnover that led to a College Station free throw, then Rudder missed a 3-pointer. The Lady Rangers had done a good job getting offensive rebounds, but this time College Station turned the miss into a driving layup at the other end by Johnson, who also drew a foul. She completed the three-point play to give the Lady Cougars their biggest lead at 40-33 with 5 minutes, 17 seconds left.
"We know we're capable of making big plays like that," College Station coach Megan Symank said. "It was kind of big for us to beat them at that game, too, where we get the board and we're able to score on transition. That was a six-point swing."
Rudder wasn't done, but neither was Johnson.
Rudder center Keaundra Kelly hit a pair of free throws for her team's first points in more than two and a half minutes. But Johnson answered in less than 20 seconds with a layup off a nice pass from Jaeden McMillin. With the pace of the game speeding up, Rudder's Tianna Mathis hit a 3-pointer that the partisan crowd appreciated, but Johnson answered with a 3, giving her 10 points in two minutes. The spurt resulted in College Station owning a two-game lead over Rudder for first place in the 19-5A standings after the first game of the second half of district play.
"I'm thankful for kids who hit big shots," Symank said. "And Nay is used to hitting big shots like that."
Last season in the Lady Cougars' victory over Cedar Park to reach the state tournament, Johnson hit a 3-pointer to force overtime.
Both teams struggled early. College Station made 10 of 35 field goals (28.6%) in the first half while Rudder made 9 of 30 (30%). The teams combined to miss all 19 3-point attempts and combined for 26 turnovers. There were nine ties and four lead changes as College Station managed a 23-21 lead. Both teams missed point-blank shots, which led to more misses as they pressed and rushed shots.
"We can play fast if we're knocking down those shots," Symank said.
They weren't, so they adjusted.
"Coming back from halftime, talking through and understanding that adjustment, I think we did a much better job the second half trusting what we were trying to accomplish," Symank said. "One thing we talked about at halftime was controlling the controllable, and I felt we did a good job of controlling the controllables in the second half."
Both teams slowed down the pace in the second half. Mathis opened the scoring by banking in a 3-pointer for a 24-23 Rudder lead, but College Station answered with back-to-back buckets capped by Johnson hitting the Lady Cougars' first 3-pointer. It was nip-and-tuck the rest of the way until Johnson took over. She got help from junior point guard Aliyah Collins, who added 10 points and eight rebounds.
Free throws were huge as College Station hit 9 of 14, while Rudder made 6 of 21. Rudder had a chance to stay in the game after College Station stretched its lead to seven midway through the fourth quarter, but the Lady Rangers missed four straight free throws.
College Station 49, Rudder 42
(Numbers after names indicate field goals made-attempted, free throws made-attempted, rebounds, fouls, points.)
COLLEGE STATION (13-2, 7-0) — Aliyah Collins 4-15 2-2 8 2 10; Na'layjah Johnson 7-17 3-3 3 3 19; Jaeden McMillin 2-11 0-0 8 3 4; Cornecia Thompson 2-5 1-2 6 4 5; Jayden Davenport 2-2 2-4 5 1 6; Love Ryberg 2-5 0-0 1 3 4; Ashanti Idlebird 0-1 0-1 4 0 0; Ruby Valasek 0-0 1-2 0 0 1; Tanijah Richardson 0-0 0-0 0 0 0. TOTALS: 19-56 9-14 35 16 49.
RUDDER (12-5, 6-2) — Rakia Lee 4-10 0-1 5 5 8; Bryanna Turner 0-7 1-4 3 3 1; Asani McGee 2-7 1-6 6 5 5; Tianna Mathis 6-14 0-3 15 2 14; D'aira'rynik Gray 0-0 0-0 0 0 0; Ty'ara Webber 0-0 0-2 0 0 0; Cameron Richards 0-0 0-2 0 2 0; Keaundra Kelly 5-15 4-5 13 0 14. TOTALS: 17-53 6-21 42 16 42.
College Station 12 11 11 15 — 49
3-pointer shooting: College Station 2-15; Rudder 2-19
Turnovers: College Station 16 for 12 Rudder points; Rudder 20 for 13 College Station points