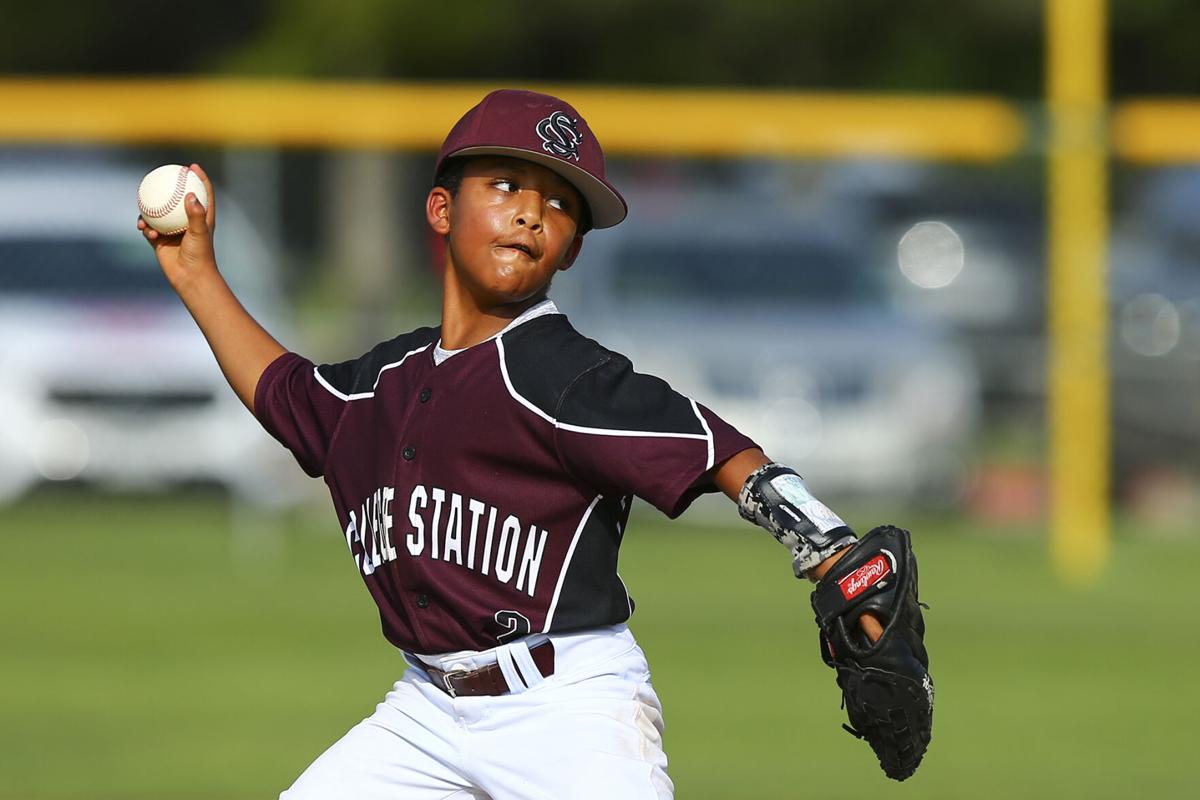 College Station Maroon scored first and last, but the rest of Sunday's Texas East State Little League Sectional I 9-10-11 Baseball tournament elimination game at Bachmann Park had a green tint.
Washington County needed only two at-bats in rolling to a 23-2 victory. The visitors had 13 hits and every starter reached base safely at least twice.
College Station had a good start as Grant Pickens reached on an error and came around to score on a single by Beckett Capener and an error. But the Washington County team, which is based in Brenham, answered with 13 runs in the bottom the first. Kaisen Ashorn had a two-run single and RBI single in the frame as 17 batters went to the plate. Six batters knocked in runs, the biggest being the first, an RBI single by Garrett Hupe on a 0-2 pitch with one out. Washington County had eight hits in the inning capped by Ashorn's shot into right-center field. Washington County took advantage of five College Station errors with the last eight runs of the inning being unearned.
The large contingent of green-clad Washington County fans had more to cheer about in a 10-run second inning highlighted by Braden Scheffer's bases-loaded clearing double.
Jamison Hejl led WC with three hits and three RBIs. Wyatt Born, Isaac Mathies, Scheffer and Ashorn each added two hits. Ashorn had four RBIs, getting the last by being hit with the bases loaded. Scheffer also had four RBIs. Washington County had six walks with five of them scoring. Three WC batters also were hit by pitches, but were able to stay in the game. Washington County played without Gavin Chovanec. He was the starting pitcher in Saturday's victory over Bastrop and collapsed after reaching first base following getting hit in the lower elbow and ribs with a pitch. Chovanec was at Sunday's game and said he expects to return after getting a doctor's clearance.
He wasn't needed Sunday as Wyatt Born pitched the first inning, getting a strikeout and Ty Dippel tossed the last two innings, getting four strikeouts.
College Station made some noise in its last at-bat. Pickens walked and Hunter Powers reached on an error. Capener got an infield hit, though WC first baseman Hejl almost made a diving catch. Pickens was able to score when Washington County threw the ball away.
Pitching for College Station was Caleb House, Anthony Hedge and Logan Weatherford. Hedge made a couple nice plays while playing third base. Brenham third baseman Kaden Birkelbach and Hejl, a pair of left-handers, teamed up for a defensive gem to rob House of a hit.
Washington County kept rolling Sunday night with a 7-1 victory over Western Hills in another elimination game. Washington County advances to play Lufkin, which grabbed a 5-0 victory over Western Hills in the winners' bracket final which was played at the same time as the WC-CS Maroon game. WC will play Lufkin at 7 p.m. Monday, needing to get a victory to force a second game Tuesday.
The 9-10-11 Baseball tournament had been scheduled to start last Monday at Bachmann Park, but was rained out for two days before being moved to Brenham. It returned to College Station on Sunday.
SEASON ENDS FOR BRYAN UNITED
The 2021 baseball season ended for the Bryan United All Stars on Sunday with a 19-5 loss to Twin Cities at the Texas East State Little League Sectional I Junior Baseball tournament in Fayetteville.
Bryan United trailed 4-0 but rallied against the team from Schulenburg to take the lead with five runs in the fourth inning before giving up 15 unanswered runs in the final two innings.
Martin Jimenez pitched 4 2/3 innings for Bryan before being relieved by Logan Cockroft.
Jimenez caught a fly ball in center field and Ryan Benson got the final out of the seventh inning on a double play at third base.
Martin singled to start the bottom of the inning and stole two bases before being thrown out at home.
Bryan United lost its first game of the tournament on Saturday to Lufkin, 12-0.