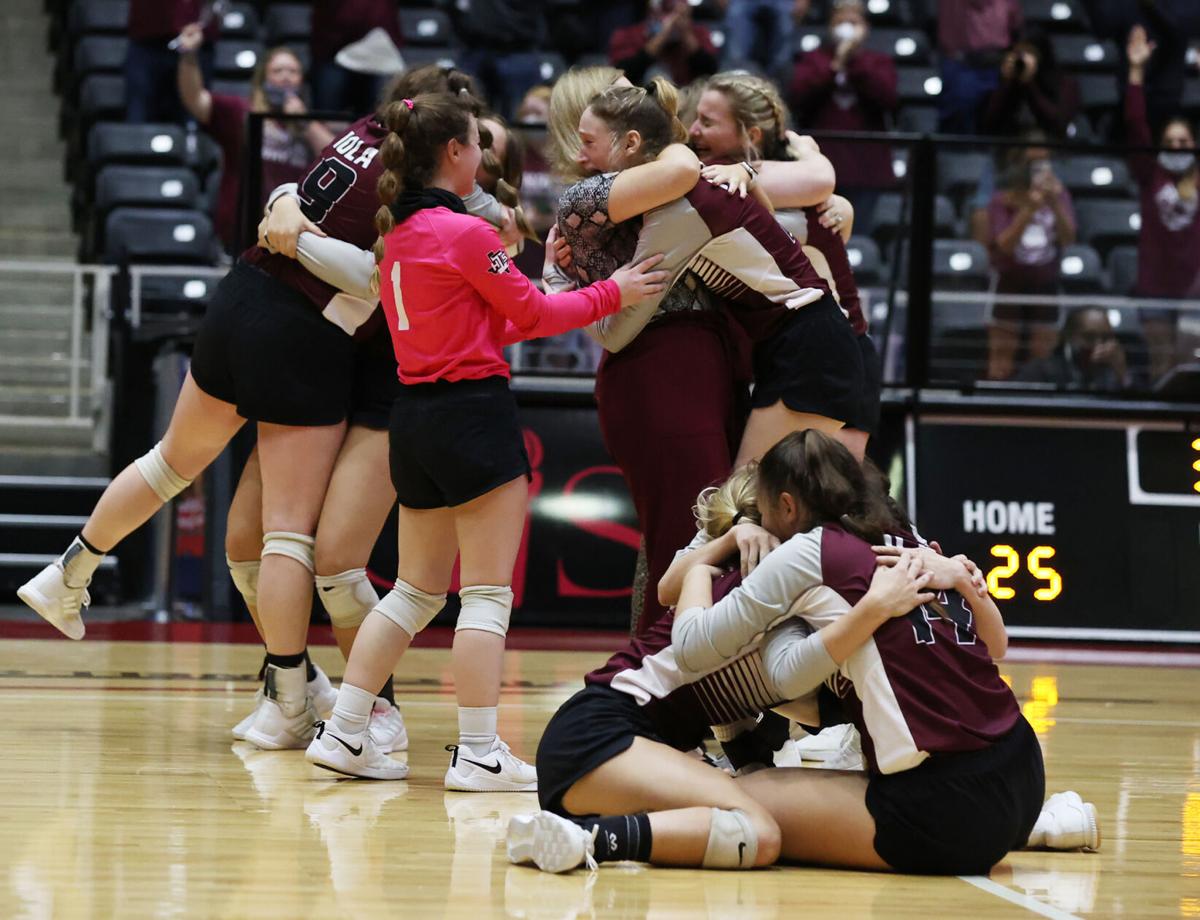 GARLAND — The Iola volleyball team has a lot to be thankful for this Thanksgiving, including a shiny new trophy to add to the program's collection.
The Lady Bulldogs dominated at the net and cruised to a 25-21, 25-20, 19-25, 25-17 victory over Crawford in the Class 2A state championship, earning the program's third title on Saturday at the Curtis Culwell Center.
"We did it," Iola head coach Jamie McDougald said. "We're so excited. COVID-19 has been a nightmare this year, and if you're looking at our team, we only have eight players, so if one of our players went down with the competition that we have to deal with week to week, our team wasn't going to make it. It's just been such a long road."
The Lady Bulldogs (30-1) had 55 kills and hit .194 as a team, but they made their share of errors. It didn't matter as their hitters controlled the match and often got Iola out of trouble. Senior outside hitter Cadence Hoyle led with 26 kills and earned the tournament's most valuable player award. Junior Jenna McDougald also had 19 kills attacking from both sides of the net.
"[Hoyle] carries a lot of the load for our team, and it's understandable [to get nervous], but she gutted it up and she worked so hard," McDougald said. "When things weren't pretty, I just kept telling her to keep working hard. It's going to happen, and she just made it happen."
Crawford (32-4) beat Iola in three sets in the 2017 state title match, stopping the Lady Bulldogs from earning three consecutive titles by taking advantage of Iola's injuries and early mistakes. But in this year's matchup, the Lady Bulldogs didn't let mistakes get the best of them, building a two-set lead despite falling behind early in both.
Iola had a rocky start, falling behind 6-1 in the first set thanks to three errors and three kills by the Lady Pirates' Katie Warden, who finished with a team-high 18. But Iola used a 4-0 run to tie the set at 8 as the Lady Bulldogs began limiting their errors while taking advantage of Crawford's. Iola earned its remaining 17 points with nine kills and eight Crawford errors to take a 1-0 match lead. Jenna McDougald led Iola with six kills in the first set, while Hoyle added five.
"We all [motivate] each other, so it's a normal thing for us to do," said Iola senior libero Brooke Smithey, who had 16 digs.
Iola took an early 5-3 lead in the second set when Anna Barnett slammed down a poor Crawford pass that slipped over the net. Iola then forced the Lady Pirates to take a timeout after using three attack errors to build a 10-7 lead. The Lady Pirates fought back to tie the set at 13 as each team took turns racking up kills, but Hoyle put Iola in the driver's seat with five kills for a 20-16 lead, and the Lady Bulldogs finished the set with a 3-0 run on kills from Hoyle and Chloe Vaughan.
"When we pick it up and we're able to get a set up off of it and [our hitters] are able to get an aggressive attack on it, it's the greatest feeling ever," Hoyle said. "It's just like my coach says, watching a well-oiled machine, so it was great."
Momentum shifted midway through the third set as Crawford broke a 15-15 tie with a 3-0 run. For a brief moment, Iola's hitters struggled to find a rhythm. Hoyle cut Crawford's lead to 18-16 with a kill, but the Lady Pirates used two more 3-0 runs and a final kill by Warden to cut Iola's match lead to 2-1, forcing a fourth set.
"We were giving points away, and we were trying not to give away as many points," Crawford head coach Jeff Coker said. "We did a little bit better job of that [in the third set]. I think volleyball is such a huge momentum sport, and we got a little more momentum and we were able to score and do some of the things we'd talked about."
Despite dropping the third set, Hoyle said it didn't rattle the Lady Bulldogs.
"I was just telling everyone, 'We know we can beat them,'" Hoyle said. "We had two sets on them and that had happened against Beckville and Leon too [earlier this season], so that wasn't the first set we lost all year. We knew we could come back and do it. We just had to have the confidence and aggressiveness it took to do it."
Fueled by Hoyle's confidence, Iola didn't give Crawford a chance to gain more momentum in the fourth set. The Lady Bulldogs built a 6-2 lead early and controlled the set the rest of the way.
A kill by Jenna McDougald and an ace from Smithey gave the Lady Bulldogs a nice 20-14 cushion, and they ended the match with a 4-0 run. Jenna McDougald and Hoyle each had two kills over the title-clinching stretch.
"Closing out a match, that's so important," Jamie McDougald said. "For everybody, it's hard. They got nervous and when Crawford hit 20 in that third game, it was just error, error, error for us. That set them straight. If you want it, you're going to have to go take it. Crawford is not going to hand it to you."
Vaughn led Iola in digs with 24, while Ava Pointer had 45 assists.
Iola def. Crawford 25-21, 25-20, 19-25, 25-17
IOLA (30-1) — Cadence Hoyle 26 kills, 10 digs; Jenna McDougald 19 kills, 12 digs; Ava Pointer 45 assists, 9 digs, 4 kills; Lindsey Gooch 3 kills, 6 digs; Anna Barnett 2 kills, 4 digs; Chloe Vaughan 1 kill, 24 digs, 2 assists; Brooke Smithey 16 digs.
CRAWFORD (32-4) — Katie Warden 18 kills, 6 digs, 2 assists; Taylor Westerfeld 11 kills, 15 digs; Kylie Ray 10 kills, 4 digs, 3 assists; Lexi Moody 4 kills, 36 assists, 13 digs; McKenna Post 3 kills, 13 digs; Addie Goldenberg 35 digs.