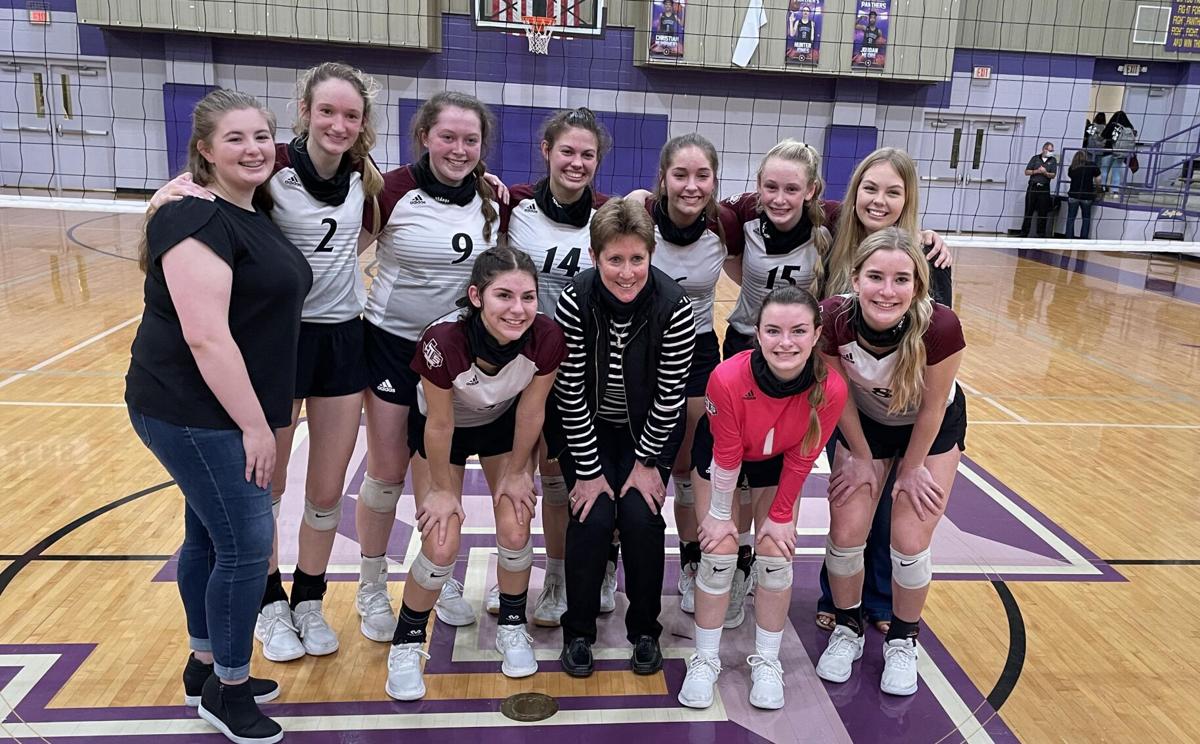 LUFKIN — The top-ranked Beckville Ladycat volleyball team had to cross the path of the hungry Iola Lady Bulldogs on Friday the 13th.
Led by senior Cadence Hoyle, Iola showed it was top cat in Class 2A Region III with a dominating 25-23, 25-23, 17-25, 25-10 victory Friday night at Panther Gymnasium.
Third-ranked Iola (28-1) took control of the first set with a 9-0 run spurred by Hoyle's powerful serves. The 5-foot-10 outside hitter later teamed up with junior setter Ava Pointer in the fourth set to put an exclamation point on the regional championship.
Pointer put the ball on a platter for six straight Hoyle kills during an 8-0 run to build and insurmountable 13-5 lead. The duo teamed up five more times, including on match point. Pointer finished the match with 35 kills, most coming on assists from Pointer.
"We've been together for a couple years now," Hoyle said. "It's just a setter-hitter connection. We've been working so hard in practice, and I think that's what really helped us. I guess I was on this game, so Ava was like, 'Alright, let's go.'"
Iola is going to the state semifinals, a gratifying accomplishment for its three seniors.
"None of us seniors have ever made it to state, so that is honestly one of the biggest accomplishments that we've ever had," Hoyle said. "I'm so proud of all of us. Every one of us has worked our bottoms off to get to this spot."
Hoyle, senior libero Brooke Smithey and senior outside hitter Lacey Wheaton watched from the stands as freshmen when Iola last made the state tournament in 2017. Friday night they got to celebrate Iola's return to the state semifinals.
"We have three seniors who want it really bad," Iola coach Jamie McDougald said. "All week long in practice they've just stepped it up. It's been the best practices we've had all year. Right now it's play for it all or go home and, man, they came to play today. I was very, very proud of them."
Beckville (31-3) was the heavy favorite coming off a three-game sweep of Leon, which split two District 22-2A matches with Iola, both in five sets. The Lady Bulldogs took the fight to the Ladycats, who had no answer for Hoyle's line drive serves. Three straight serves handcuffed Beckville players. Beckville coach Cherry Downs used both of her timeouts during the early 9-0 run to no avail.
"We knew we were going to have to [serve well], because they have more firepower than us at the net," McDougald said. "They're good hitters. We talked all week about how we're going to have to come up with other things to do, so they couldn't outfire us at the net. One was aggressive serving. And one was when they served, we knew we had to get a first-ball kill or first-ball attack, so they couldn't cause havoc."
Iola was able to neutralize Beckville's 5-9 outside hitters Lindsey Baker and Avery Morris, whom McDougald said had the ability "to eat our lunch."
The only time Beckville's frontline imposed its will came during the third set as Baker and Morris finally gave the large contingent of Beckville fans something to cheer about.
"It's hard to close it out," McDougald said. "The girls are human. They get nervous. They could see it coming and see it coming, and I think they just got comfortable. So going in the fourth game, they knew if they got comfortable [again], it wasn't going to happen."
Morris had a pair of kills to give Beckville a 3-1 lead in the fourth set, but Iola answered for a 5-3 lead as the Ladycats had a tough time handling the hard serves of junior outside hitter Jenna McDougald followed by freshman Lindsey Gooch, who served for seven points. Many of Gooch serves ended up with Pointer setting up the right-handed kills of Hoyle.
"We have a lot of plays from a lot of spots, but tonight they attacked us so much, we couldn't get our passes together to run our whole offense all the time," McDougald said. "But, man, [Hoyle] took it to town from the five-spot."
Beckville took a pair of timeouts with Gooch serving, eventually sending in a substitute to break Iola's run. It mattered little as Iola closed out the match on a 12-4 run.
"It's our attitude," Hoyle said. "We mesh so well together. Attitude is a big part of volleyball. I know the skill is important, but we're all so close and such good friends, that really helps and I think that really helped us [tonight] because you know we lost the third set, which obviously wasn't planned. But we got back on top of it, and I think that's what helped us win the match."
Iola junior outside hitter Chloe Vaughn added to Beckville's frustration with several amazing digs. Twice Vaughn had a pair of digs that led to points.
Beckville's best chance to make a match of it came in the second set. Iola, which twice led by seven points, never trailed. But Beckville battled back to pull within 23-22 on a 4-0 run capped by an ace by Morris and an Iola hitting error. But Pointer and Hoyle teamed up to give Iola a 24-22 lead, and after Morris answered with a kill, Iola's version of Batman and Robin teamed up for the set-winner.
Gooch ended with 16 points, McDougald 13 and Hoyle 12. McDougald had 13 kills. Iola as a team had only 11 hitting errors.
Kinsley Rivers lead Beckville with 14 kills, while Morris and Baker each added 12.
NOTES — The Iola players after the match went into the stands to celebrate with their fans. ... The state semifinals will be played Monday or Tuesday with sites to be determined. The state title match will be next Saturday in Garland. The state semifinals and finals are typically played at the same site, but the UIL altered the schedule because of COVID-19. The semifinal pairings will be announced Sunday. Thrall (22-6) won Region IV with a 25-22, 23-25, 25-17, 18-25, 15-8 victory over Schulenburg (25-9). Crawford (31-3) won Region II with a 27-25, 25-22, 27-29, 25-19 victory over Bremond (18-2).  Albany (15-3) and Wink (28-5) will play for the Region I title Saturday. ... For historical record purposes, all teams remaining have made the state tournament. ... Beckville had won 17 straight matches.
Be the first to know
Get local news delivered to your inbox!