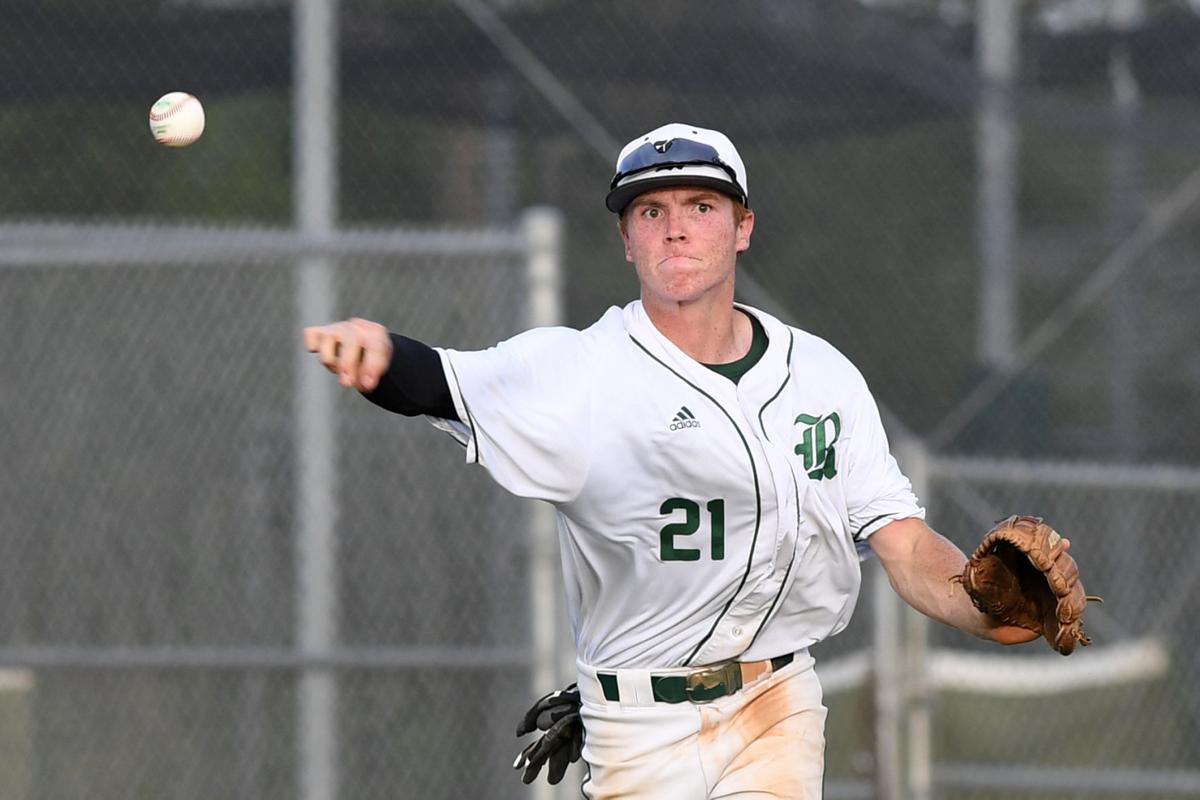 A few years ago, a Hunter Dobbins vs. Kolby Kubichek pitching duel made for must-see high school baseball in Bryan. They then took their rivalry to the Big 12 Conference with Dobbins at Texas Tech and Kubichek at Texas.
Now the local right-handed pitchers will represent their community on a much bigger stage after being selected in this year's Major League Baseball draft.
The 2018 graduates heard their names called on Monday and Tuesday as their childhood dreams quickly turned into real life jobs. Rudder's Dobbins was selected in the eighth round (226th overall) by the Boston Red Sox, while Bryan's Kubichek went in the 18th round (532nd overall) to the New York Mets.
"Especially being in the same conference [in college], we got a little rivalry going on," Kubichek said of Dobbins. "But I wish him nothing but the best, and now we're not [in a rivalry], you know, we're Bryan kids just trying to live out a dream."
BORN TO PLAY
Dobbins might have been destined for the Red Sox organization since birth. Dobbin's father, Lance Dobbins, a former Alabama Crimson Tide and Arizona Diamondbacks pitcher, is a die-hard Boston fan, making the phone call from Boston on draft day even more special for the family.
"Then you're told, 'Well, congratulations, your name is about to be called,'" Dobbins said. "It's just ... honestly it's the dream come true but the beginning of the real hard work."
Dobbins knew Boston and several other teams were interested in him months before the draft but was still unsure which team would pick him. Dobbins said he feels Boston is a great fit for him, and although his dad never pushed him into baseball, he's excited to continue the tradition.
"I want to say my first baby picture I have a ball and glove in the crib with me, so [baseball] is just one of those that's always been there, and as soon as I was ready to start learning, he was there ready to start teaching," Dobbins said.
Rudder head coach Chase Sanford was with Dobbins on draft day, which he described as a "proud coach moment."
"I couldn't be happier," Sanford said. "Being able to watch him grow up from Rudder and then I also got to coach him with the Brazos Valley Bombers ... so to be able to win a championship with him with the Bombers and then to see him get drafted, it's been full circle."
Dobbins was a three-year letterwinner for Rudder and played two years at Tech before getting injured and undergoing Tommy John surgery, which kept him out this season. In the shortened 2020 season, he was a midweek starter as a sophomore and went 2-0 in six appearances, finishing with a 1.35 ERA.
Dobbins is eager to return to the mound and will spend the summer in Fort Myers, Florida, to continue rehabilitation in preparation for next season. He's not pitched since before the COVID-19 pandemic began, and Dobbins said the draft was a check point in his return, while that first game back will be the light at the end of the tunnel.
"It's even more of a big deal, the fact that he got drafted in the eighth round without even pitching this year," Sanford said. "That's saying a lot of the Red Sox. ... I think they've seen his work ethic. They've seen how he's been rehabbing, and that tells you the story right there."
LIVING THE DREAM
Kubichek saw his dream of playing professional baseball come to fruition Tuesday.
"I'm trying to soak it in as much as possible, but still at the same time, it's been a dream of mine since I was a little kid, so it's still hard to grasp that it actually is a dream come true," Kubichek said.
Kubichek was a four-year letterwinner for Bryan under head coach James Dillard and played three seasons for Texas. As a redshirt sophomore with the Longhorns this season, Kubichek pitched 51 1/3 innings, striking out 41 and posting a 3.86 ERA as Texas reached the College World Series.
"For him to perform the way he did at UT was just really eye-opening, and his work ethic has just gotten better and better and better each year that he's been there," Dillard said. "Anytime you work hard like that, you want to see a kid get rewarded, and you want to see someone like Kolby get rewarded."
Dillard and Kubichek both credit the mental game as part of his success, and Dillard says it's one of the keys to Kubichek progressing through the minors.
"He's going to be just fine," Dillard said. "He made the jump from Bryan high school baseball to the University of Texas and didn't miss a beat. He's going to make the jump from the University of Texas to minor league baseball, and he's going to be successful there as well."
Kubichek said it's comforting to have family and friends cheering him on from Texas.
"It's a great opportunity for me to start my career, and it makes it even better that I know all those guys back at Texas and even back in high school are supporting me every step of the way," Kubichek said. "Wherever God takes me and wherever he leads me, [I'll] follow that path and trust in His ways. Luckily he led me down this road to explore this new journey, and hopefully it'll all go the way I want it to."
NOTES — Dobbins also played for the Brazos Valley Bombers and was part of their seventh Texas Collegiate League baseball title in 2020. His teammates included Texas A&M's Bryce Miller, Dustin Saenz and Chandler Jozwiak, who all were selected in this year's draft. "It's great to see those guys still playing well," Dobbins said. "That Bombers team we had was unreal. It's really cool to see the continued success of all those guys." Jozwiak went in the 13th round to the Miami Marlins, while Saenz and Miller went in the fourth round to the Washington Nationals and Seattle Mariners, respectively. ... Dillard is also the head coach for the Bombers. "It's been exciting exchanging text messages with all those guys. You get to follow those guys and you establish a relationship with them, and for them to be having all the success that they've had is just awesome," Dillard said. … Kubichek's brother, Kyle, is a junior on the Bryan baseball team. ... Dobbins and Kubichek's fellow District 18-5A competitor T.J. Rumfield, a first baseman for Temple who also played for Texas Tech and Virginia Tech, was drafted in the 12th round (355th overall) by the Philadelphia Phillies.