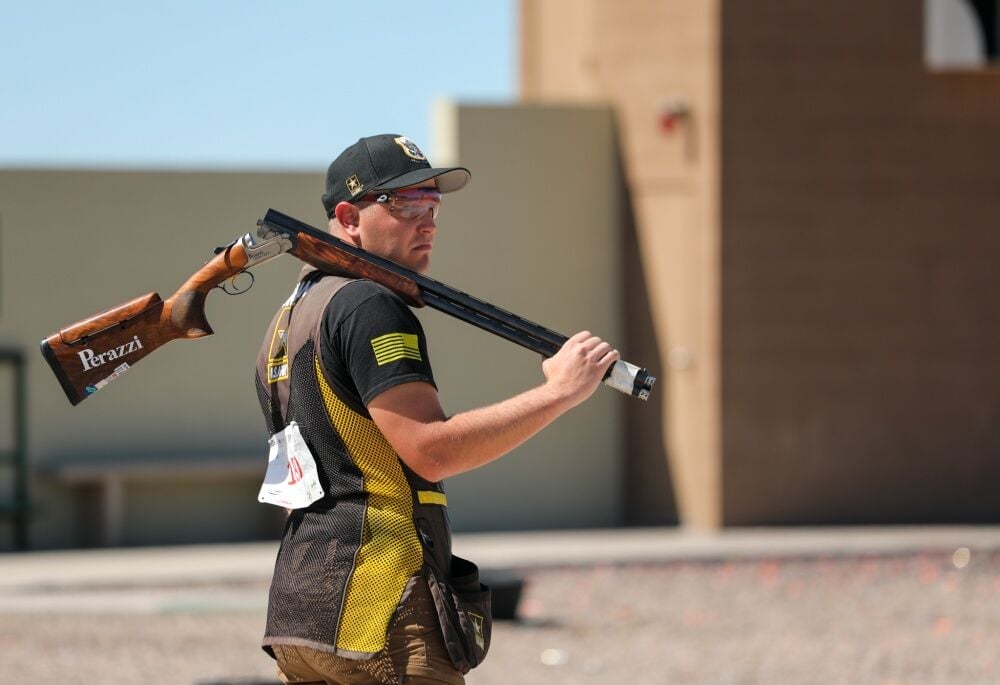 When the 2020 Summer Olympics in Tokyo were postponed due to the COVID-19 pandemic, Caldwell native Phillip Jungman wondered if he still would have a spot on the United States' skeet shooting team when the games commenced.
The answer is yes as USA Shooting announced all 2020 Olympic qualifiers, including Jungman, will retain their spots on the team for the 2021 Games.
Now Jungman, 26, is one of 22 Americans on the U.S. shooting team who are gearing up for this summer's Tokyo Games, which open July 21. Jungman will compete in men's shotgun skeet on July 25-26 at the Asaka Shooting Range outside of Tokyo.
"We've been working towards this for what's going on about a year and a half now, and it just seems like it was so far down the road. It was never going to happen," Jungman said. "I'm starting to get some of my gear, so that when I go I'm in full USA garb, and it's starting to make me more and more excited."
At age 11, Jungman started shooting international skeet after he met Connie Smotek, a Texas A&M graduate who competed in mixed skeet at the 1992 Summer Olympics in Barcelona and in women's skeet at the 2004 Athens Games.
"She being a multi-time Olympian herself, she kind of introduced me to the sport," Jungman said. "Being 11 years old, there was no way I could compete near this level, of course, but it was something I had to gain as I went along."
Jungman made his first junior national team at 16 before graduating from Caldwell in 2013. He attended Blinn and A&M for over three years but decided to leave school and join the Army in 2017 to pursue shooting full-time after he was named an Olympic alternate for the 2016 Games in Rio de Janeiro.
Stationed in Fort Benning, Georgia, Jungman is part of the Army Marksmanship Unit, which was first created by President Dwight D. Eisenhower to compete in international shooting events. Unit members have won 24 Olympic medals since it was formed in 1956 and have represented the U.S. at each Summer Olympics since 1960.
"I felt like I couldn't quite afford to continue to practice and front that money for shotgun shells and targets. It was a super-high expense," Jungman said. "My solution to that was joining the Army, and they've helped me a lot with providing me with ammunition and targets, so I could make the team."
As the games approach, Jungman said he's been working to perform on a stage as big as the Olympics'.
"I think this is a no-brainer, of course, but I've never been on a stage this big," Jungman said. "It's something that I have to try and recreate as many times as I can before I go. We're constantly looking for big matches, or even at our home range we're trying to recreate the scenario that's going to be happening at the Olympics. I'm trying to imagine I'm shooting against the best people in the world."
Among Jungman's top competition include France's Eric Delaunay and Italy's entire team, he said. Jungman shot against Delaunay twice in May at events in Italy.
"There's only 30 people in the world who compete at the Olympics in my sport, so being limited that much, it's not easy to even earn a spot on the team," Jungman said. "I would say I'm definitely shooting for the gold."
It will be Jungman's first time staying in Japan. He's flown through the Tokyo airport on a trip to South Korea. He said one aspect of the games he's looking forward to is meeting fellow Olympians in the Olympic Village.
"We're talking swimmers, equestrian, ping-pong, rock climbing," Jungman said. "I mean, it's amazing some of the stuff and how proficient these people are at it. It's kind of cool that I'm going to be contributing to that."
While winning a gold medal is Jungman's goal, he said being able to call himself an Olympian is an accomplishment in itself.
"There's nothing more that makes me prouder than watching the flag get raised while the national anthem's being played," Jungman said of watching medal ceremonies. "And if I'm the one that put it there, it's 10-times better."