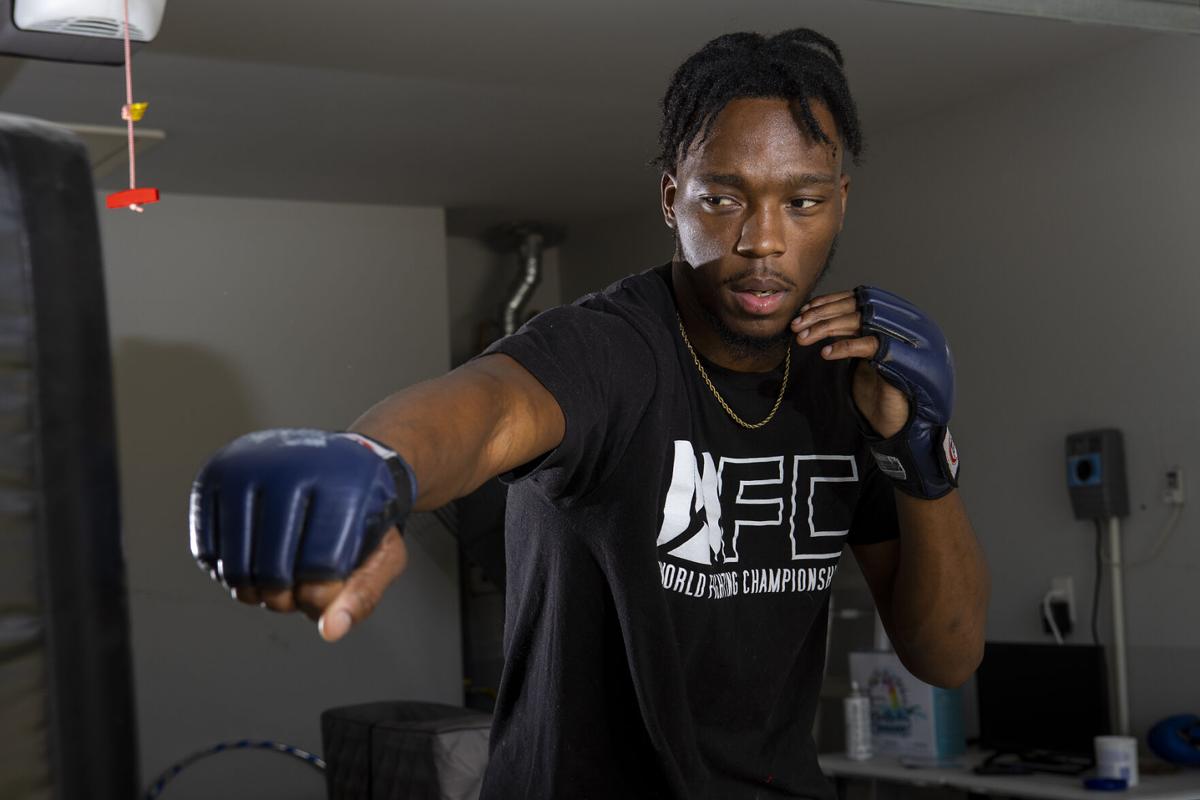 Kenndall Lewis grew up watching mixed martial arts and boxing on TV but didn't try either sport until he made a bet with a friend: If the friend participated in an MMA fight, Lewis would, too.
"So he fought, and then I was like, 'OK, I guess I've got to get in here,'" Lewis said.
Now Lewis, a 25-year-old Bryan native, is set to compete in his second professional MMA fight Saturday. He's the co-main event at the World Fighting Championships 125 LIVE set to begin at 7 p.m. at Reed Arena.
Lewis will face Michell Cupp in a three-round welterweight bout as both seek their first professional victory.
"I started training, and from there, I didn't think I would be this far in my career and then everything just kind of took off and I just kept going with it," Lewis said. "This is probably the best fight camp I've had in my career as far as weight management and making sure I'm on point for weight, not super draining my body."
After graduating from Rudder in 2013, Lewis participated in his first amateur fight in 2015. He compiled a 6-1 amateur record, winning two amateur belts — one in Bryan-College Station and one in Houston. Lewis turned pro in 2019 but lost his professional debut to Zulkarnaiyn Kamchybekov via unanimous decision in a bout in Philadelphia.
Since then, Lewis said it's been bumpy trying to get back in the cage as he's had three scheduled fights canceled due to COVID-19. Lewis said he used the off time to switch his style and become a more complete fighter. He added that he's learned to calm his nerves and acknowledge the adrenaline will be there no matter what.
Lewis trains at Brazos Valley MMA under Bubba Bush, a former UFC fighter.
"I would say I'm a striker or a stand-up fighter, but we kind of mapped it to MMA now," Lewis said. "I'm everywhere now. I can go to the ground. I can stand up, whichever way it goes."
Leading up to Saturday's fight, Lewis said he's been focusing on his patience in the cage. Looking at his opponent, Lewis said Cupp uses a lot of jiu-jitsu and expects him to go for an early take down.
Lewis also said he doesn't expect it to matter.
"If it goes three rounds, I'll take it," Lewis said. "If it goes one round, I'll take it. If it's a knockout, I'll take it. If it's a submission, I'll take it. If it's a decision ... all of the above."
Lewis said he is strong in faith and tries to show love and respect to his opponents regardless of the outcome. In preparation for fights, Lewis added he often refers to Psalm 144:1.
"It basically says, 'He trains my hands for war, my fingers for battle,'" Lewis said. "I think that's a really good verse, especially going into a battle, going into a fight."
Making it to one of the top MMA promotions, such as UFC or the Contender Series, is Lewis' goal, but he said his short-term goal is to compete in more fights and win more belts.
Competing in his hometown provides a sense of comfort, Lewis said. He noted his entire family is coming as it's the first time he's fought in Bryan-College Station since 2018.
"A finish would be perfect, but a win would be better," Lewis said. "I would love a finish. Everybody loves finishes. Everybody loves watching it, but a win would boost me to the level I need to get to."
NOTES — Former Texas A&M running back Keith Ford is on the undercard. He will be facing Matt Altman in the 185-pound division. Ford played for the Aggies from 2015-17.