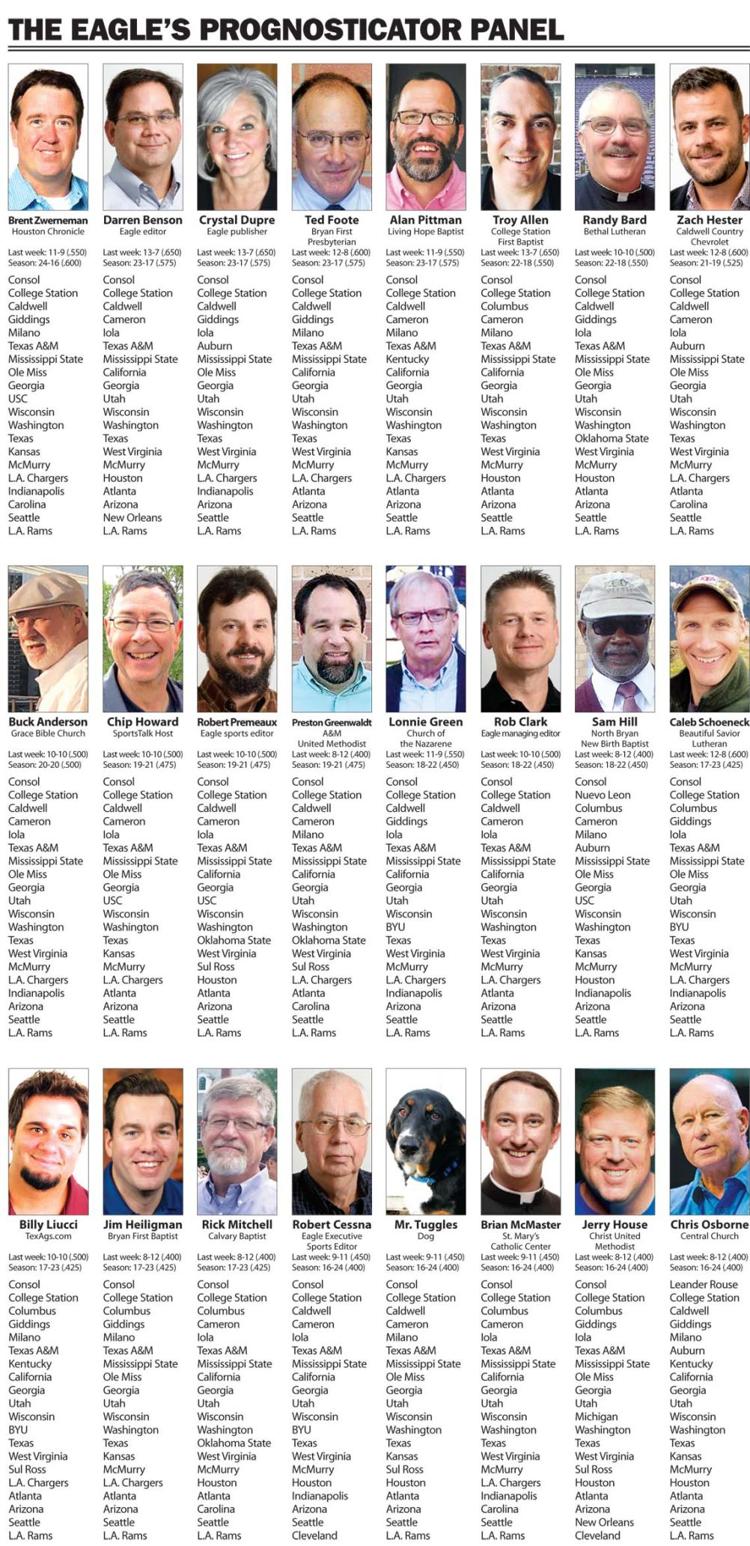 Good coaches lean on their best players, right?
Many of our guest clergy might want to call on a higher power to help them — and their brethren — rebound from the toughest start in the Prognosticator Panel's 30-year history.
Only eight pickers are above .500 after two weeks. Christ United Methodist's Jerry House, St. Mary's Catholic Center's Brian McMaster, Central Church's Chris Osborne, Mr. Tuggles and yours truly are tied for last place a whopping eight games under .500. Now that's a star-studded group, if I must say so myself.
It's understandable why Jerry is off to a slow start. He was late getting in his picks last week, using his church launching its $17 million capital campaign last Thursday as his excuse. I had to read his email twice, because around the office and house we get excited over $17. You do have to wonder if Jimbo Fisher is a Methodist. Who else would have $17 millskie to put in the collection plate? Maybe the guy developing Bryan's super park?
Now I will say winning Prog makes you feel like a million bucks. That's how Beautiful Savior Lutheran's Caleb Schoeneck felt recovering from a brutal 5-13 start to have the second-best effort of last week at 12-8.
"After my poor performance, I clearly needed to work harder," Caleb said. "Coach got in my face and really helped me get motivated. He didn't grab my facemask or anything like that, but let's just say he got his point across. I even started picking Tuesday night high school volleyball games to get in a few more reps."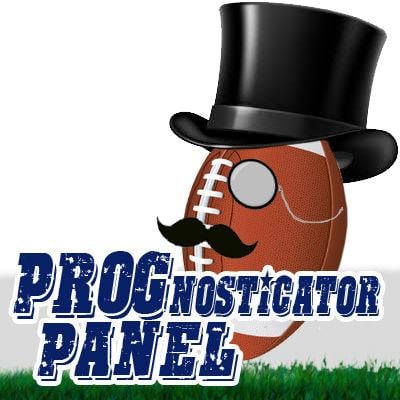 "That didn't actually happen, but I it was a strange dream I had this past week," Caleb said.
It's nice to see Caleb is getting the hang of this. Picking football games can get in your head, cause nightmares, even bring you to your knees.
College Station First Baptist's Troy Allen went a panel-best 13-7 last week. Kudos to him, but mea culpa: In the note I sent out to the fellow pickers this week I failed to mention his 13-7, instead opting to brag on Eagle publisher Crystal Dupre and editor Darren Benson, who also went 13-7.
"For what it's worth, I went 13-7 last week, too, but was not mentioned with Darren and Crystal," Troy said. "C'mon man!"
Kissing up to the bosses never goes out of style, Troy, and while we're sorry for overlooking you, well, welcome to Prog Panel purgatory. You will suffer for your picks, even when they are good ones.
"Just kidding. Just ribbing you a bit," Troy said. "Not sure if these were the kinds of comments you were looking for or not. If not, guide me, O Great One."
Now that's more like it. Troy's a keeper.
Speaking of keepers, eight-time Prog champion and SportsTalk host Chip Howard is back with the common folks at 19-21.
"So two Eagle employees have the two best records last week, prompting Cease to write a disclaimer 'that it's not rigged,'" Chip said. "Of course, I've complained for years about this inside info but to no avail. That's OK. I've overcome before, and I will do it again this year. Amen."
Actually, Crystal and Darren never see the inside scoop. They don't have time. They're too busy running a 24-hour modern-day business, not a two-hour production catered to trends popular in the 1970s.
"I'll leave the trash talking to Chip," Crystal said. "He does it so well when he sits at the bottom looking up."
He is good at it. But let's be fair. If Chip wants to do some investigative reporting, start with Eagle sports editor Robert Premeaux. He types in all the picks (and has to edit my copy, so God bless him), and if anyone was going to cheat, wouldn't it be a lifelong Dallas Cowboys' fan?
"My plan to follow Chip like Emmitt Smith once followed the Moose is working so far," Premo said. "Of course, those old running plays were essentially sprints, not marathons like Prog, so this strategy may fizzle out before we reach the promised land."
And while the nation is watching the promised land this week as No. 17 Texas A&M opens Southeastern Conference play against No. 8 Auburn, our Crummy Game of the Week should include its share of fanfare and fireworks. We present you with Sul Ross at McMurry in a battle of 0-2 teams picked to finish last and next-to-last in the American Southwestern Conference.
"Tickets for this game are $5 adults, $3 students!" Bethal Lutheran's Randy Bard emailed. "What a bargain!"
Randy did some research. God bless him, too.
Get in the game with our Prep Sports Newsletter
Sent weekly directly to your inbox!