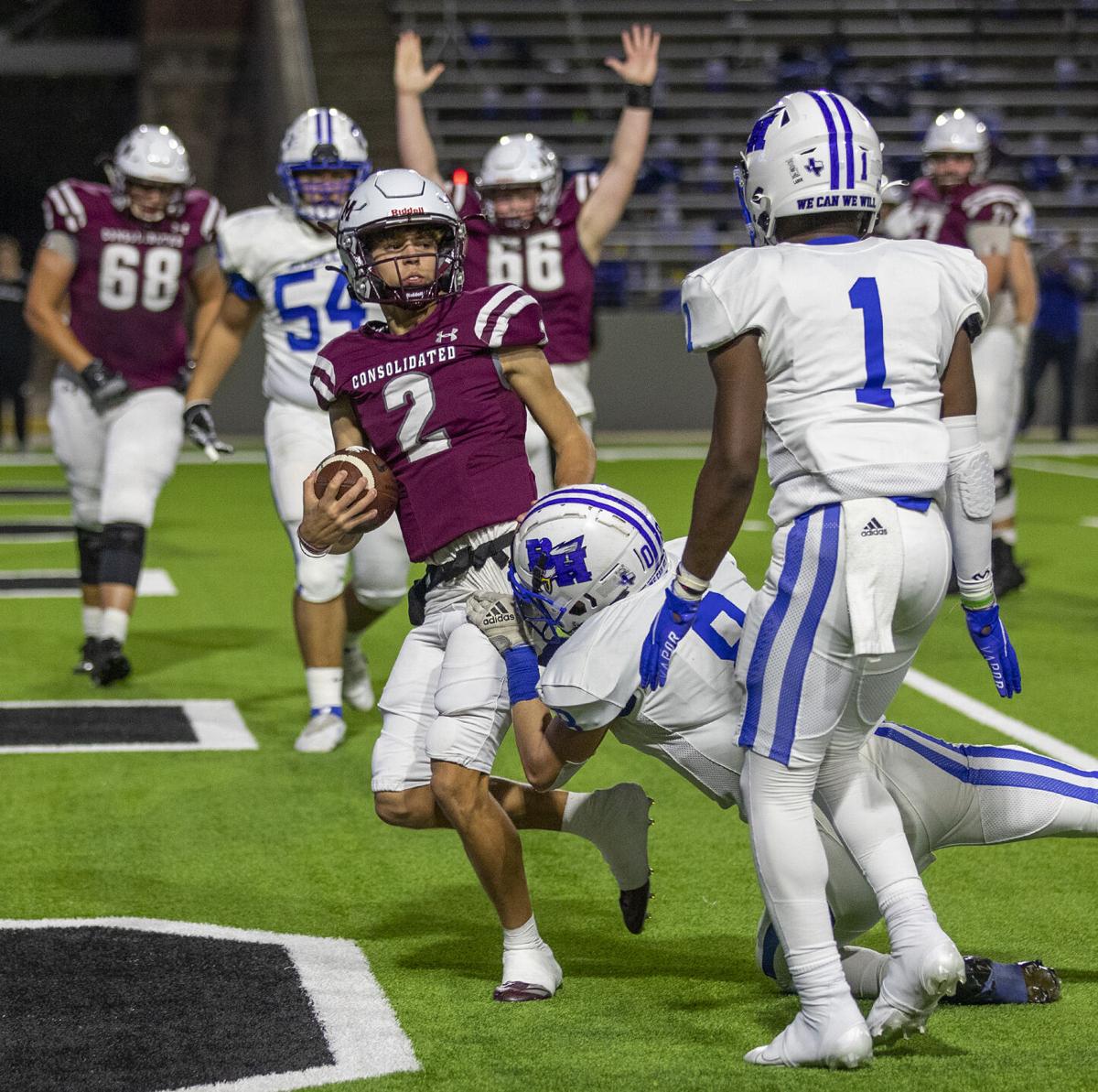 CYPRESS — Freshman quarterback Will Hargett and sophomore running back Keshun Thomas likely will suit up for many more playoff games at A&M Consolidated, but the underclassmen played like it was their last Friday night against Barbers Hill.
Young players made veteran plays for Consol in the Tigers' 41-35 comeback win in their Class 5A Division II area playoff game at Cy-Fair FCU Stadium. The Tigers (10-2) will face either Crosby or Marshall in the regional semifinals next week. Crosby is set to face Marshall on Saturday in Lufkin.
Thomas scored two touchdowns in the final 3:32 to help Consol erase a 35-27 deficit. His 3-yard touchdown run with 31 seconds left gave the Tigers the lead for good, and Hargett added a two-point conversion run. Sophomore safety Trace Meadows then intercepted a pass with 3 seconds left to seal the win.
"We don't even talk about youth, because they're all old guys out there playing," Consol coach Lee Fedora said. "When Keshun has big games running, the first thing he'll say is our line's doing a great job blocking. It's not ever about him. It's about his teammates, and that's the type of leader he is. I'm so proud that we have this youth coming through, but we're a focused team, and I'm proud to get to the next round."
Barbers Hill (6-6) capitalized on two Consol turnovers in the third quarter, and three touchdowns by quarterback Brent Holdren for 21 unanswered points gave the Eagles a 35-27 lead with 7:25 left in the fourth quarter.
"What I told our guys at halftime, Barbers Hill's a good team and they put up a lot of points in the second half," Fedora said. "Well, we screwed up on that kickoff return, had the big return and then we fumble it, then had a bad snap [on a punt], but what I was so proud of our guys ... they never quit. They kept fighting. They showed their toughness, and for us to pull out a win like that against a good team, that's a big win for us."
Thomas scored on a 15-yard run with 3:32 left, but the Tigers weren't able to convert the two-point conversion to tie the game at 35. Consol's defense forced a quick three-and-out, however, and got the ball back to the offense and Thomas, who finished with 146 yards on 24 carries.
"Our defense stepped up really great," Thomas said. "I praise them a lot. I knew after we got the ball back, I knew we had to score ,and we drove the ball down and scored. I'm so proud of my team. I love them."
Hargett arguably had his best game of the year. He completed 15 of 22 passes for 233 yards, adding 21 yards on 7 carries and had a hand in three touchdowns.
"Will did a great job, because as much blitzing as they were doing, they were trying to squeeze down," Fedora said. "That one time he pulled it on himself and took it to the end zone, made some big plays."
Big plays on both sides of the ball and two late scores helped Consol build a 27-14 halftime lead.
Thomas scored on a 9-yard run for a 6-0 lead with 1:49 left in the first quarter. After Barbers Hill tied the game on the ensuing drive, the Tigers responded with a 13-yard touchdown run by Hargett to regain the lead at 13-6 with 9:43 left in the second quarter.
Barbers Hill scored on a 14-yard run by Holdren on fourth down and added a two-point conversion to take a 14-13 lead with 5:00 left before halftime. The Eagles then appeared to have all the momentum after forcing a punt and driving into Tiger territory, but Consol linebacker Tyndall McNamara intercepted a pass one-handed at the Tigers' 31-yard line with 2:57 left in the first half.
Two plays later, Hargett hurled a perfect pass over a defender with Trey Taylor catching it and racing 57 yards for a touchdown. Hargett then scored on a 1-yard run with 6 seconds remaining in the half and converted a two-point pass to Albert Garcia to give Consol the 13-point lead heading into halftime.
While the Tigers await to see who their next opponent will be, they can enjoy knowing they will be playing on Thanksgiving week for the first time in five years.
"This game's over with," Fedora said. "Now we've got to prepare for our next opponent. We don't know who that's going to be until they play tomorrow at 2, but our guys are focused, and we're glad we're a part of the 16 that are going to be playing for the next round, and hopefully we get to the eight."