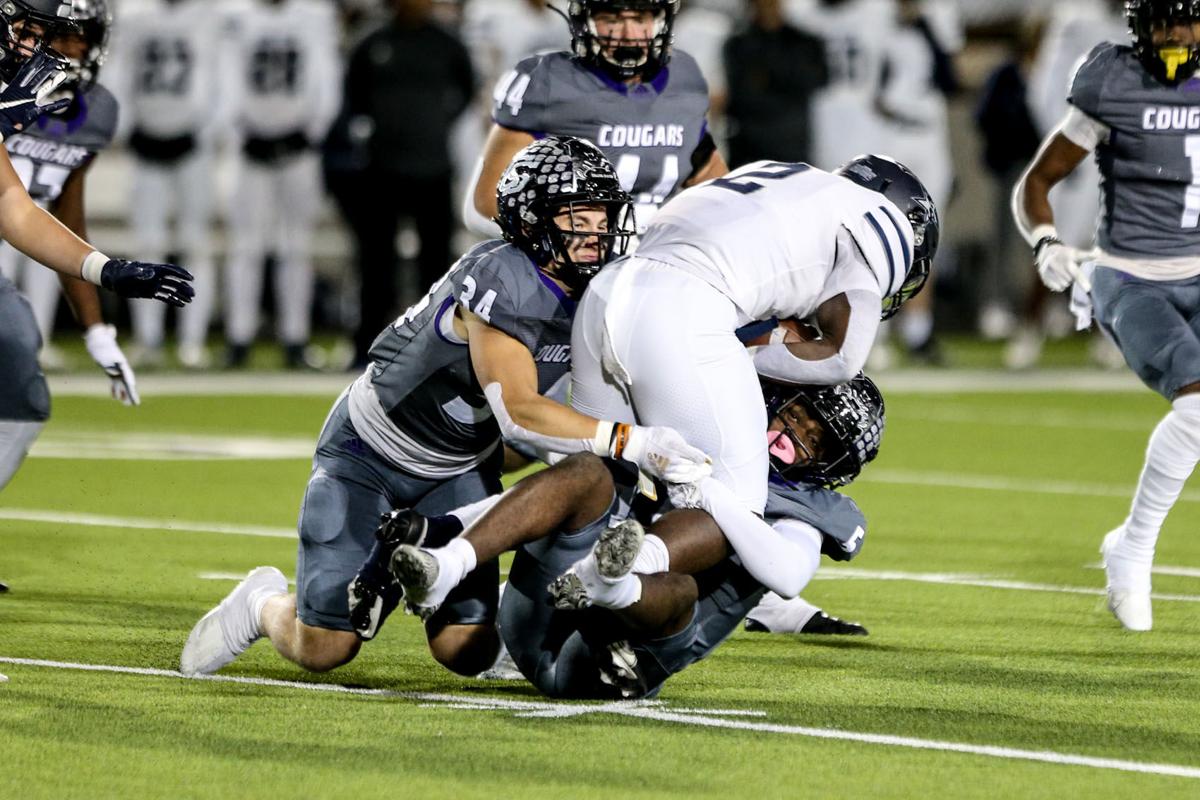 TYLER — College Station running back Marquise Collins kept it simple after scoring six touchdowns against Frisco Lone Star on Friday.
Collins' performance lifted second-ranked College Station to a 55-21 victory over fifth-ranked Frisco Lone Star in the Class 5A Division I area playoffs at Rose Stadium.
Collins rushed for 308 yards on 33 carries, scoring all six TDs in the first three quarters to help College Station (12-0) advance to the regional quarterfinals for the first time in three years.
The Cougars will face Frisco Wakeland (10-2) next week with time and site to be determined. Wakeland upset No. 4 Highland Park 29-28 on Friday.
"We didn't hide about it this week. We [talked] about it," College Station head coach Steve Huff said of breaking the playoff streak. "We said we've been stubbing our toe and we have to get past this round. ... I'm just happy for the kids."
The Cougars built a 14-0 lead early in the second quarter on touchdown runs of 24 and 1 yard from Collins, both on draw plays that helped him find open space before he exploding into the end zone.
"He's very patient," Huff said. "He didn't try to make it something that it wasn't. He stepped in there and took the time and was able to run right past people, and the offensive line got just enough movement for a crease in there."
"The game plan was to get on them early," Collins said. "So I did what I could do to the best of my ability to get into the end zone."
The offense's fast start was paired with a dominant performance from the Cougar defense, which forced Lone Star (9-3) to punt on its first two possessions before the Rangers missed a 33-yard field goal attempt as time expired in the first quarter.
Lone Star got on the scoreboard with 9:32 left in the second quarter when quarterback Garret Rangel found Devin Turner deep in the end zone on a 34-yard touchdown pass. The Rangers' momentum continued when Isaiah Whitaker recovered a fumble at the Cougars' 35-yard line just moments later.
But the Cougars held Lone Star on fourth-and-2 as defensive lineman Caleb Skow stopped Boise State recruit and leading rusher Ashton Jeanty just inches from the first down marker. Skow also had a tackle for loss on the first drive of the series.
"This was a chance to show who we are," Skow said. "Coming out and getting the stop was really great, and we knew the offense would do what they need to do after that."
Still leading 14-7, College Station expanded its advantage by scoring on its final two possessions of the first half on a 36-yard TD run by Collins and a 26-yard field goal by Dawson Schremp. Schremp went 7 for 7 on extra-point attempts and added a 38-yard field goal in the third quarter to give College Station a 48-14 lead.
The Cougars' defense, which held Lone Star to 178 yards in the first half, upped the ante in the second half with two fumble recoveries and an interception. Jeanty finished with just 92 rushing yards.
"We played physical," Huff said. "That's a good running back, and against the run we played very well. We see them every week in practice ... [our offense] goes against that every week in practice, so it's good. Iron sharpens iron."
Collins scored on a 1-yard run to open the third quarter after Dalton Carnes put the Cougars deep in Rangers' territory with a 76-yard kickoff return. Collins scored later on a 2-yard run.
Lone Star cut its deficit to 38-14 on another touchdown pass from Rangel to Turner, this time for a 5-yard score. Collins answered with a 65-yard TD run — his final of the night — for a 45-14 lead.
College Station's Jett Huff found Traylen Suel on a 4-yard TD pass later in the fourth quarter, and Lone Star's Rangel wrapped up the scoring with a 12-yard TD run with 55 seconds left.
"It feels great," Collins said of the win. "But we've got to keep working. We have to go into next week strong and get past round three, too."