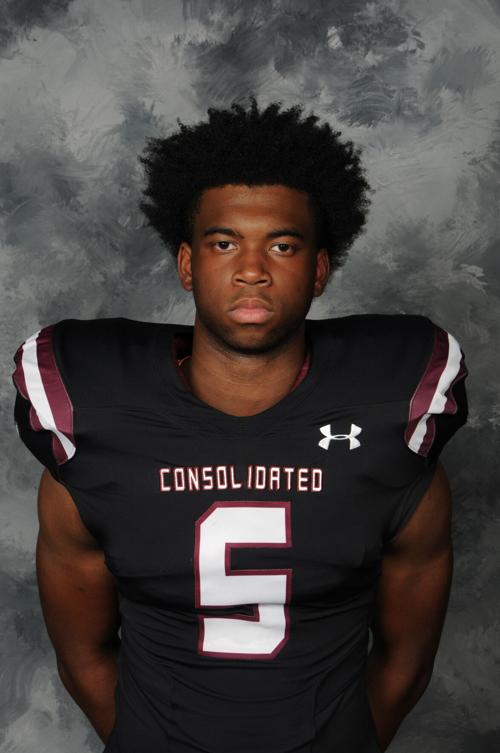 Jaden Thomas hunts from the defensive line and the deer blind.
Now a senior at A&M Consolidated, Thomas started hunting at the age of 6 and said he ventures to spots outside of Navasota and Normangee to hunt deer with his grandfather "Paw-Paw." The 10-point white-tailed buck he shot as a 10-year-old is now mounted in the dining room at Paw-Paw's house in College Station.
Thomas says hunting taught him patience, a lesson he uses on the football field.
"I know huntingwise you aren't always going to get something," Thomas said. "In football, you aren't going to make every single play even though I want to make every play. It's just patience."
Thomas joined Consol's varsity squad at the end of his freshman year, and after playing alongside a host of talented defenders, he's now the Tigers' top defender. Last season he earned first-team all-district honors after tallying 76 tackles, including 12 for loss and 11 sacks.
"Jaden's our next top dog," Consol coach Lee Fedora said. "He's one of those guys that can play, fly around and light people up."
Tackle football became a part of Thomas' life when he started middle school. He said he originally played linebacker but switched to defensive end when he was called up to play on Friday nights toward the end of his freshman year.
"When I first got moved to end I was like, 'Man, this is different. I've got my hand in the dirt,'" Thomas said. "But as I started playing it and learning how to do it, it's probably one of the most fun positions on the field."
Playing for the Tigers, Thomas has learned from several teammates including Josh Ellison, Vince Sheffield and Eric Goodman, who are all playing at the college level now. This season is Thomas' turn to serve as Consol's elder statesman.
"I'm basically doing what they did with me, just being an extra voice to the coach, help the coach and doing what I can to help them," Thomas said. "If they've got questions, they come to me all the time. I always give them the best answer that I can, and if I can't, then I'll send them to the coach."
Consol defensive line coach Sonny Soltis said the Tigers have always had a good core of ends, and having a player as good as Thomas serve as a mentor makes a big difference, especially when things go wrong on the field.
"Anytime you've got a guy that's got three years of varsity experience playing, that pays off in huge dividends because they've been there," Soltis said. "They've done that. They've played in the big games, and they can talk to the other guys and give them a different perspective than I can."
Though Thomas enjoys his new home at the end of the defensive line, he's also a team player willing to move around if needed.
"What I like about Jaden is he'll play any position," Fedora said. "He doesn't get frustrated if he's got to do this or do that. He'll do anything to help us get the W."
Last week, Thomas and the Consol defense dominated the line of scrimmage in a 68-7 win over Waco University. The victory pushed the Tigers into Texas Football's state rankings at No. 8 in Class 5A Division II.
Consol will host Aldine MacArthur at 7 p.m. Friday, and Fedora said he hopes to see improved tempo on offense and continued progression in defensive communication this week, while cutting down on the penalties after the Tigers were flagged 16 times against University.
"Like we tell them, it's the next opponent, and that's what we've got to be prepared for," Fedora said. "They've got a lot of talent, and we've got to be able to fly around and play our game."
NOTES — Consol senior defender Major Shulse won't be available this week after suffering a leg injury in the Tigers' win over University last week, Fedora said.