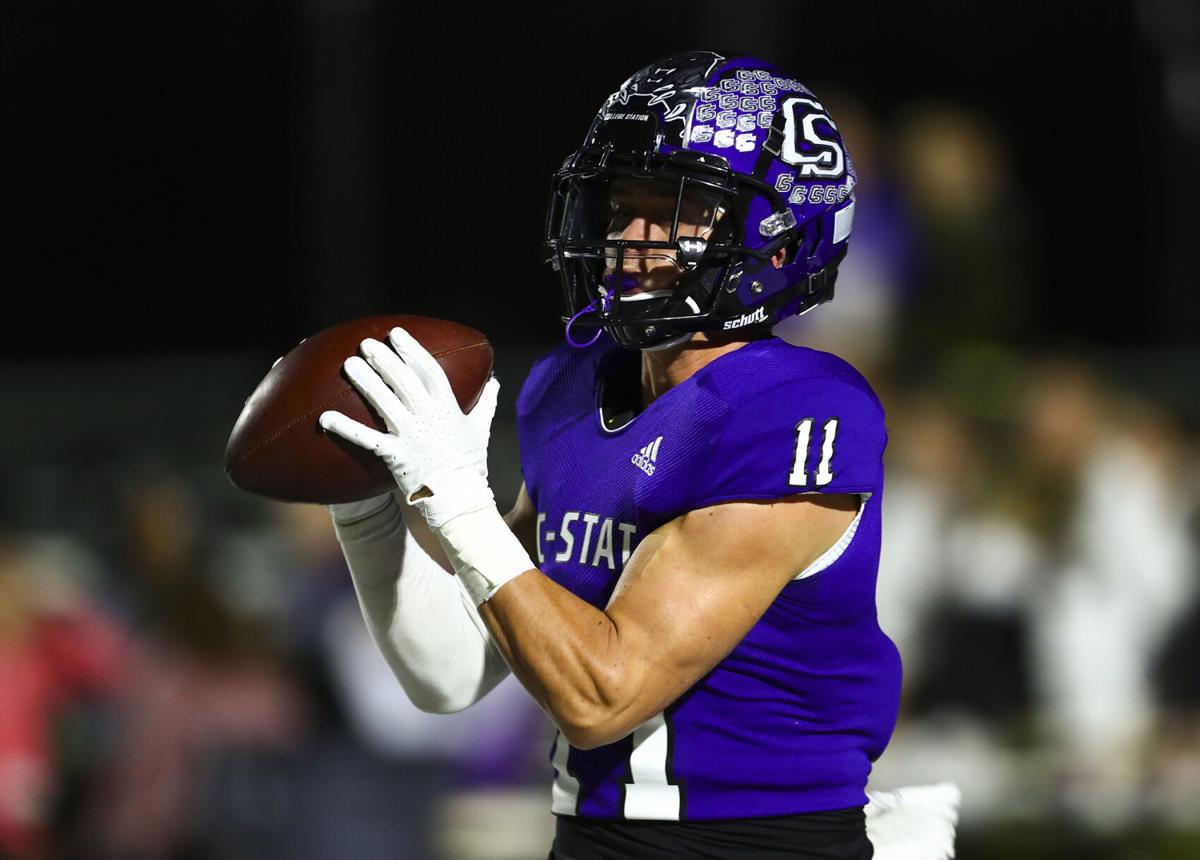 Dalton Carnes didn't want to be caught.
In fact, it took Frisco Lone Star defenders 68 yards to lasso the senior, whose kickoff return to open the second half set up a 1-yard touchdown run from Marquise Collins for a 31-7 College Station lead.
The Cougars (12-0) went on beat the Rangers 55-21 in the Class 5A Division I area playoffs last Friday, but the explosive showing from Carnes was just a small fraction of his impact this season.
The 5-foot-10, 175-pound wide receiver and returner has used his quick feet and deft moves to produce plenty of big plays this season. He's caught 43 passes for 698 yards and 11 touchdowns, and he's averaging 32.3 yards per kickoff return. He holds the school record for career receiving yards with 1,610, ranks second in touchdowns with 21 and is tied for first with Traylen Suel with two 500-yard seasons.
His agility has even earned him the nickname "Superman" around teammates.
"They joke about how anything he tries, he's good at," wide receivers coach Trent Vittrup said. "He's fast. He's strong. He's very smart. He can play multiple receiver positions. He's a leader. He is a really good baseball player. ... He does everything."
Carnes said training alongside fellow receivers Houston Thomas and Suel has helped grow his football IQ, but he's also learned a lot from his older brothers Drake and Dylan, who played for the Cougars and are the reason Carnes starting playing football.
Carnes said he's learned to become a better leader through his brothers and other former players. Now as a veteran, he hopes to instill in younger players how to stay level-headed, which is something he learned in baseball.
"You can't get in your own head and let things get to you, or else you're going to fail in baseball," Carnes said. "There's no doubt. It's one of the most [mental] sports there is. You definitely have to stay level headed, so that helped me."
Carnes also competes in track for College Station. He earned honorable mention on the All-District 19-5A team as an outfielder during the Cougars' regional semifinals run last season, and he made it to the 4x100-meter relay finals at the 5A Region III track meet.
Whether it's improving his speed in track or using his outfield experience to catch over-the-shoulder passes from quarterback Jett Huff, Carnes said his training in the spring helps when football season rolls around.
"He's very powerful," College Station head baseball coach Chris Litton said. "On the football field, you get to see it with his speed, and then on the baseball field, you put a bat in his hand and he can hit it as hard and as far as anybody we got."
For now, Carnes has his sights on advancing to the 5A-I state quarterfinals in football. The Cougars will face Frisco Wakeland (9-2) in the regional round at 2 p.m. Friday at Corsicana's Tiger Stadium. The Wolverines beat No. 4 Highland Park 29-28 last Friday to advance.
Getting a chance for more playoff success alongside his senior classmates may be the thing Carnes is most excited about.
"It's really special, because we've been looking forward to this since we all started playing together in seventh grade," Carnes said. "We knew we're a special group, and we always played for each other, and we obviously had talent, so we've been waiting for this for awhile."
NOTES — Drake Carnes played receiver and defensive back for College Station and graduated in 2015. Dylan Carnes played outside linebacker and graduated in 2017. ... Carnes said he hasn't made a decision on whether he wants to play baseball or football in college. After college, he said he hopes to work for his dad's construction company.