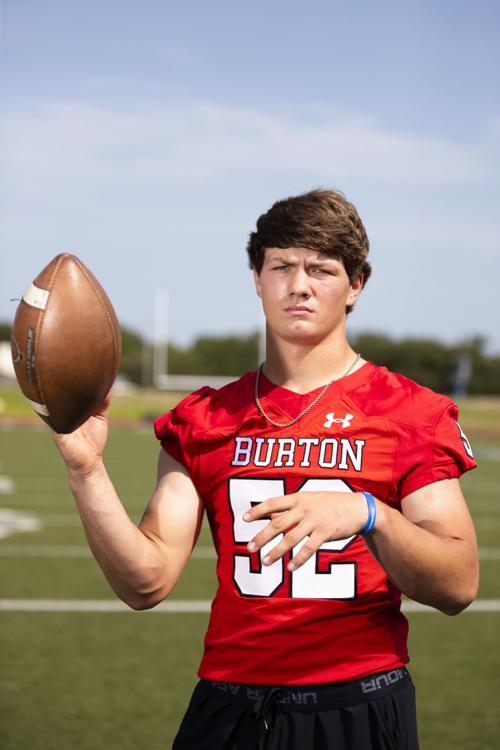 There were plenty of question marks surrounding Burton's 2020 season. The Panthers didn't have a clear-cut starting quarterback, had loads of new faces and were adapting to COVID-19 restrictions. Almost a year later, Burton is as confident in its roster as ever.
The Panthers lost just four seniors and return 28 lettermen, including junior Vicente Veliz under center and playmakers Waylon and Weston Hinze. The power Burton brings back this season is the result of a full year playing in District 13-2A Division II and ironing out mistakes made by the inexperienced squad.
"We have a lot of guys coming back, and they've kind of solidified themselves and what they need to do positionwise," head coach Jason Hodde said. "So we should hit the ground running a little faster than we did last year, and hopefully we can put it all together and have a more experienced football team that's got more potential."
Burton was projected by Dave Campbell's Texas Football to win its district last year thanks to a load of playmakers. But the Panthers fell short of the title and lost in the bi-district playoff round, finishing the season with a 4-7 record. Burton is projected to finish third this year behind Snook and Granger, and Waylon Hinze was named the preseason defensive MVP.
Although the Hinze brothers are set to make a big impact, having Veliz at quarterback will offer stability that wasn't there before, Hodde said.
The junior adapted to the role late last season after trading snaps with freshman Colby Beck during nondistrict play in what Hodde described as a "quarterback carousel." Senior Cooper Lucherk was also competing for time at quarterback but was moved to running back after the season opener.
"Vicente Veliz established that role as a leader, and going into this year he's going to be our starter," Hodde said. "He's a well rounded young man that runs the offense, and we liked how he matured and he's got another year under his belt. We look for him to be the field leader on offense and manage the game."
Veliz will have good targets in tight end Weston Hinze and wide receivers Carson Lauter and Tanner Gore. In the run game, Burton returns Jaydon Brown, Tyron Gilman and utility player Peirson Speiss.
"In the offseason, [I've] just tried to get bigger, stronger and faster, trying to mentally prepare for what's going to happen, especially at quarterback," Veliz said. "We're changing some things on offense, so hopefully this year we have more success."
Hodde said finding a run-pass rhythm on offense will be key this season.
"We like the running backs we have, and finding that consistent mix is what we're going to have to find out during camp," he said.
The Hinze brothers will be a big part of finding that groove. Waylon Hinze will open spaces on the offensive line, leading the core of returners including Eric Flores, Jackson Dixon and Jermiah Hudgen. The Hinzes also will be key for Burton's defense as linebackers.
"They have a huge impact," Hodde said. "They started both as freshmen, so they bring some swag and some tradition to the crew. They [have] had a good season the last two seasons, and they really emerged as being some dominant leaders."
Waylon Hinze said the team will feature some young faces, but overall the team is comfortable with each other.
"Now you know their weak spots and when they get tired what you have to do to keep them going," Waylon Hinze said. "I have to be the leader. Us seniors have to be the leaders and show them, 'OK, if we keep playing, they'll keep playing.'"
Hodde said the team's chemistry should translate on the field as the Panthers look to limit penalties and improve ball security after starting last season 0-5.
"We had a lot of green eyes," Hodde said. "High school football can be very intimidating for young kids, and we're not going to have as much of that this year."