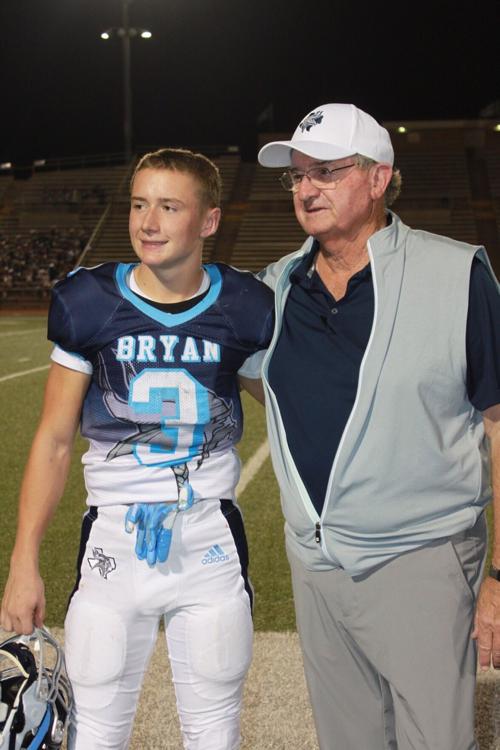 Bryan head football coach Ross Rogers has been a staple in Bryan-College Station athletics with much of his more than 40 years of experience spent locally. His grandson and wide receiver Hunter Vivaldi is representing the next generation well.
Vivaldi, the son of Rogers' daughter Kristi, grew up on the sidelines and in the stands watching his grandfather coach Hempstead, A&M Consolidated and Harker Heights before he the elder Rogers came out of retirement to coach Bryan in 2012.
The duo's bond includes hunting trips along with football, though football has always been a big part of it. A photo hanging in Rogers' office includes him smiling with a young Vivaldi at his side at a football game. More than 15 years later, the two are still side-by-side at games.
"It's pretty cool," Vivaldi said of playing for his grandfather. "He's definitely really tough on me, which I appreciate. He treats me like every other teammate, so it's good. He's taught me a lot of stuff just offensively and even defensively too [about] coverage. I've learned a lot from him."
Now a senior, Vivaldi moved from College Station to Bryan during his freshman year in hopes of playing for his grandfather. Rogers said the work ethic instilled in Vivaldi from his parents Kristi and Mike at a young age is what's made him into a playmaker for the Vikings.
"I had nothing to do with that. He brought a hard work ethic," Rogers said. "There are not enough hours or minutes in the day ... he's going to work. He leaves practice here and makes it to work with a route running coach or power strength coach, but he has his ultimate goals, and he's really trying to achieve those."
Vivaldi said he enjoyed playing basketball and baseball as a kid, but football was always at the front of his mind. He eventually started playing tackle football in fifth grade and said he's loved the game ever since.
"I think seeing it on TV growing up all the time ... I was like, I want to do that," Vivaldi said. "Basketball and baseball are cool, but there was still one thing I really wanted to try. I think being around the culture of it and it's the only game you can be real physical too ... I can't say there's [just] one thing I really like about."
One thing is for sure: Vivaldi's competitive nature — which he said stems from playing basketball with his younger sister and College Station point guard Reese Vivaldi — is still alive and well on Friday nights.
Vivaldi caught 51 passes for 580 yards and five touchdowns last season during Bryan's bi-district playoff run, earning second-team all-district honors. He has 17 catches for 259 yards and two touchdowns this season and averages 23.8 yards per punt return, including another touchdown.
The 5-foot-9, 150-pounder hasn't gotten as many touches this season as Bryan has leaned more on the run, but Rogers said Vivaldi has made an impact in other ways.
"He gets on the field quite a bit as a punt and kickoff returner as well as holding for extra points and field goals, and he's been able to make plays in both," Rogers said. "He's had a kickoff return and punt return [for touchdowns]. He's picked up a tough snap and ran it in for [a two-point conversion]. So those contributions are just as big."
Vivaldi's speed makes him a tough player to wrangle for opponents in District 12-6A. Improving his speed and footwork has been years in the making for Vivaldi, and the journey has included joining Bryan's track team, working out with teammates during the offseason and training in Houston with former Texas A&M and NFL quarterback Reggie McNeal.
"I just got faster and faster, and definitely track helped me with that so much," Vivaldi said. "Just getting off the ball, you can tell the difference too, and a lot of that is coming from the offseason also."
Vivaldi will put his training to the test at 7:30 p.m. Friday as the Vikings (2-5, 2-2) host Copperas Cove (1-3, 1-6) in 12-6A play at Merrill Green Stadium. With two games left in the regular season and Bryan fighting for a playoff spot, Vivaldi said he's hoping to enjoy the final moments of playing alongside his teammates and Rogers however many are left.
"[I'm] embracing every time I get out on the field," Vivaldi said. "I do plan to go play in college, but everyone tells me there's nothing like high school, so I just plan to take it all in."
As for Rogers, coaching Vivaldi has been an honor for him and his family.
"It's hard to believe," Rogers said. "It goes so quick, but I'm glad he chose to come over to Bryan High and played JV as a sophomore and got to play the last two years on the varsity. It's been fun for me and my wife."