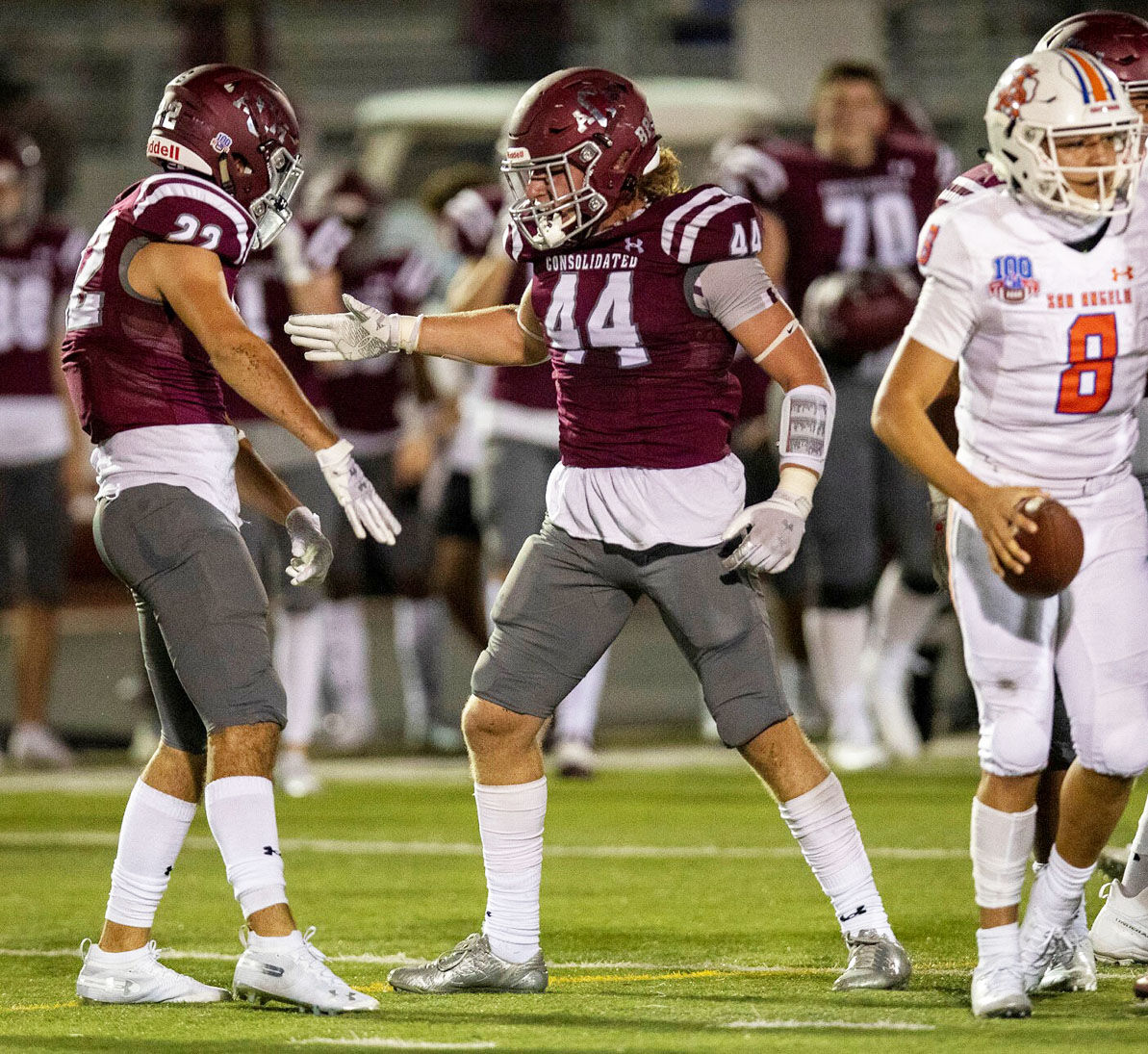 When Tyndall McNamara left baseball to focus on football as a sophomore, there was little anyone could do to change his mind. That determination has shaped McNamara's career on the gridiron as he's become a prime leader on A&M Consolidated's defense and a common disruption to offenses in District 10-5A Division II.
The senior started playing football in middle school thanks to his older brother, Tanner, but McNamara said he didn't feel the urge to commit to the sport full-time until he moved to inside linebacker in high school.
"I like the physicality of it," he said. "When I moved to linebacker, I started to hit more and more, and I just fell in love with it."
The 6-foot-2, 215-pound middle linebacker has a team-high 41 tackles in six games this season, nearing his 76 tackle total from 2020, which helped earn him a first-team all-district nod. McNamara also has one tackle for loss, two forced fumbles and one pass breakup this season.
"He's our biggest and most physical linebacker as far as size," Consol linebackers coach Chad Bruggman said. "Some of our other guys are a little quicker, but Tyndall kind of fits in that middle role where he can plug gaps and do what needs to get done."
McNamara and the Tigers (5-1, 2-0) will take the field at 7 p.m. Thursday at Montgomery Lake Creek in District 10-5A Division II play.
Now a big part of the Tiger family, McNamara moved from College Station High School to Consol between his sophomore and junior year and had to adapt to a new coaching staff and teammates.
"It was kind of weird at first because of how close I was to everyone at College Station," he said, "but luckily everyone here at Consol took me in and accepted me real quick."
The easy transition shows in how important McNamara has become to the Tigers.
"He's always done a great job during the athletics periods, and then he does a great job on his own as well, getting that extra work in," Bruggman said. "All the kids see that, so they're going to look up to him on that."
McNamara added to his workload this year after being named the mike linebacker — the quarterback of a defense tasked with calling plays and getting his teammates in the proper alignment. McNamara said he drew inspiration for the added responsibility from watching former Carolina Panther linebacker Luke Kuechly.
"He was a guy that watched film in and out and really knew the game in and out," McNamara said. "His football IQ is out of this world, and I strive to watch as much film as he did. It makes the reads a whole lot quicker and [allows for] more instincts instead of thinking about the play."
Bruggman pointed to McNamara's play in the second half of Consol's 28-14 win over Class 6A's Converse Judson as an example of how well the senior has adjusted from outside to middle linebacker. The Tigers and Rockets were tied at 7 at halftime, but Consol held Converse Judson to 284 yards overall and produced a key stop in the fourth quarter to secure the victory.
"It's an ongoing process," Bruggman said. "It's not something that you can pick up in a day, so each week we're just trying to make sure that we can get better."
McNamara credits senior Jaden Thomas and junior Brock Slaydon for helping him through tough plays or mistakes at the new spot.
"I just have to worry about my responsibility, because I know everyone else is going to be where they need to be, so we all just have that trust in each other," McNamara said. "We've all gotten so close, especially this offseason. These guys are going to put their bodies on the line to get where they need to be. Why shouldn't I do the same for them?"
NOTES — McNamara had six tackles for loss last season. He also played some snaps at tight end, catching five passes for 76 yards. He has yet to line up at tight end this season but has the ability if Consol needs him there. ... The Tigers are coming off a 35-0 victory over Huntsville last week at Tigerland Stadium.