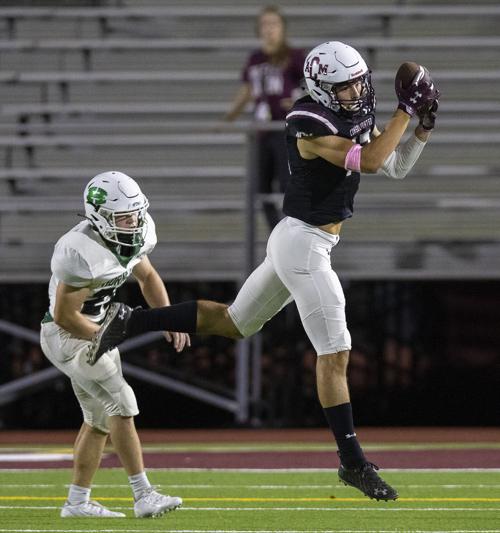 In his second year at A&M Consolidated, senior wide receiver Tyler Wright is finding his voice.
After moving from Boerne after his sophomore season, Wright was the new kid in Consol's locker room as the Tigers dealt with the COVID-19 pandemic. He said the restrictions in place last school year made it hard to build relationships, but this year it's been easier for him to connect with teammates with more face-to-face interactions and the ability to see facial expressions.
"This year is the first year I've been able to express myself and meet new guys, because last year we had the masks and had to social distance, so this year's going much better than last year," Wright said.
Wright served as a backup in 2020 while learning Consol's offensive system but has become a go-to playmaker for the Tigers this fall. He's second on the team in receiving yards (199) and receiving touchdowns (two) with 13 receptions in six games this season.
"When you watched him walk through the door, you knew right away this is going to be a good thing for us," Consol receivers coach Bart Harris said. "Since day one he's worked hard to learn our playbook, to get better every single day, to get himself on the field and do whatever is necessary to be successful."
At 6-foot-3 and 190 pounds, Wright has the frame of an outside receiver but plays on the inside.
"It definitely helps me kick out some of the linebackers, bigger guys," Wright said. "Our run game has been very prominent this year, so I think I've been a big part of that."
Harris said Wright has the ability to catch footballs over defenders, while being physical as a blocker.
"Anytime you can get an advantage on a linebacker and you get a bigger type of receiver that can do the things necessary that an inside receiver needs to do to be successful and be able to block, it's just a bonus for us," Harris said.
Before coming to Consol, Wright played on Boerne Champion's state semifinal team as a sophomore in 2019.
"When he had to come later, learning a whole new system and going through it ... but he's one of those playmakers on offense," Consol head coach Lee Fedora said. "He's got great hands, runs good routes. He's a good blocker and overall does a good job."
Before Consol can look toward a deep playoff run like Wright's former team in 2019, the Tigers (6-1, 3-0) will try to take control of District 10-5A Division II at 7:30 p.m. Friday as they host Montgomery (6-0, 2-0) in a matchup for first place at Tigerland Stadium.
"You've got to treat it like a playoff game, because this game right here, both teams that are getting to play in it are undefeated in district, so it determines who's going to have the chance to be in the running for the district championship," Fedora said. "This is a big game for us. We know it's going to be a big challenge."
The Bears remained undefeated last week with a convincing 38-13 victory over Rudder. With Consol playing on Thursday last week, Fedora said he was able to attend that game. He noted Montgomery running back Jalen Washington, who has rushed for 891 yards and 12 touchdowns this season, is impressive and hard to bring down. Fedora added Bears' quarterback Brock Bolfing has learned the system well as the son of Montgomery head coach John Bolfing.
Consol quarterback Brodie Daniel is not expected to play Friday while recovering from a head injury suffered during the Tigers' 36-22 win over Montgomery Lake Creek last Thursday. Fedora said Consol's backups have been preparing well for Friday.
"Like I tell the guys, adversity's going to strike throughout the year," Fedora said. "It's where we've got to keep our heads up, keep fighting, new guys jumping in and the older guys got to help the younger guys step in and do a good job."