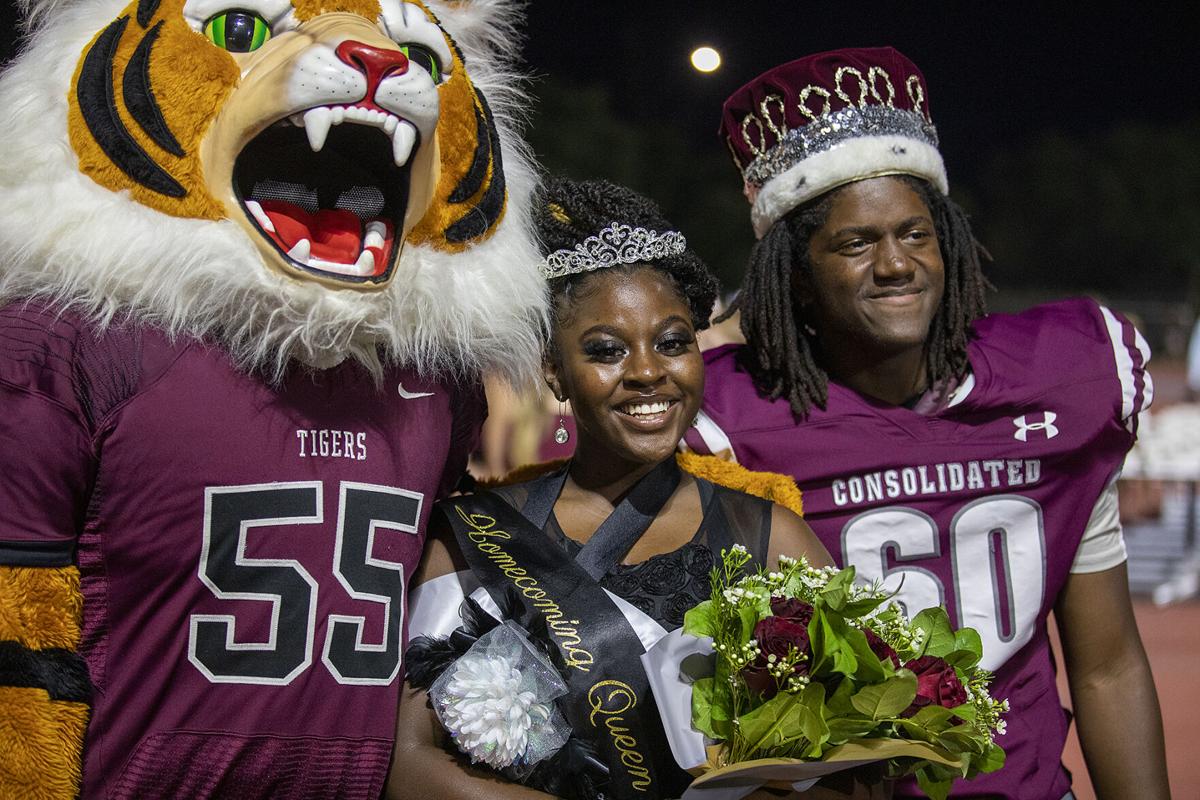 A&M Consolidated senior offensive tackle Toni West is looking to make it big but not on the gridiron.
West is an up-and-coming musician who's released eight songs under the name Angel Toné — he chose a different performing name to avoid confusion with the British musician Toni West. His music can be found on most streaming platforms, including Spotify, Apple Music, YouTube Music, Pandora and Amazon Music.
"When I think about a song that I'm going to write, I usually think of things that I've gone through in life and to put it into expressive form, because when I write songs, I feel like I'm getting something off my chest, like it's a diary of some sort," West said. "There's times where I think of a scenario in my head, where say there's a toxic relationship. I imagine how that would play out in my head and how I can write it down into words. I'm a very imaginative person up there, but I can't really express it in normal words. Sometimes it takes a little bit of poetry and imagery to get out those words."
Growing up, West said he enjoyed listening to music on the radio. He began writing songs in the fourth grade and making music in seventh grade but didn't release his first song until he was a freshman in high school.
"Me and my friend were at his house playing with his [microphone], and he was like, hey, do you want to record something? And I was like, sure," West said. "So the next day I came back to his house, and we recorded an entire song, and we posted it on SoundCloud, and that song got really good publicity. People really liked it, and ever since then I was like I should try and make this a reality, because I love making music."
West has his own personal recording equipment but said he usually records songs at Vision Studios in College Station. He last released a song in August and said he will be releasing a new one soon while finishing an album.
"It's mainly I feel inspiration in the moment, so I just sit there and write," West said. "Sometimes I start free-styling a little bit and see where it can go. If it sounds good, I'll write it down, but if it doesn't, I'll keep on going until I get something out of it."
West is a member of Consol's Tiger Choir and a tenor with the school's a capella group, A-Side. West said A-Side is preparing a set for the group's upcoming competition at Acatex in Dallas.
Outgoing in his music, West's engaging personality led to him being named Homecoming king earlier this fall.
"He's a real funny dude," Consol senior defensive end Jaden Thomas said. "He's someone that if you need to have a smile on your face, he's the person you can go to put a smile on your face. In the locker room, he jokes around, plays around. He's a real cool dude."
West said he takes inspiration from a number of artists, including Bryson Tiller, Summer Walker, Kendrick Lamar and J. Cole. He added that he started writing poetry at a young age.
"To me it's like the language of the soul," West said. "You can really express things that words really can't, so putting it in a 16-bar or a Haiku, it could really move somebody, and you never know ... that poem could be in a museum someday, because it's so great."
After high school, West said he hopes to attend Texas State and study sound recording technology, so he can improve his music engineering skills.
"Eventually, I can hopefully land a record deal somewhere someday," West said, "but until then, I'll just keep making music and grinding until I get recognized."
Playoffs begin tonight
As West's music career continues to bloom, he looks to extend his football career a little longer as the Tigers open the playoffs at 7 p.m. Friday against Mount Pleasant in the Class 5A Division II bi-district round at Tigerland Stadium.
"On the offensive side of the ball, [Mount Pleasant] likes to switch up their formations, get in a lot of different things," Consol head coach Lee Fedora said. "They love to run the football. We've got to do a good job wrapping up and tackling. On the defensive side of the ball, they've got some big guys up front that like to put a lot of pressure on you."
Mount Pleasant went 4-5 overall and finished third in District 9-5A-II, winning its final two games over Longview Pine Tree and Jacksonville. Consol had a bye week last week, which Fedora said he liked since it allowed the Tigers to get back to full strength.
"Like I always tell them, you ain't in the playoffs until you win a playoff game, so this is a big game for us," Fedora said. "It's great to have it at home, because we'll have a great crowd, and our guys are really excited about it."